September 13, 2010 | 5 Comments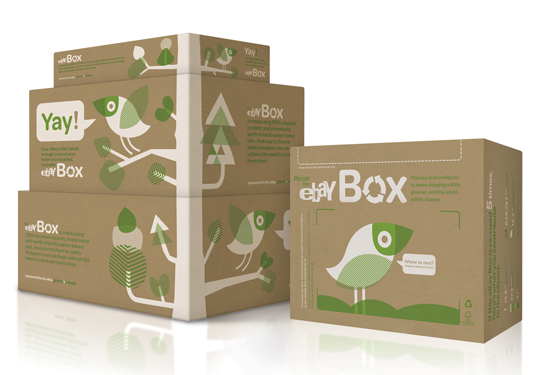 Designed by Office | Country: United States | Font: Omnes
"eBay just launched a new set of reusable boxes as part of a pilot program to make shipping a little greener.
Starting in October, the company is giving away 100,000 shipping boxes to eBay sellers, and encouraging reuse. According to eBay, if each box gets used five times, the program could protect nearly 4,000 trees, save 2.4 million gallons of water, and conserve enough electricity to power 49 homes for a year.
August 9, 2010 | 6 Comments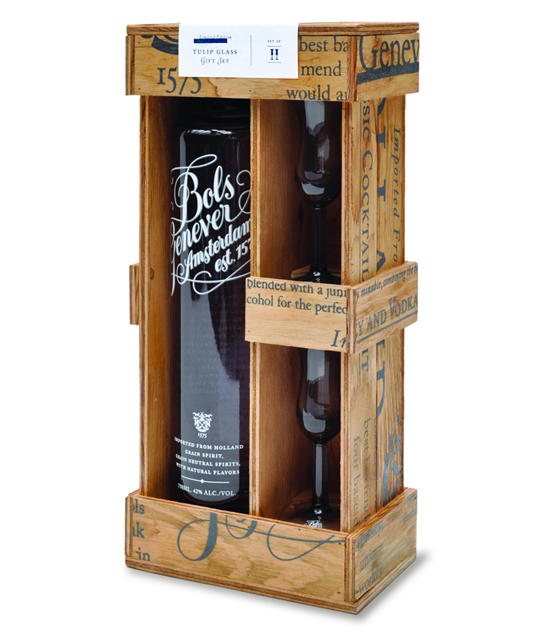 Designed by BMB NYC | Country: United States
"Manufactured in a limited quantity is what allowed us to create this hand-assembled wood gift box for Bols Genever. The typographic pattern was silkscreened on thin sheets of aged plywood. The plywood was then cut into small, uniform strips. Each box is unique, as the strips were selected randomly during the assembly. A letter pressed label acts as a seal and holds the top in place."
July 25, 2010 | 8 Comments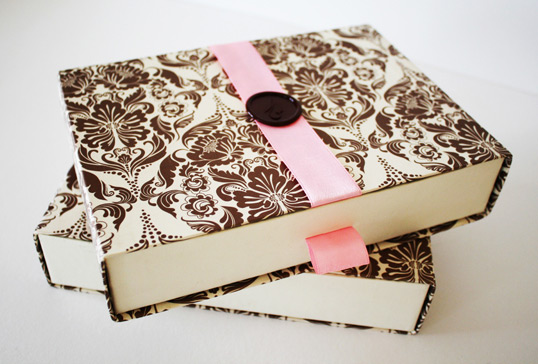 Designed by Natoof Design | Country: Dubai
"To indulge the invitees, the bride wanted to give her wedding invitations with a box of chocolate. The box was designed in an elegant way with a cover & a pull out drawer. At the back of the cover, a space was left for the names of the invitees. A custom wax seal (it carried the Arabic monogram for the bride's & groom's name) was attached to the wrapped ribbon around the cover; this is to add a sense of the Victorian era which was the theme of wedding."
June 25, 2010 | 5 Comments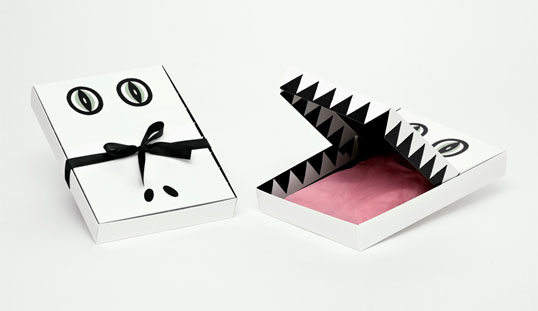 Designed by Lowe Brindfors | Country: Sweden
It is normally quite unusual to see anything sophisticated being designed for children's packaging, but these crocodile boxes are both clever and engaging, with a 'mouth' lid which opens to reveal triangular teeth and a pink silk 'tongue' lining. Produced for the children's section of a Swedish department store.
May 12, 2010 | No Comments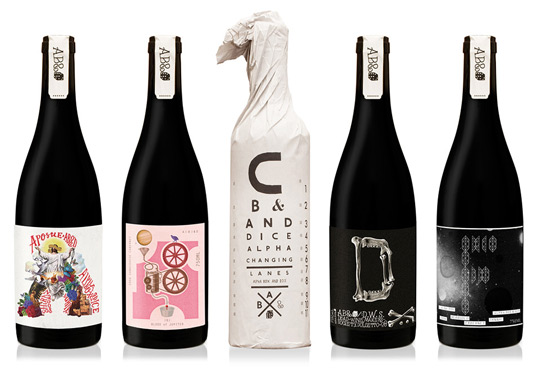 Designed by Mash | Country: Australia
"Justin Lane – lovable rogue and wine evangelist approached us to collaborate with him to create a unique brand after years of making other people's wines famous. Question was how to put years of unbelievable stories, old school methods that date back to the dawn of the grape, made up bathtub methods from Einsten-esque setups and pure genius – onto a 10×10 label… This guy is a master of story telling through
wine and unfortunately conventional rolling hills with cursive brand names would not do here. We realised the brand name and the world's first Alphabet of wines in their tin shed which is now known as The AB&D Wine Salon and has been given the Mash hand painted touch. Each wine unique like a film project, 26 letters, 26 stories all interconnected. Available now ABCD&F – What will surely be a collectors item.
Apostle, Blood of Jupiter, Changing Lanes, Dead Winemakers Society, Fog"
May 9, 2010 | 4 Comments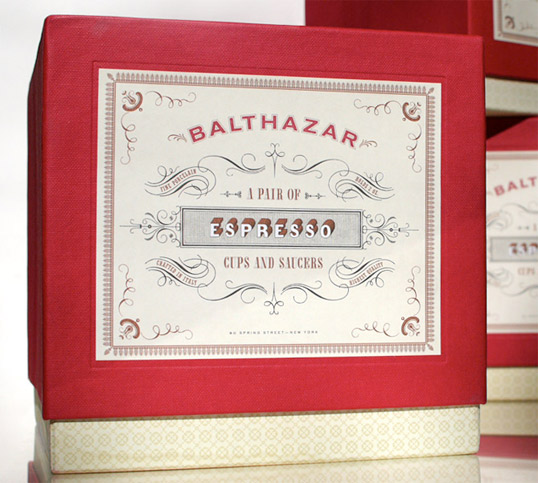 Designed by Christine Celic Strohl at Mucca Design | Country: United States
Using the previously established and infamous Balthazar brand identity system as a starting point, this gift box was designed to expand the system to encompass higher-end retail merchandise. Packaging for a specialty pair of espresso or cafe au lait cups, it was intended to be held on to for as long as the gift inside. Tipped-in, silk screened and wrapped in red linen, this box holds the product safely nestled within custom printed tissue paper.
May 4, 2010 | 3 Comments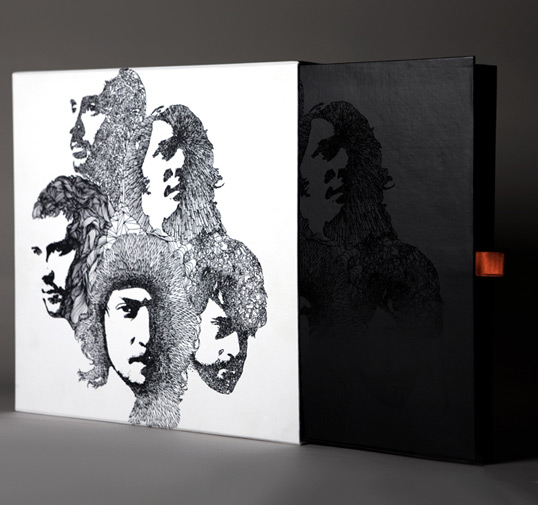 Designed by Sociedad Anonima | Country: Mexico
"We were asked to design this limited box set edition for mexican rock band ZOÉ. The hand-drawn artwork was inspired by The Beatles' Revolver and was based on  an actual photo shoot of the band. The set contains the band's 3 previous album releases on 12″ vinyl plus a revisited album of their latest studio recording Reptilectric, with remixes by artists such as Mad Professor, Schneider TM, Colder and Sebastien Tellier, also illustrated by hand."
April 16, 2010 | 7 Comments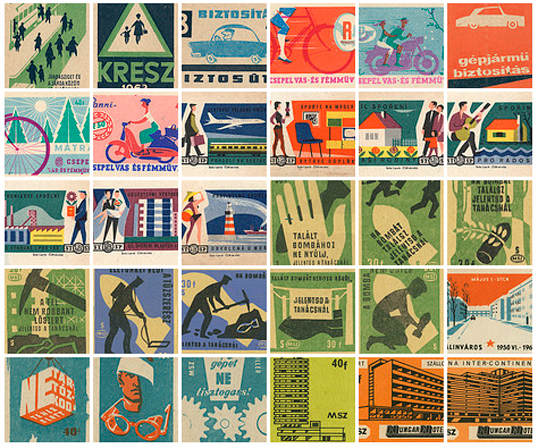 Designed across Europe, mid-1900s | Source: Matchbox Labels on Flickr
Vintage packaging is a wonderful source of inspiration. Due to the cost of photography and production limitations, illustration reigns supreme, producing some beautiful graphic solutions to the many different messages and advertisements printed on matchboxes during this era. Check out a few designs that caught our eye below.
November 30, 2009 | 2 Comments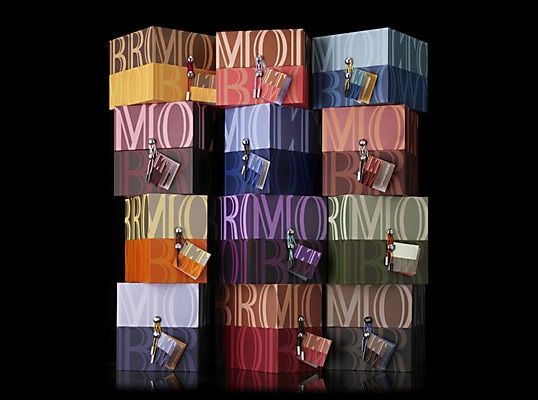 Designed by jkr | Country: United Kingdom
"For the 2008 Christmas box, our design centered on the geometrical harmony of the cube. Latched by hand and graced with a gift tag, these boxes were intended to be sufficiently attractive to give unwrapped. Bold, graphic patterns form a wallpaper effect in-store ensuring the boxes remain clearly Molton Brown, while beautifully fashioned studs and ribbon ends suggest the reusability of the box."
October 10, 2009 | 4 Comments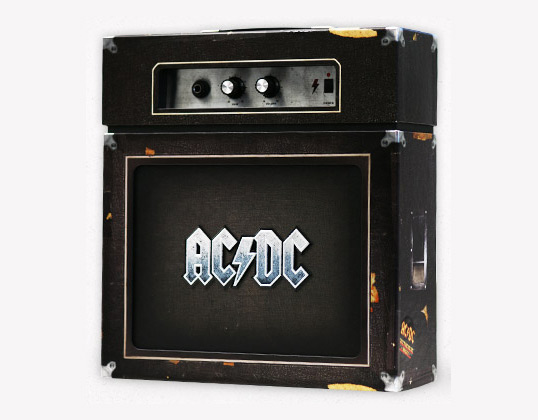 Designed by Smay Design | Country: United States | Buy it
"The exterior box is designed to resemble a vintage AC/DC guitar amp – complete with the original logo that was spray-painted onto the rear of Angus and Malcolm's speaker cabinets in 1975. The "head" of the amp has a handle that lifts the top off to reveal the contents housed within. Oh yeah, the head is also a working guitar amplifier! That's right, one watt of pure AC/DC makes this box a truly unique collector's item. You can play the box set while listening to the box set! Check out the videos of Angus using the amp.