July 2, 2009 | 7 Comments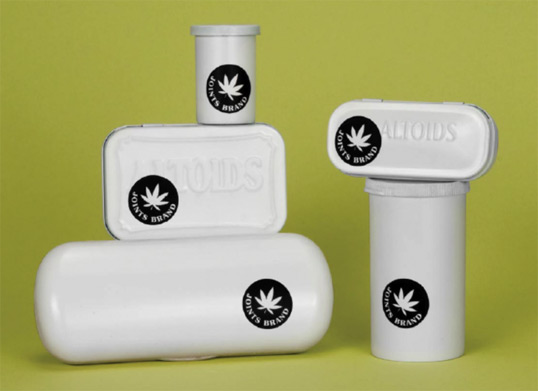 Designed by Base | Country: United States
"Base 'lights up' pot-ential through creative reuse.
Base, an award-winning international design firm, announces that its concept packaging design for marijuana cigarettes will be featured in the upcoming issue of PRINT Magazine, on newsstands in mid July.
The magazine's design challenge was simple: "What would a pack of marijuana cigarettes look like after legalization?" In response, Base has come up with a clean and simple design strategy that recycles mass-produced everyday items popularly used by smokers to transport their secret stashes. The design proposal suggests that anything – from a film canister to an Altoids' tin – once painted white and marked with the iconic five-blade leaf sticker could be transformed into packaging. The bold, black-and-white design frees the containers from their previous commercial branding.
June 24, 2009 | 2 Comments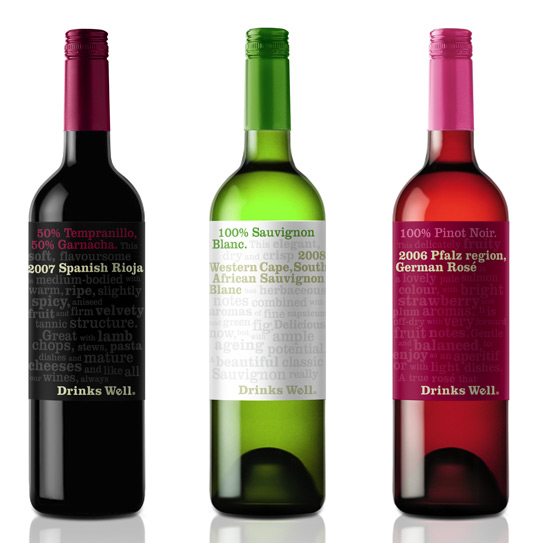 Designed by Robot-food | Country: United Kingdom
"The aim was to create a supermarket friendly label to appeal to the mass market. If a large retail channel or wine supplier wants an own brand with a clear message, offering delicious, good value, ready to drink wine, 'Drinks Well' is the ideal solution.
The visuals include three very different wines from separate countries and the label descriptions clearly state what the average consumer needs to know. They have uniform characteristics, starting with the grape variety, then a brief summary, followed by the region of origin and wine variety. Lastly is a detailed description that ends with a unique sentence backing up the fact that the wine 'Drinks Well'.
The range can include as many wines as required and there is clear colour distinction between the reds, the whites, and the rosés.
Robot-food is now targeting 'Drinks Well' to wine distributors and supermarkets in the hope that they will want to take the brand on."
June 19, 2009 | No Comments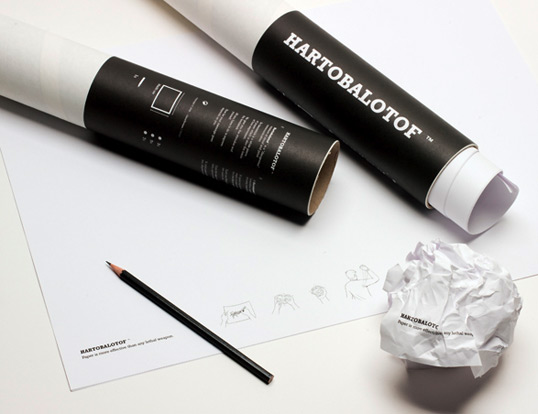 Designed by Chris Trivizas | Country: Greece
"HARTOBALOTOF ™ was inspired by the riots that took place in Athens on last December and are considered to be the worst of the last decades, after the death of 15 year old Alexis Grigoropoulos by the gunshot of a policeman.
June 17, 2009 | No Comments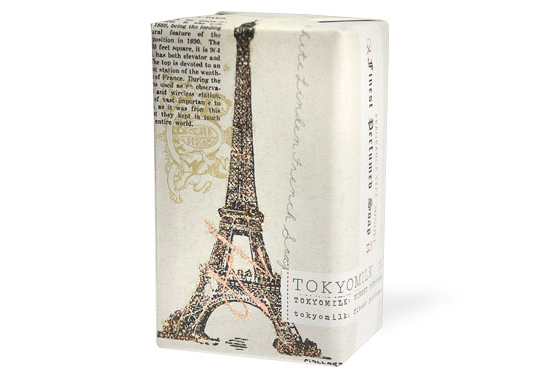 Designed by Margot Elena Wells | Country: United States
"A new line of deliciously scented, French-milled soaps by the Denver-based soap impresario and designer Margot Elena Wells. TokyoMilk soaps come in four scents (Rosewood, White Linden — my favorite, Exotic Woods and White Vetiver), and are wrapped in charmingly illustrated linen paper. Wells, a self-taught illustrator, designs all of the finely detailed packaging. In addition to soap, she also has a line of clever, hand-drawn note cards. Attach a card to one of the soaps, and you have an inexpensive but appealing host or house-warming gift."
May 30, 2009 | 1 Comment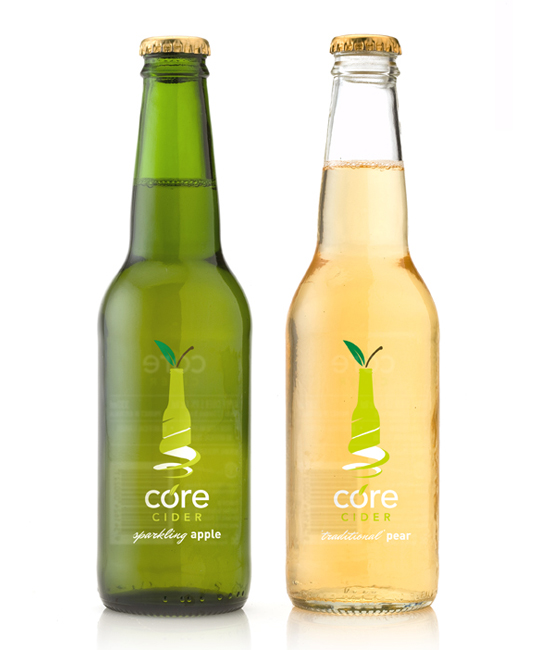 Designed by brainCELLS | Country: Australia | Fonts: Avenir, FF DIN, Mr Dafoe
"Core Cider is the latest product from the High Vale orchard in the foothills surround Perth, Western Australia. Core Cider contains no artificial colours or flavours and is made from organic apples grown on the High Vale farm.
The pure nature of the product lent itself to a clean, simple and sophisticated label design that would showcase the product. With this look in mind, a transparent 'clear on clear 'label stock was chosen and printed with 5 spot inks and a white silk-screen.
Core Cider will  be available from  all good bottle shops and available from the High Vale cellar door from  mid-2009."
May 25, 2009 | 48 Comments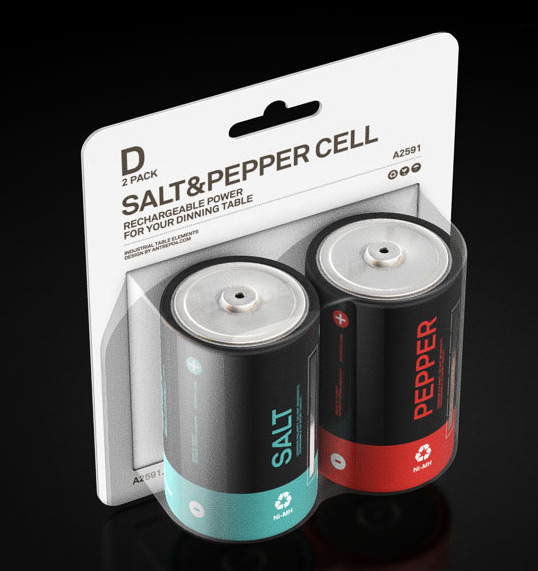 Designed by Antrepo Design Industry | Country: Turkey
"We love the minimal salt & pepper shaker design but we want some industrial touch in our life. Our new concept is for your dining table. These are the last members of "the I'm not product series" ( other part of series: TunerTime, Minutuner, TimeTuner. )
Created by Antrepo Design Industry as "Salt&Pepper Cell" and it is like a D size battery also the dimensions too. Material used is stainless steel and glass, the power indicators on the sides correlate to the amount of spices left in the shakers, before refill time. The color options are Red & Turquoise or Black & White."
May 24, 2009 | 7 Comments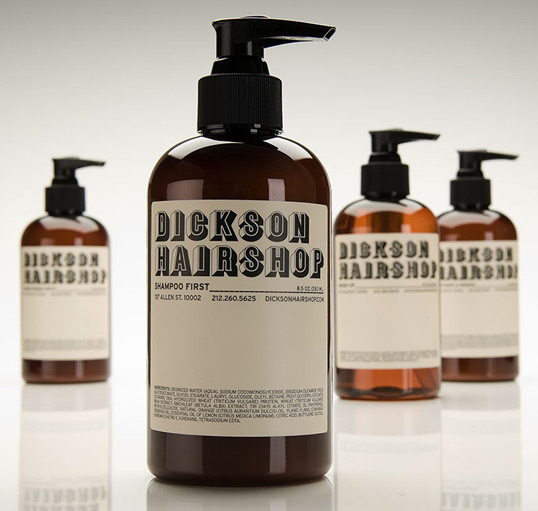 Designed by Zoé Roman | Country: New York | Buy it here & here
"Dickson Hairshop, an old-school/new-style barber shop hailing from the Lower East Side of New York City, has developed an award winning male grooming product line scented with a custom fragrance of juniper and cedar with notes of white pepper. The products are crafted from all-natural plant-derived ingredients and are manufactured and bottled by hand in small quantities in upstate New York."
May 14, 2009 | 4 Comments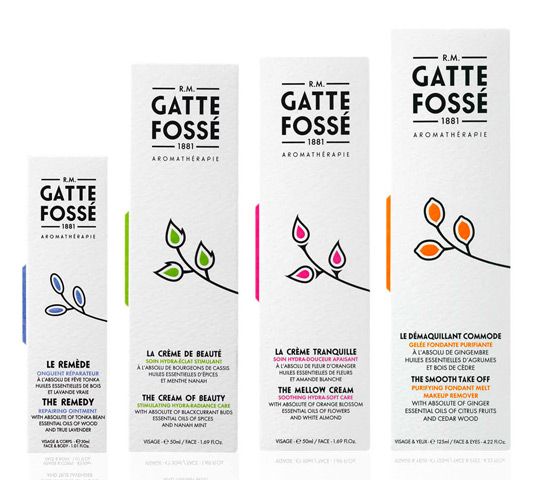 Designed by CA DESIGN | Creative Direction Tommaso Nicolao | Country: France
"The graphic concept behind this new cosmetic line is inspired by the codes of art deco. In the logo, the art deco reference is evident in the typography that conveys the historical savoir-faire of Mr. R.M.Gattefossé, who invented the aromatherapy industry in the 1930's. The pictographic system conveys the art deco codes in a more contemporary manner in order to translate the cutting-edge scientific know-how of the company, while also bringing fun and color to the aesthetic of the packaging.
The right side of the packaging plays a main role in the linear for merchandising presentation, completing the icon and displaying important product details.
The inside of the packaging reveals itself like a secret garden, inviting us to delve into the box and discover the history of the brand. This allowed us to avoid printing an internal leaflet, thereby reducing paper and respecting the ecological goals of the company, also suggested by the highly-textured snow-white Fredrigoni Tintoretto paper."
May 1, 2009 | 1 Comment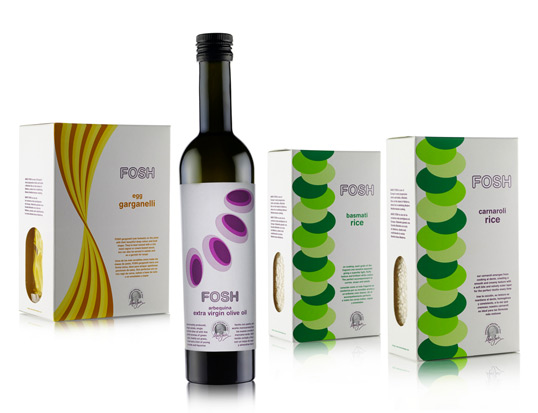 Designed by Simmer | Country: United Kingdom
"This project for food-specialist, Simmer, was to create new brand packaging for Michelin-starred chef Marc Fosh's range of 'Chef's Essential' products. Marc is chef/director at Simply Fosh in the Convent de la Missio Hotel and previously at Read's Relais & Chateaux hotel, both on the Island of Mallorca. Marc has been awarded a Michelin Star since 2002 and he also has a "Boutique Gastronomica" – cookery school, bistro and fine food store in Palma. The design for the range – pasta, rice, olive oil, balsamic vinegar and salt is inspired by the products themselves, Marc's presentation style – use of bold colours and the white backdrop of the chef's serving plate, and influences of "abstract art"."
April 28, 2009 | 2 Comments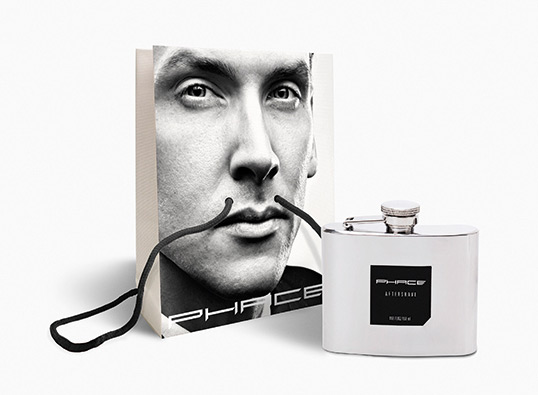 Designed by George Lin | Country: Canada
More work from the IDEA Program at Capilano University. This time George Lin sends us some of his projects.