January 5, 2009 | 2 Comments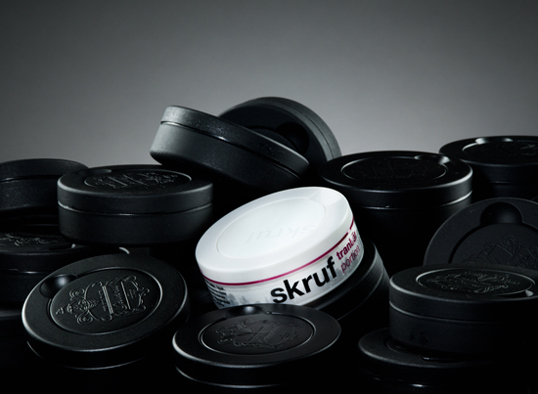 Design by Neumeister | Country: Sweden | Fonts used: Neue Helvetica
"Input: Moist Snuff, a smokeless tobacco product placed under your upper lip, is widely associated with a blue-collar culture in Sweden. The company behind Skruf wanted to reposition the brand and appeal to a wider audience.
Output: New packaging in white that made the brand feel exclusive, luxurious, contemporary and unisex.
Outcome: Substantial increase in sales despite the declining market."
December 31, 2008 | 1 Comment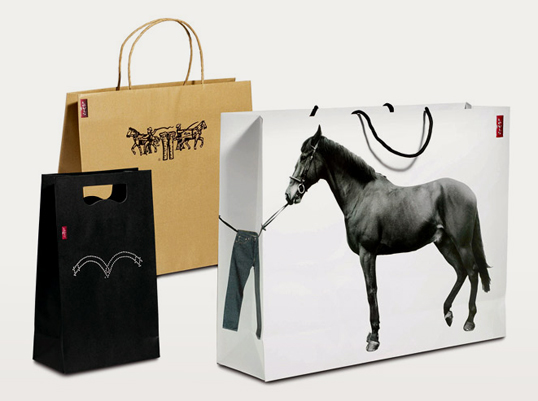 Designed by Checkland Kindleysides | Country: United Kingdom
"Reflecting the Levi's® store interior that is texturally rich, with a premium palette of materials, we created in-store packaging with a handcrafted feel.
Carrier bags and gift wrapping were developed using raw materials, an embossed logo, handwritten lettering and simple black and white photography."
December 25, 2008 | 1 Comment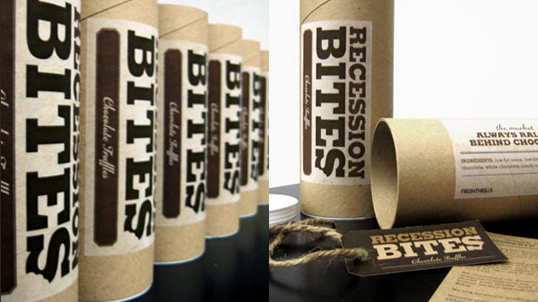 Designed by FRESHTHRILLS | Country: United States
"It's an annual tradition, which began long, long ago: The spread of holiday cheer to everyone you know. A celebration, if you will, of a good year that's past and the hopes for an even better one to come. But this year we found ourselves wondering how we could spread holiday cheer during a time when cheer was in short supply. This was the year where it seemed like bad news was everywhere; Unemployment hit an almost all-time high, and morale, an all-time low. Advertising spending went down, unemployment benefits, up. We knew it was bad when even the president admitted that not only were we approaching a recession, but we were deep smack in the middle of one. 'This bites!' a voice yelled.
And from there…an idea was born."
December 21, 2008 | 2 Comments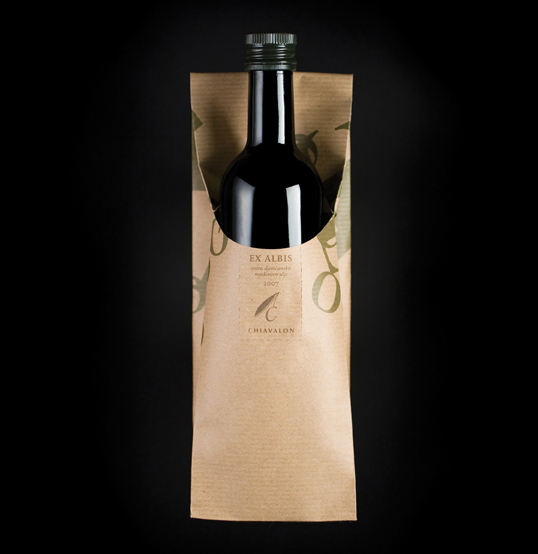 Designed by Bruketa&ZinicOM | Country: Croatia
Chiavalon is not just any olive oil. It is made in the Croatian region of Istria, from the same olive groves that once belonged to Ancient Roman emperors.
The designers chose simple small bottles and placed them in a recycled paper bag. Ruth Hoffmann, the project's Art Director said, 'This is a totally natural product and we wanted to accentuate that. You take this paper bag and the rustling is reminiscent of the weekly vegetable market, where the farmer puts fresh vegetables or fruits in a paper bag.' Furthermore, the paper bag keeps the bottle from becoming greasy. Continue…
November 10, 2008 | 2 Comments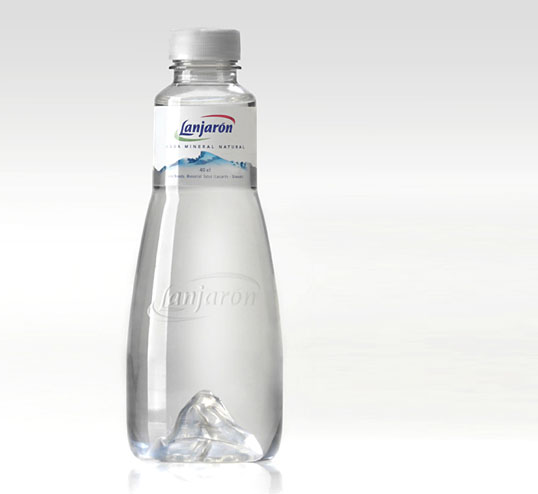 Designed by Grupo Berro & Tridimage | Country: Argentina

"The new Lanjaron Mineral Water package design is the result of a strategic collaboration between two Argentine package design firms: Tridimage (structural design) and Grupo Berro (graphic design) to develop an exclusive mineral water bottle for the Spanish market. The premium 40cl PET bottle is targeted to the premium restaurant & hotel segment mostly populated by traditional glass bottles and graphics.
October 31, 2008 | No Comments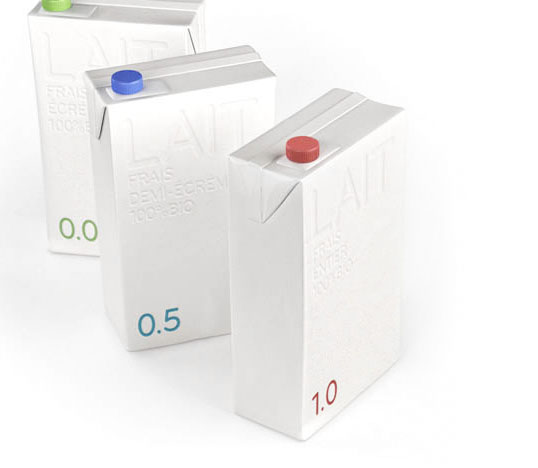 Designed by Marc Praquin | Country: France
Beautiful work by Marc Praquin. The white, blind embossed packaging really helps give this milk product a sense of health and purity.
October 25, 2008 | 1 Comment
Designed by VBAT | Country: The Netherlands
"The design of the primary and secondary packaging had to be distinctively different from the world famous 'racetrack' design of the regular Heineken premium beer, while still using the same recognizable brand identifiers. It was decided to combine the brand name and the red 'star' with an uncomplicated label containing white and silver details. This way the light version got a fresh, modern and uncluttered character."
October 17, 2008 | No Comments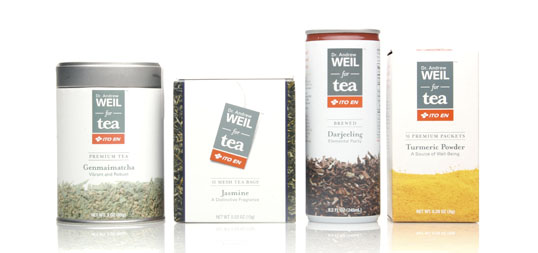 "Ito En partnered with Dr. Andrew Weil to develop a new line of high end ready to drink teas for the novice tea drinker and the tea connoisseur. Using a clean and subtle photographic direction which portrays the product in it's natural state evokes the products integrity and purity. We utilized white to help put the focus on the imagery and to let the identity pop at shelf."
Designed by Make Creative.
October 13, 2008 | 1 Comment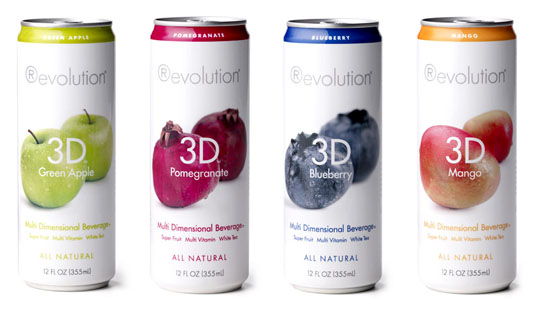 Nice clean packaging with plenty of appetite appeal. I'd like to give credit for this design, but I have no idea who produced it.
"3D blends one dimension super fruits, one dimension premium white tea, and one dimension essential vitamins for the first 3-dimensional beverage. Crisp and delicious, 3D is a powerhouse of antioxidants, all natural and low in calories."
October 3, 2008 | No Comments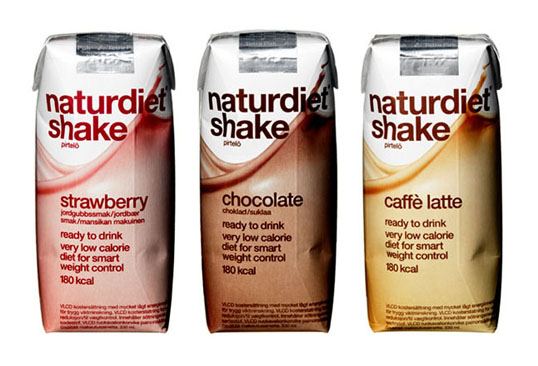 "A clear communication and uniform design was developed for the whole series, with a focus on the brand Naturdiet. The design is white and airy. On every pack the contents are photographed with energetic imagery. The whole series signals distinctly that it is about modern weight loss products."
Designed by BVD.