December 15, 2009 | 8 Comments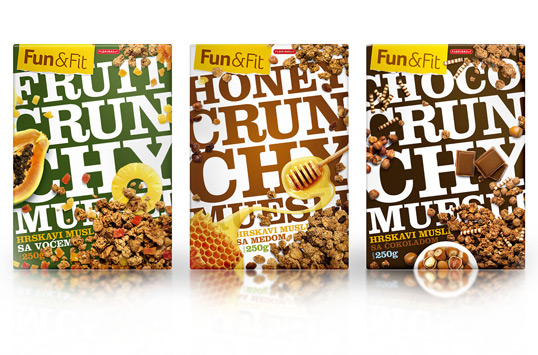 Designed by Peter Gregson | Country: Serbia
"New Packaging design for "Fun&Fit" Crunchy Muesli for Serbian company 'FLORIDAbel'. There are three different tastes: Chocolate, Fruit and Honey, and Crunchy Muesli."
September 2, 2009 | No Comments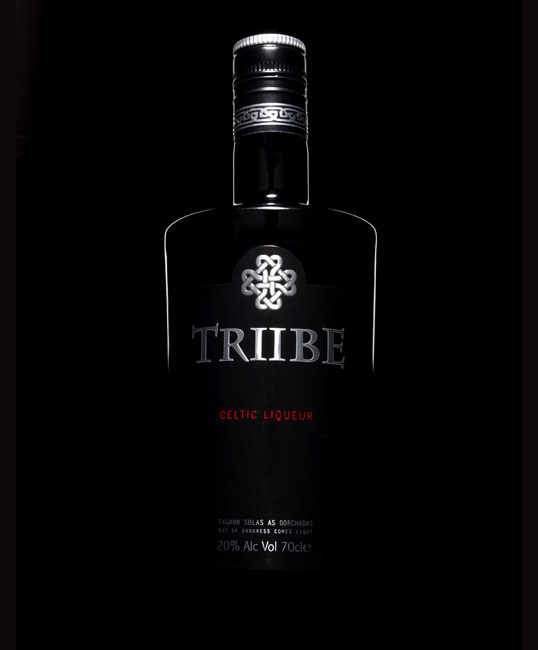 Designed by Reformed Spirits Company | Country: United Kingdom
"The Reformed Spirits Company is excited to announce the launch of Triibe, the world's 1st clear cream liquor.  Over several years the RSC has painstakingly used its specialist skills and knowledge in the drinks industry to create a premium cream liquor that is dairy and lactose free.  Triibe is velvety smooth with subtle hints of vanilla, caramel and chocolate.  The crystal clear liquor was created using top quality organic ingredients including charcoal filtered Irish malt whiskey blended with honey and royal jelly for a delicious taste sensation.
April 14, 2009 | 10 Comments
Country: Japan | Font: ITC Avant Garde Gothic
100% Chocolate Cafe, located in Kyobashi  is a cafe dedicated to chocolate. Chocolate is used in all of the food and drinks in the menu.
They offer 56 different types of solid, square chocolate. Numbers 1-22 are single-bean chocolate. Each chocolate is made of cacao from one country. Numbers 23 & 24 are bitter chocolate with small pieces of cacao beans. Numbers 24 to 28 are variations of sweetener – one uses brown sugar, another one uses honey, etc. Numbers 26 to 36 are the variations of milk. Numbers 37 to 51 are the variations of flavors including fruits and herbs, and Numbers 52 to 54 are the healthy choices. Numbers 55 and 56 are the early blends of Japan's longseller chocolate.
February 9, 2009 | 1 Comment
Designed by KOREFE | Country: Germany | Font used: ITC Avant Garde Gothic
"Ölwechsel are three types of olive oil flavored with rosemary, citron and chili. Superkleber is honey in a tube flavored with chocolate, citron and cinnamon."
December 11, 2008 | No Comments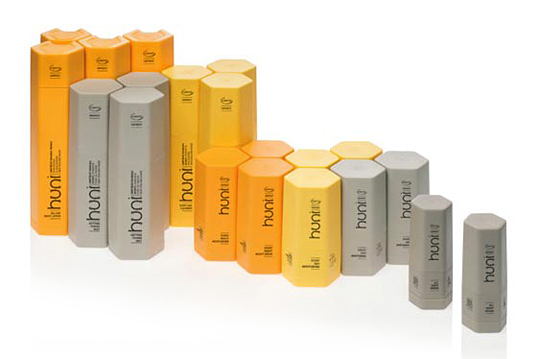 Designed by Designworks | Country: New Zealand
"As a natural product range that works, Huni has a refreshingly bold and Kiwi personality. The pattern, logo and typeface were crafted to reflect the flow and movement of honey. The distinctive bold form of the packaging moves away from traditional bottle forms – standing out on the shelf and in the hand."
November 19, 2008 | 3 Comments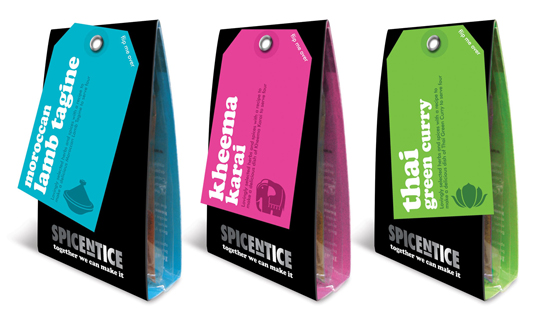 Designed by Honey | Country: United Kingdom | Fonts used: Cooper Black, Futura
"This is about authenticity & the personal touch. A shopping list on the back & easy to follow recipe complete the customer journey, assuring them that they can make it."