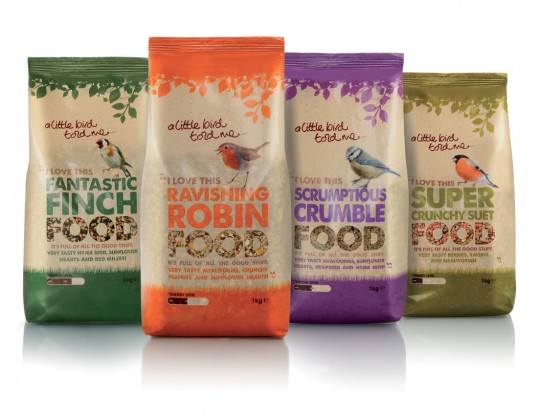 Designed by Stocks Taylor Benson | Country: United Kingdom
"Design agency Stocks Taylor Benson has created the name, identity and packaging for 'A little bird told me…', Pets at Home's latest standalone premium own brand range of natural wild bird food.
Pets at Home, which offers great products, tips and advice to keep your pet happy and healthy is currently trading with a huge range of branded and own label products in over 290 stores across the UK. The launch of 'A little bird told me…' follows on from the success of Pets at Home's premium natural standalone brands in other categories including Wainwright's (for dogs), Purely (for cats) and Woodlands (for small pets).
This brand range is premium in terms of a thoroughly researched mix formulation, whilst offering customers value for money through a lower price point than similar branded goods. The new brand will initially launch with a range of wild bird foods, but the design solution is versatile enough to work across future extensions such as wild bird treats and accessories.
Stocks Taylor Benson's challenge was to create a standalone brand name, identity and packaging solution, independent of Pets at Home, that oozes premium natural cues and has a striking on-shelf presence. The name 'A little bird told me…' suggests this is a well-kept secret to which the customer is now privy. The birds do the talking, conveying that this is what the birds would choose themselves if left to their own devices. Quirky phrases and descriptions explain the differences between the foods. Natural textures and earthy colours enhance the harmony of birds and nature. Plus windows allow consumers to see the actual product.
The new wild bird food range will be stocked exclusively in more than 290 Pets at Home stores from this week. It is available in 1kg packs and includes: Ravishing Robin Food, Fantastic Finch Food, Scrumptious Crumble Food and Super Crunchy Suet Food."