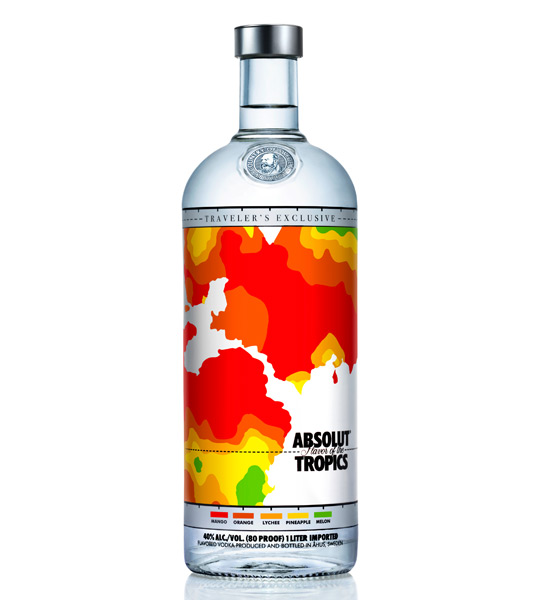 Designed by Williams Murray Hamm | Country: United Kingdom
"Williams Murray Hamm has designed the bottle graphics for Absolut Flavor Of The Tropics, a new limited edition that will be launched exclusively in Duty Free/Travel Retail globally for a 6 month period. The product offers the travellers a new exotic vodka flavour that is not available in stores back home. Williams Murray Hamm, a leading packaging design agency in the UK, was tasked with putting an 'Absolut twist' on tropical fruit.
From Florida and the Caribbean to Hawaii and the Seychelles, exotic fruits thrive in the humid weather of the sun-drenched tropics. Williams Murray Hamm's design expresses the fruit through strikingly bright thermal images of the world map. It offers a brand new look for Absolut that captures this new exotic flavour and offers consumer the perfect souvenir from their intrepid journey.
"Absolut Tropics represents the first time we have been able to launch a brand new, innovative flavour exclusively to travelling consumers, people who are always on the lookout for something new and thrilling. For a leading edge, creative brand such as ABSOLUT, it's crucial that we work with creative partners that can think laterally when answering a brief. The solution from Williams Murray Hamm lived up to our expectations and delivers something fresh and unexpected"