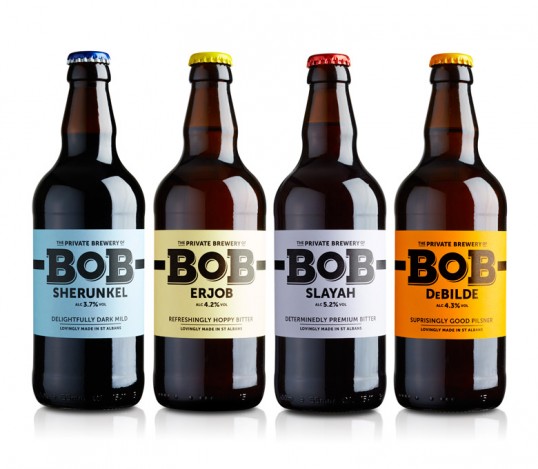 Designed by Distil Studio | Country: United Kingdom
"What do you get when you combine words and phrases with good honest beer?… BoB.
Short for 'Best of British', this St Albans based microbrewery uses quirky wordplay to set them apart.
We've worked with BoB to develop a modern and distinctive brand identity, with a touch of tradition for good measure, and a label system that can adapt to an ever increasing range of amazing beers, bitters and ales. With such inspired beer names as 'BoB Shurunkel', 'BoB Erjob' and 'BoB Bidazzler', we've let the beers do the talking.
The visual hierarchy ensures that the 'BoB' identity works hand-in-hand with each beer name whilst an unconventional colour palette marks this friendly brewery as a true one-off – now fully prepared for an ever increasing demand from local restaurants and pubs."