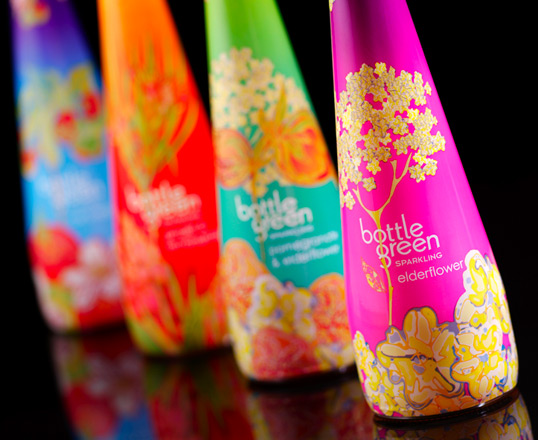 Designed by Rachel Pitman | Country: United Kingdom
"Premium soft drink brand Bottlegreen is to unveil a range of stylish limited edition sparkling pressé bottles for the festive season, in stores from early November.  The designs were created by textile design graduate, Rachel Pitman, following a nationwide talent search by Bottlegreen Drinks Co."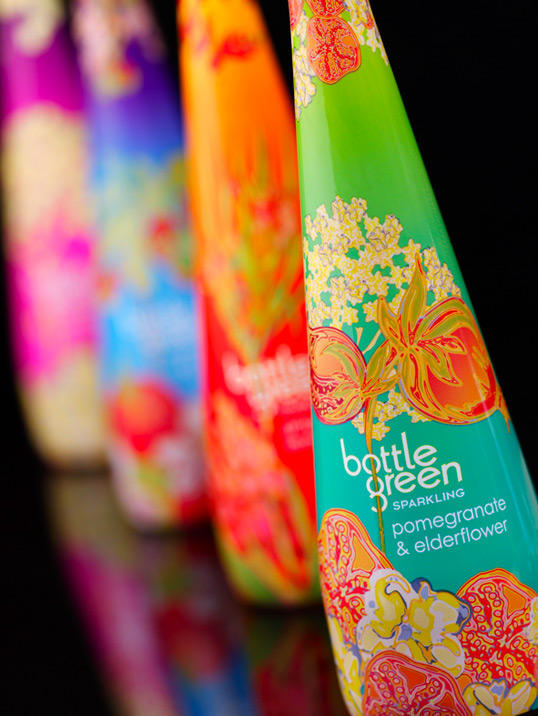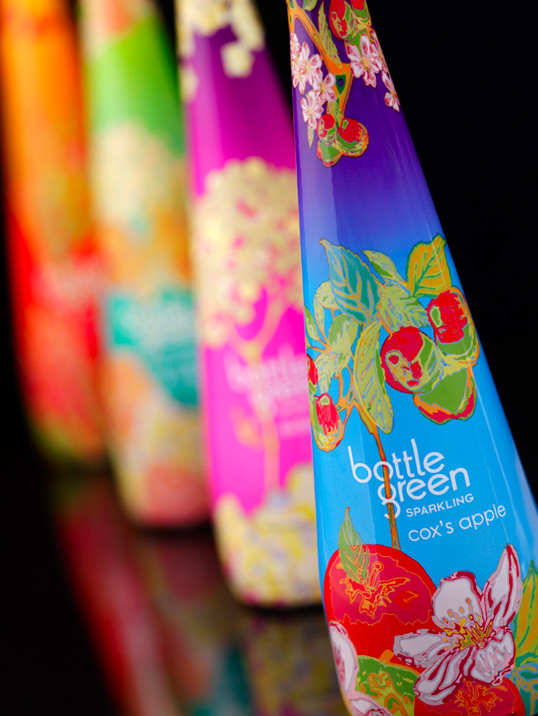 "he bottlegreen brand identity and packaging was created by Ziggurat Brands, and reflects the brands superbly crafted cordials, using traditional wine blending processes. Ziggurat Brands came up with the idea of approaching second and third year UK textile design students to create a label design for a range of bottlegreen limited edition sparkling pressés. Bottlegreen were keen to involve consumers directly in the process, so four entrants were short listed and put to public vote through an online gallery on consumer websites, the Bottlegreen website and its Twitter and Facebook profile pages.
After a phenomenal response, Rachel Pitman was chosen as the overall winner, with the majority of the 5,000 votes. Rachel is a Loughborough University design graduate from Chichester. Her Sparkle Blossom design was inspired by the structure of the elderflower blossom itself. In addition to a cash prize, Rachel also won a very valuable two weeks' work experience at top design agency Ziggurat Brands during which time she was taught the process of taking a raw design through to finished packaging artwork.
Lucy Wiltshire, Brand Manager of Bottlegreen Drinks Co. comments: "We believe that Rachel's winning designs reflect the essence of bottlegreen's stylish and premium quality, whilst still retaining the company's traditional British roots.
The use of vibrant colour in Rachel's design will definitely have an impact on shelf and we are confident that the new limited edition design bottles will appeal to our existing customer base and encourage new customers to purchase."
Rachel's Sparkle Blossom design will be reproduced on all bottlegreen sparkling pressé drinks and will be launched into major supermarkets at the beginning of November for one month, priced at £2.39 (RRP) for a 750ml bottle. As with all Bottlegreen products, the drinks contain no additives, sweeteners, preservatives or artificial flavours.
Bottlegreen will be supporting the limited edition style bottle launch with a full programme of digital and traditional marketing and PR activity within the consumer and trade media, as well as a calendar of sampling activities."