Founded by Moe Issa, Brooklyn Fare is a trendy grocery store known for "sourcing premium ingredients and offering them at a fair price." The family-owned grocery store has grown leaps and bounds since its inception in 2009. In addition to the grocery store, Brookly Fare is known for its legendary restaurant, Chef's Table. The restaurant is one of the few three Michelin-starred establishments in Manhattan.
 "A local market and caterer in Brooklyn's developing downtown, Brooklyn Fare wanted to establish itself as the go-to store before national chains moved in. The retailer needed to appeal to everyone from students to residents of new luxury condos, while conveying its broad selection."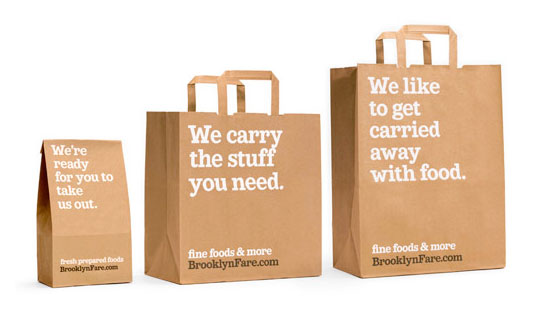 Brooklyn Fare partnered with Mucca Design, an award-winning creative agency, to help develop packaging designs that would communicate the brand narrative effectively.
"We created an engaging brand voice and an irreverent tone that immediately set them apart. A custom typeface elevates the minimalist system and appears on everything from signage to advertising, packaging, and the website. Since their successful opening, they've expanded to Manhattan and their celebrated Chef's Table has garnered three Michelin stars."