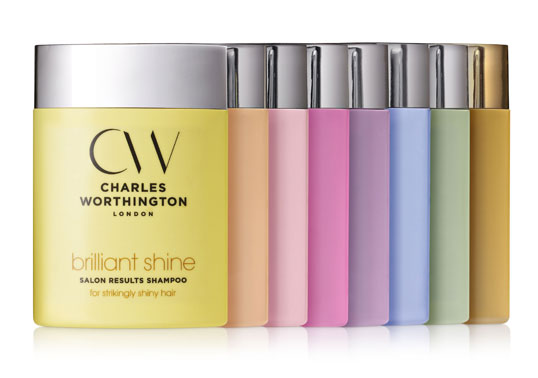 Designed by Cookchick | Country: United Kingdom
CookChick successfully won a 3 way pitch to secure the re-design project for the whole Charles Worthington Results range in September 2009. The Results range includes Shampoo & Conditioner products over 8 'regimes' along with a full range of styling products and hair intensive solutions. The brand occupies a number two positioning in the professional hair care market.
The main objective of the brief was to regain a confident simplicity to the identity and packaging whilst increasing the premium positioning for the brand in an ultra competitive and increasingly noisy market. The starting point was the Charles Worthington brand identity. CookChick developed an idea from Charles himself by using just the CW letters and creating a cut-sharp brand mark. Coupled with the brand mark is a stripped back approach to the regime naming and descriptive copy. Each Regime has a clear, to the point, hair benefit USP and carries a hotspot of colour. It was agreed early on that the Charles Worthington bottle shape was unique and still carried a real point of difference on shelf. However, the new pastel & foil silver colour palette replaces the previous translucent plastic approach suggesting a more premium and sophisticated range.
The attention to detail was a critical aspect throughout this project. One example of this was adding a tactile CW logo embossing to the recessed thumb button on the lid. The overall impression in-store gives a fresh, bright & sophisticated brand feel coupled with immediate product benefit navigation."