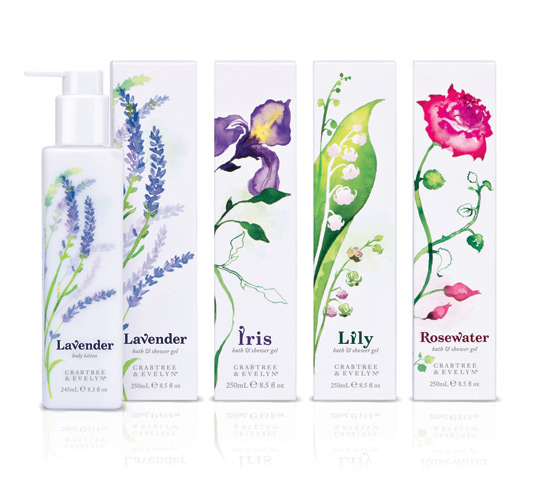 Designed by Pearlfisher | Country: United Kingdom
"Pearlfisher has redesigned the packaging for Crabtree &Evelyn's keystone Florals range – Lily, Rosewater and Lavender. The design debuted with the launch of new fragrance Iris in September 2010 and will now be seen on the remaining 3 fragrances in the Florals range when they launch in March 2011.
The graphic design of the range works within the conceptual world of 'romantic femininity.' The design for each fragrance is an original water-colour illustration that 'grows' around the bottle and the secondary packaging. All colours, patterns shapes, illustrations, photography, and textures are inspired by, or abstracted from, a representative of a specific garden plant or flower. The design story celebrates this natural vibrancy and passion; it is brimming with originality, colour and movement.
Sandra Lee, the brand guardian of Crabtree & Evelyn comments, "Pearlfisher worked in a highly collaborative way with us to achieve what we believe is an exciting new way to articulate the essence of these fragrances in a way that will make a real statement to our customers about the future direction of the Crabtree & Evelyn brand."
Natalie Chung, Creative Director Pearlfisher adds, "Crabtree & Evelyn is a design classic – it was a beautiful project to work on and one the whole studio relished; a real labour of love. The new global design is contemporary, magical and quintessentially feminine in its natural charm and allure. Perfect for the brand and perfect for moving into the future with."