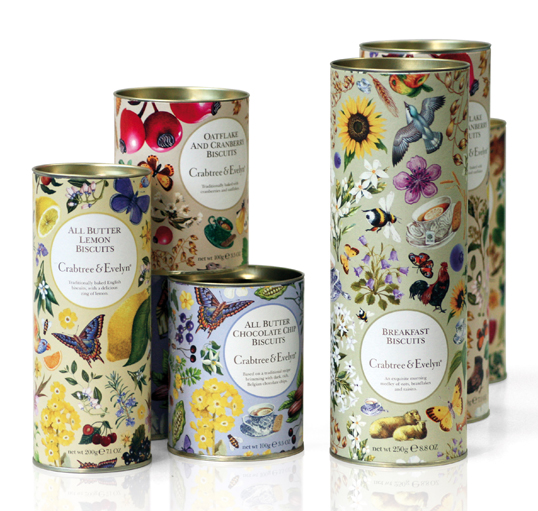 Designed by Smith & Milton | Country: United Kingdom
"This month sees the relaunch of Crabtree & Evelyn's fine food range under a new packaging livery by Smith & Milton.
In response to a challenging brief to inject life and character back into the brand, Smith & Milton delved deep into the Crabtree & Evelyn archives and found generations of beautiful hand-drawn illustrations, reworking them into an opulent wrapping to deliver stunning, and highly effective results.
Steven Anderson, Creative Director at Smith & Milton, said:

"Crabtree & Evelyn's founding motto was 'Explore everything. Keep the best' – 30 years ago it established a unique position where design skill and particularly illustration shaped the brand and a whole generation of designers. We searched the archive of Crabtree & Evelyn designs and unearthed an amazing body of work to relaunch this quintessentially British food range. By recycling all their illustrations in a fresh and contemporary way, we've mixed the new and the old with fantastic results"
The full range comprises of over 60 products comprising of teas, preserves, biscuits, gifts and accessories and pre-launch sales were up in all cases based on the redesign alone.
Kate Shaw, Creative Director at Crabtree & Evelyn said: "Smith & Milton delivered an inspired solution to a tight and challenging brief.  The design takes the richness of our heritage and plays it back in a delightful, quirky new way."