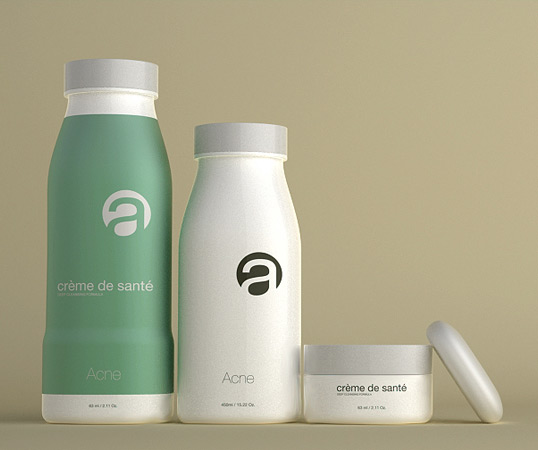 Designed by Streng | Country: United States
"Inspired by the lines of classic glass milk bottles, Crème de Santé packaging pairs subtle vintage charm with a clean, modern aesthetic. Matte silver screw tops and color-coded graphic wraps with a crisp geometric typeface create a freshly contemporary, yet elegant design.
This packaging takes refinement a step further with its multifunctional features. A convenient stacking system fuses three product tiers–soap bar, exfoliant cream, and treatment cream–into one. And the curved top of the exfoliate cream acts as a soap reservoir which holds the custom-shaped bar perfectly.
Such attractive, versatile packaging captures the eye on store shelves and challenges the notion that product is best kept hidden in a cabinet at home. On the contrary, Crème de Santé packaging is ideal for prominent display."