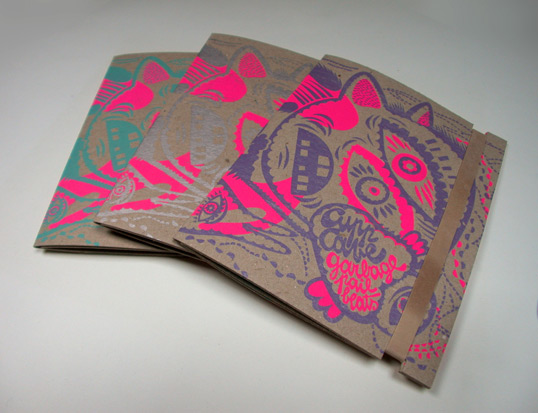 Designed by ThinConsolation | Country: Belgium
Garbage Pail Beats is an instrumental Hip-Hop, Off-beat to be precise, album. If you read the Cupp Cave bio or listen to his music, here it what you should think about: His Garbage Pail Beats are a rump-shaking, head-nodding, feet-shuffling slap in the face, one for the crate-diggers and glitch-lovers. Think nice crunchy gravel. Think big, red, 8-bit family sedan. Think wearing sunglasses sitting in the passenger seat with the window open. Think sunshine. Thump, thump, clap; Cupp Cave is guaranteed Hennessy-free.
We wanted to make a sleeve with the same feeling.  We asked Oreli for the artwork. She has a psychedelic universe, full of toys and happy monsters… as just as the Cupp Cave's mind!
The color choice was really difficult. First, Oreli designed it in Gold + Black. We were not so convinced and started to think about it.  Finally, fluorescent pink and green where picked for the "backgound" colors and we decided to print it with 3 different foreground colors: Silver, Purple and Cyan. Think video games, 80's, Miami. PAN!
The music can be a bit difficult. If you are tired, forget it… try later! We wanted something similar with the colors. Through the monitor, it's a bit different, but we where looking for something HU! The silver + fluoro pink and cyan + fluoro pink are… you can't miss it. And if you've got an headache, it's not gonna help!
After some mistakes for the hand made screen print and approximately 3000 passages, we've finally got it.
We didn't have too much money, so we wanted something cheap but cool for the case. As for the Back & Forth, we used cardboard. A simple grey one 450/m². It's cheap, you can print it and fold it.
500 sleeves are hand screenprinted and crafted.