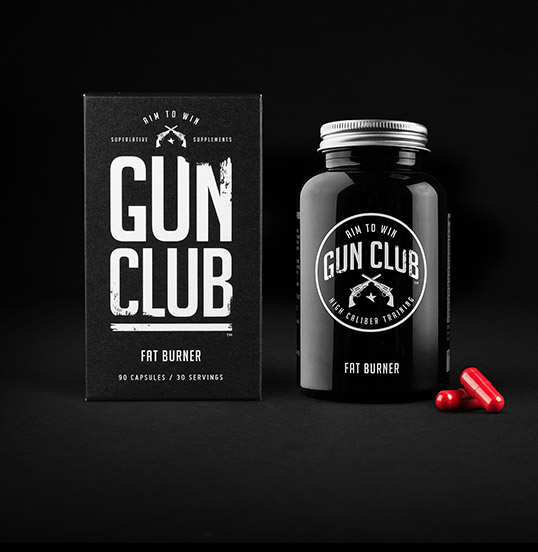 Designed by Robot Food | Country: United Kingdom
"Robot Food was tasked with creating a training supplements brand. In a crowded marketplace characterised by machismo, pseudo-science and gimmickry, the challenge was to enter the sector as a clear winner. Not just a contender.
Robot Food spotted an opportunity early on. They identified that, although men invest a lot of time going to the gym to look and feel good, there was no brand that truly 'gets' them, speaks their language and embodies their lifestyle.
They went in with three positioning options. Secret Service had a strong sense of premium, military-grade precision for the best of the best. Sport Science was a winning formula grounded in efficacy with cut-through minimalism. Contemporary Grit, the chosen route, is packed with rebellious attitude, reflecting the lifestyles of those who train hard and play hard. This was the most compelling as it felt completely unexplored territory. The look and feel blended tattoo art, the vintage motorcycle scene, MMA and other edgy urban subcultures."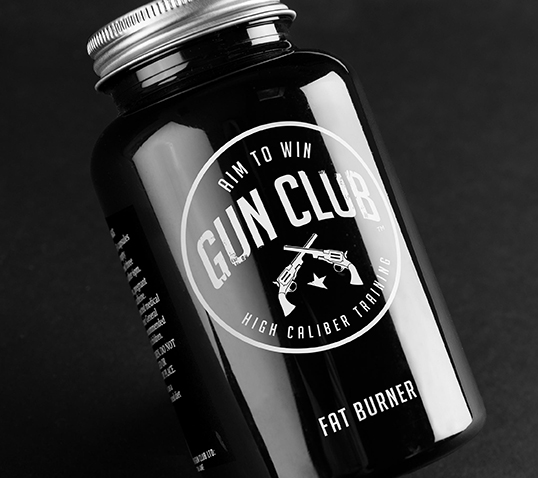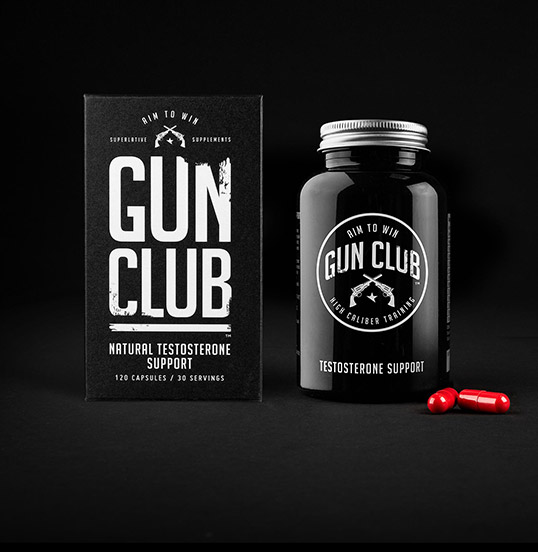 "After creating the confident, tongue-in-cheek name, Gun Club, and the strapline, High Caliber Training, Robot Food created monochromatic designs that express a raw, gritty realism and traditional masculinity – ideal for the range's quality products, which include testosterone booster, fat burner and soon to arrive protein supplements.
The clothing line is equally important. As a lifestyle brand, Gun Club is about helping people express themselves outside, as much as inside the gym. It's the first brand of its kind to align with lifestyle choices rather than just peddle product under the broad banner of 'sport'. Whether you aspire to look good for yourself or to attract the opposite sex, the URL says it all at www.AimToWin.com.
Gary Peacock, Gun Club owner, said, "We launched Gun Club at a public trade event. The brand had superb standout and the response was phenomenal, with people queuing up to buy product. Our success as both a training supplements brand and lifestyle fashion brand looks assured."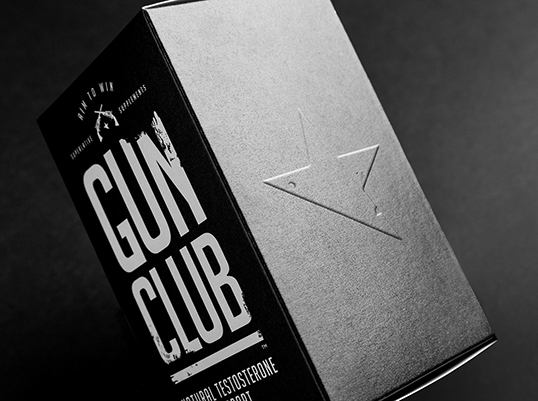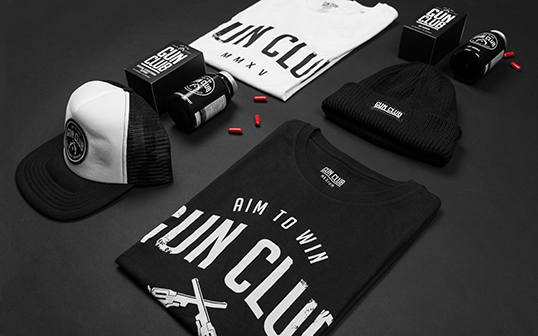 "Simon Forster, Robot Food's Creative Director, brought a wealth of experience to the project, having a strong background growing sports and lifestyle fashion brands. Simon said, "Our key audience sees training as a way of life. Although the design appears serious, unlike competing brands, it doesn't take itself too seriously in a tech or sport focused way. It's proudly masculine with a nu-school twist and stands out as the brand of choice for this hard working contemporary sub-culture."
The brand launched at Body Power Expo on May 15, and Robot Food have already put design strategies in place to expand the product range, keeping this new brand relevant to the core audience and ahead of the competition."