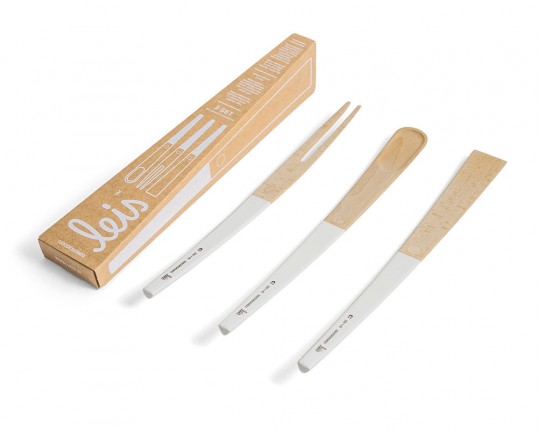 Designed by Giodesign | Country: Slovenia
"Leis aims to revive the centuries' old woodcraft tradition called 'suha roba', born in Slovenia amidst one of Europe's most forested areas. Combining contemporary design and long-established hand-crafting skills, the brand's purpose is to manufacture appealing, user-friendly and well-designed products made strictly using locally sourced beech.
The first product is a three-piece kitchenware set consisting of a fork, spoon and spatula. They feature an integrated magnet for easy storage, lifted ends to prevent smearing and a curved shape ensuring an easy and secure hold. Future products will include nature-friendly Christmas ornaments and office accessories.
Designed, developed, sourced and handcrafted within a 30 km radius, Leis promotes a sustainable, fair-trade business model. Leis is the result of a partnership between the companies Rimarket, which oversees product development and manufacture, and Gigodesign, for design and branding."