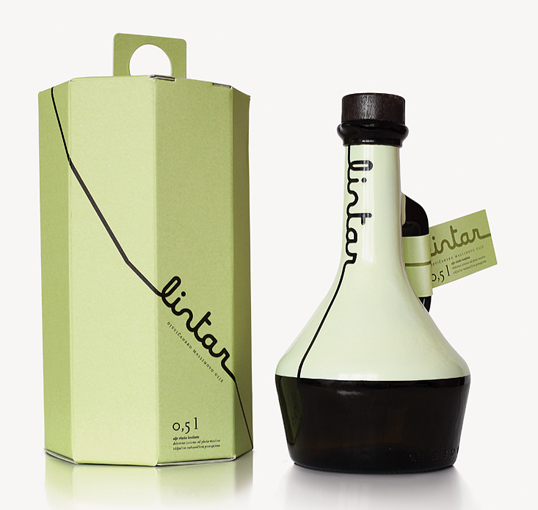 Designed by Tridvajedan | Country: Croatia
"Lintar olive oil is the product of years of investment of Cemex Croatia Company in sustainable development. On the southern slopes of Kozjak, local oil mill and the Cemex Company together made the project of regeneration by planting indigenous species of olive trees.
Collaboration is achieved at all stages, from strategy and market positioning, the name of the product to designing the identity and packaging design. Lintar name derives from the Greek word that means "funnel" and which is the old name for the Kastela Gulf, the geographical origin of the oil.
Brand and packaging design is inspired by the shape of the funnel and pouring. So brand is made in typography Maline, interpreting the oil line pouring on the surface and creating the name. The bottle is funnel shape. The visual identity of this product is juncture of traditional and contemporary, which is particularly evident in the specific combination of colors and shapes.
Dark brown glass bottle is hand painted in very light yellow-green tone and text elements are printed on the surface. Label, with basic information about the product, is attached to bottle handle, and other information is printed on cardboard box with a fingers handle."