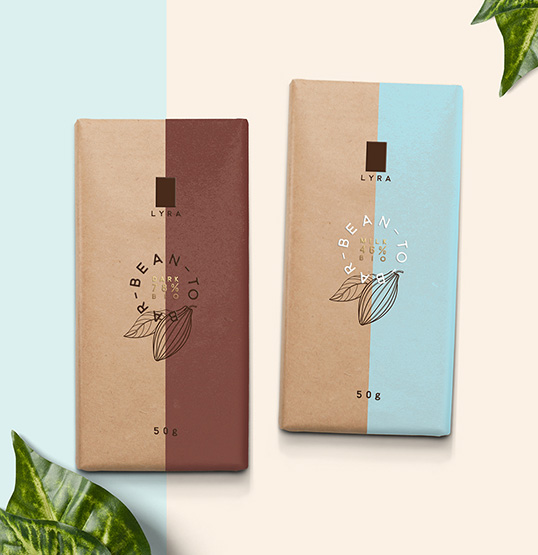 Designed by Michal Slovák | Country: Slovakia
"Since 2012 LYRA has stood for the highest quality handmade chocolate made in Slovakia. Lyra chocolate made of the finest cocoa beans, criollo and trinitario, grown on the plantations in the Middle and South America, was granted an international award Great Taste 2014.
This year they decided to place a new line of their own recipe premium products on the market. The aim was to create new packages for the premium products. Simple, playful and extraordinary just like the products themselves and this way distinguishable from the other chocolate. As a result, there are two new coated products LYRA BEAN-TO-BAR chocolate – 78% DARK BIO and 46% MILK BIO.
The bars feature a small, centered graphic of a cocoa pod, indicative of the pure ingredients used to create it and golden stamping in the middle to distinguish. The new design goes hand in hand with the essence, the taste itself. As the Lyra chocolate flavors are well tuned so do the design of new packages."