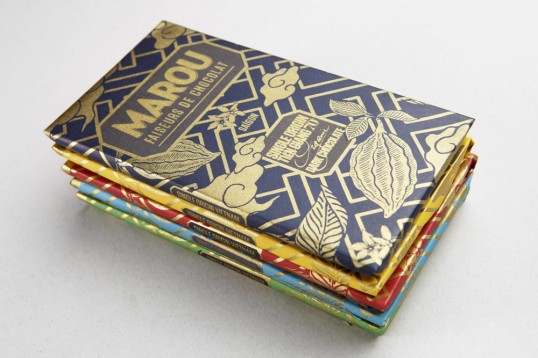 Designed by Rice Creative | Country: Vietnam
"Chocolate makers working directly at the source of the cacao farms are still very few and far between. Marou Faiseurs de Chocolat, based in Ho Chi Minh City (Saigon) is one such company who have created the first single origin gourmet bean-to-bar chocolate to come out of Vietnam. 
Marou was founded less than a year ago by two adventurous Frenchmen. They decided, to use the small amounts of cacao beans harvested, fermented and dried on small family farms throughout the Mekong Delta and southern highlands of Vietnam, to make an extraordinary chocolate.
Marou approached Rice Creative at the beginning of their adventure, with the mission to build the brand's visual identity and packaging."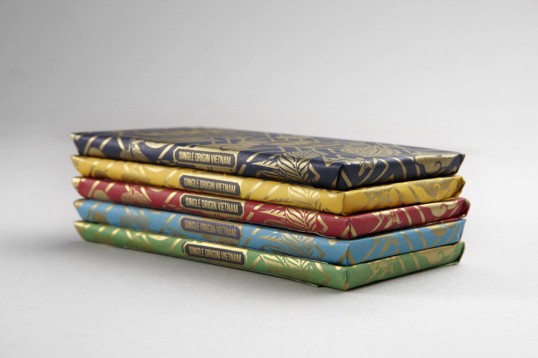 "Inspired by Marou's unique story, we sought to develop an identity and packaging system with the right mixture of modernity and tradition. The most exciting aspect of the product for us, was that each variant of Marou Chocolate could be based on the province from where the cacao beans grow. The geographical location of the farm and its soil determines the characteristics of the cacao beans and therefore the flavour of the chocolate."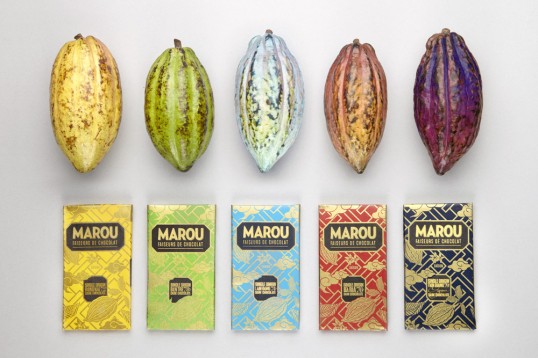 "After much deliberation, we found the simplest way to create a system for the bars was to name each bar after the province where it's beans originated, and ascribe a natural colour-shift. Seeing the Trinitario cacao pods first hand, we found a greatly inspirational spectrum of hues. Deep vermillion to ochre yellow, grass green, midnight blue, and flushes of peacock aqua all appear."
"We wanted the packaging to be strongly linked to Vietnam. We began collecting beautiful ceremonial papers that are still produced by artisanal printers in Cho Lon, the old Chinese quarter of Saigon. These papers are hand printed with intricate traditional lattice patterns. Typically, the patterns are adorned with illustrated fruits, flowers and auspicious animals. Inspired by this illustration style we hand drew our own original chocolate oriented ornaments of cacao pods, flowers and leaves, throwing in some heavenly looking clouds for the tropical monsoon. Our custom lattice pattern keeps a traditional look and creates a framework to incorporate some modernist typography, inspired by the old signage still found around the country."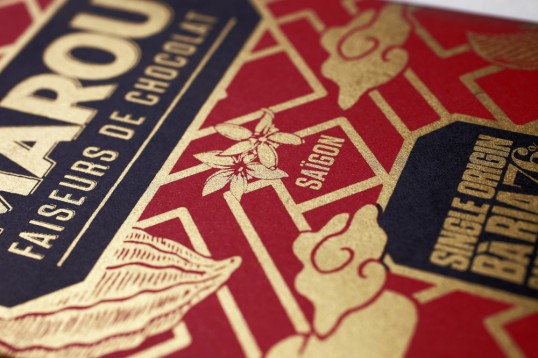 "To highlight the hand-made, artisanal quality of the chocolate itself, we commissioned a local printing shop to use the traditional silk-screen printing techniques to hand print the design in antique gold ink on each wrapper. The finished packaging is then given to Marou who then hand wrap the chocolate bars."