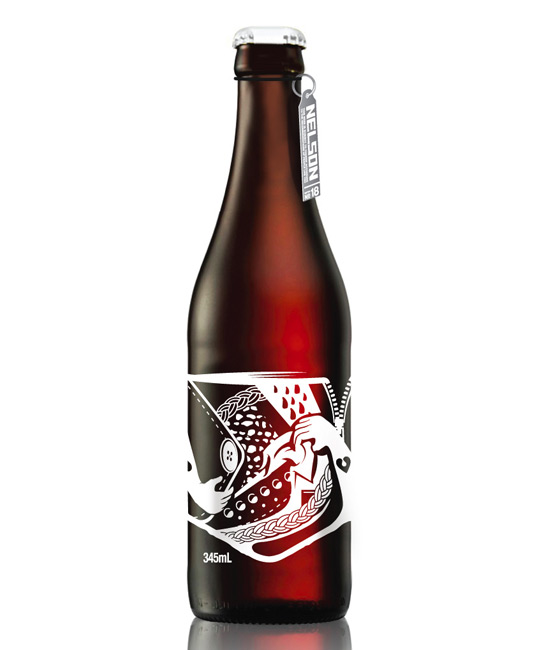 Designed by Trimäpee | Country: Australia
Melbourne-based fashion house Trimäpee (Trim-mar-pea) has joined the likes of Sonny Day, Biddy Maroney and The Temper Trap, in collaborating with NELSON to design the beer's latest limited release label.
Comprised of designers Peter Strateas and Mario-Luca Carlucci, Trimäpee is a forward scout of the Australian fashion scene. Unique collections with conceptual themes make each garment a product of character expression, rather than the attempt of mimicking mainstream fashion.
Taking cues from this brand philosophy, they have created a design for the NELSON bottle that emphasises the importance of texture, pattern, cut and fit.
The resulting artwork takes the appearance of a fashion design coat of arms, or family shield. Fabric textures interlock with buttons, weaved chord, and zippers, to form an interior framed by entwined arms. Artisan hands reach in from the border to ply their craft, shaping a combination of raw, draping finishes and tailored cuts.
Asked about the collaborative process, Carlucci said, "Clothing a beer bottle to reflect our style and philosophies was definitely a unique challenge."
"The task forced us to boil-down and reduce the essence of Trimäpee into a single design, which though difficult, resulted in a design we're really proud to have grace the NELSON bottle,' he said.
This is the third design to be announced in NELSON's collaborative series, and the first working with a fashion house.
The special edition bottle will be launched during Melbourne Spring Fashion Week, coinciding with the release of Trimäpee's Spring Summer '010 collection, entitled 'Damaged Disposition', on the 4th September.