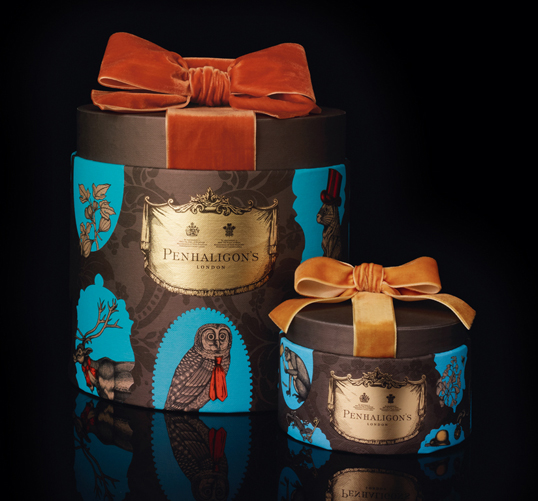 Designed by jkr | Country: United Kingdom
"This month sees the launch of the new Penhaligon's Christmas gift collection. The gift boxes, which are based on the theme of anthropomorphic animals, deliver a bespoke gifting solution for the boutique perfumer. Briefed with delivering eccentricity and decadence, the new collection creates a fantasy world in keeping with the brand's charismatic charm. Each range tells a story, from an afternoon tea party through to music and discovery.
"This was a fantastically collaborative process with the client – we both wanted to create something unique that didn't rely on Christmas clichés. The use of bright colours makes a real statement and ensures the boxes are not too traditional." Jovan Buac, Senior Account Manager, jkr. "That's the beauty of Penhaligon's – the careful blending of the old and the new – modern doesn't have to mean forgetting the past, but feeling classic doesn't mean being really conservative."
The designs transport you to a fantasy world where things aren't quite what they seem. "This was a dream brief for many designers and something so visually rich is always exciting to work on. We really let our imaginations run wild and the craftsmanship involved was also very important. All the illustrations were done in-house, so the final designs stay true to our initial concept." John Ewles, Creative Director, jkr.
Sarah Rotheram, CEO, Penhaligon's added "We wanted something that at first glance just appeared beautiful but invited the customer to look closer and be surprised. Anthropomorphic animals was a start point and the team at jkr took us on a creative journey that delivered on this brief – the gift sets are absolutely Penhaligon's".
"It was a real opportunity to create the illustrations for this year's Christmas boxes. I really had to create some interesting characters and it's so great to see these come to life on the boxes." Chris Burge, Illustrator, jkr.
As well as the imaginative graphic approach, it was important to deliver the decadence associated with the brand. Sumptuous patterns, materials and finishes were used to create depth and richness, resulting in a gift consumers would love to receive this Christmas – a real keepsake. "The key to this design was to deliver both luxurious tactile ribbons and detailed graphics. The layers of foil, print, and texture help to create a rich expression of Penhaligon's, whilst matching the ribbons with the accent colours provides the luxurious flourish." Judith Allan, Production Director, jkr.
"They are the most visually beautiful boxes we have ever produced and we are very pleased with the end result! Everyone within the business is really excited about the collection and we have had a very positive reaction from our wholesale partners and distributors. So far, it's looking like these will be our most popular Christmas gifts to date!" Emily Maben, Head of Marketing, Penhaligon's."