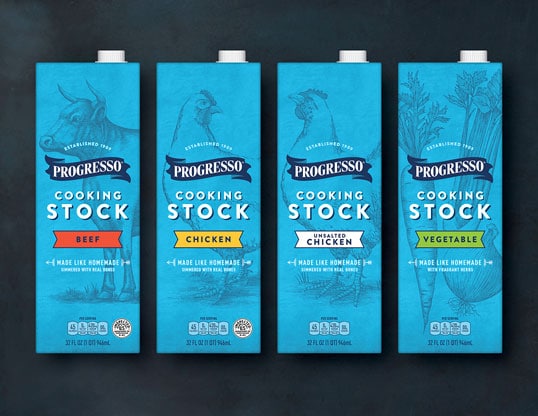 Designed by Hornall Anderson | Country: United States
"Progresso believes that real, quality food makes life better. But, how does a brand with over 100 years of heritage design packaging that speaks to loyal supporters as well as more adventurous cooks looking to try something new? This was the challenge Progresso faced when they partnered with Hornall Anderson to design the packaging for a new line of cooking stocks.
In order to communicate the higher quality of product inside the package, the design needed to appeal to cooks' creative aspirations as well as demonstrate clear superiority over the competition. By understanding that premium brands create trends rather than follow them, the result was a solution that radically broke category conventions—building on years of heritage to create a fresh, new perspective."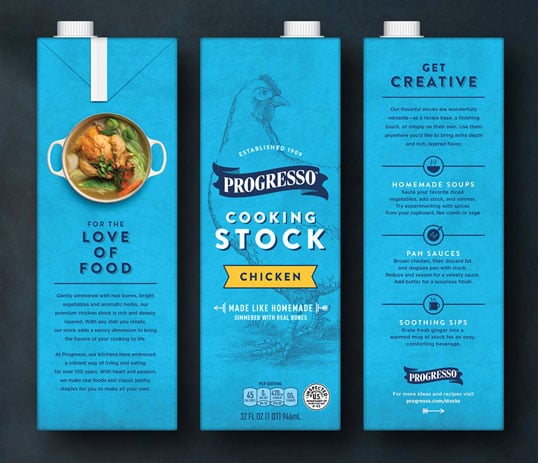 "Using lively, classic illustrations, modern typography, and a fresh color palette, we emphasized craftsmanship and love of the ingredients inside. The side of the packaging touches on Progresso's heritage and love for food, and gives suggestions to inspire our cooks to create their next perfect dish.
Throughout all of the deliverables—from packaging and photography, to a style guide demonstrating best practices for advertising, a microsite, and more—Progresso's passion for real, quality food shines through."