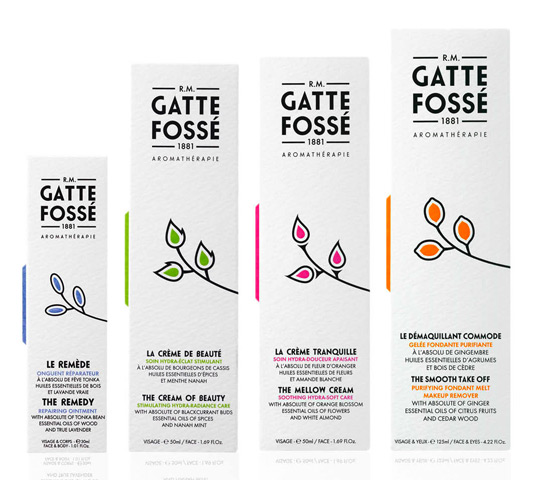 Designed by CA DESIGN | Creative Direction Tommaso Nicolao | Country: France
"The graphic concept behind this new cosmetic line is inspired by the codes of art deco. In the logo, the art deco reference is evident in the typography that conveys the historical savoir-faire of Mr. R.M.Gattefossé, who invented the aromatherapy industry in the 1930's. The pictographic system conveys the art deco codes in a more contemporary manner in order to translate the cutting-edge scientific know-how of the company, while also bringing fun and color to the aesthetic of the packaging.
The right side of the packaging plays a main role in the linear for merchandising presentation, completing the icon and displaying important product details.
The inside of the packaging reveals itself like a secret garden, inviting us to delve into the box and discover the history of the brand. This allowed us to avoid printing an internal leaflet, thereby reducing paper and respecting the ecological goals of the company, also suggested by the highly-textured snow-white Fredrigoni Tintoretto paper."