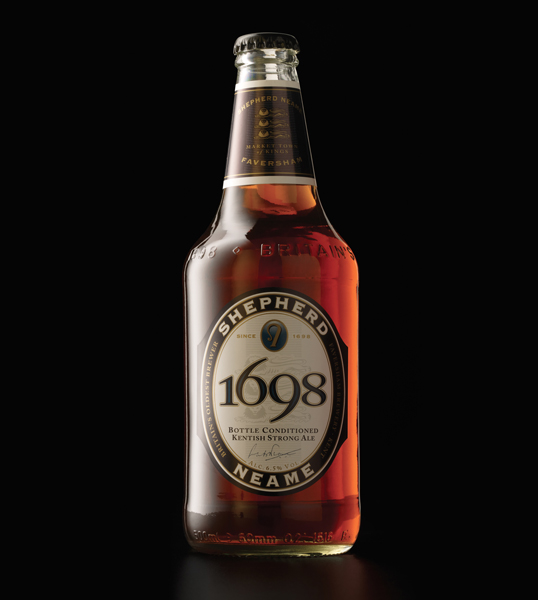 Designed by SAA Design | Country: United Kingdom
"Officially founded in 1698, Britain's oldest brewer, Shepherd Neame, has recently relaunched it's premium flagship ale, by SAA Design. Thrice-hopped and bottle conditioned, 1698 is the connoisseur's choice, and with an ABV of 6.5%, a beer to be savoured.
Originally brewed to celebrate the tercentenary of Britain's oldest brewer, 1698 is a characteristically hoppy Kentish ale, and has Protected Geographical Indication, the same unique regional protection afforded to Champagne and Parma Ham.
The ale matures naturally in the bottle and can be enjoyed fresh or allowed to settle for a few months to mellow. The natural effervescence produced by bottle-conditioning – the interaction of yeast and brewing sugars – gives 1698 fine, champagne-like bubbles that further enhance the fragrance, flavour and overall drinking experience.
The 500ml bottle label features bold black and white graphics with the three lions watermark; the symbol of Faversham, home of Shepherd Neame and known as the market town of Kings because of it's Royal connections, adds layers and texture to the new design, endorsed by fifth generation Chairman Jonathan Neame's signature at the base of the label.
A silver medal winner in the Taste of Britain Awards, 1698 has been included in the International Beer Challenge's World's Top 50 Beers.