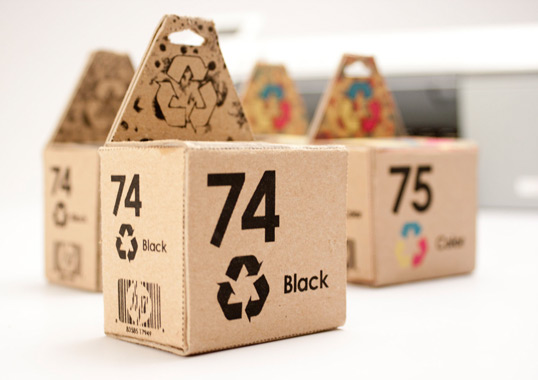 Designed by Carli Shipley | Country: United States
"In efforts to reuse, versus recycle, I designed a package that would enable the HP Ink consumer to send back their empty ink cartridge in the self addressed, same box that the new ink cartridge is bought in. Conceptually, HP would start a "refilling" option, where the user would order their next cartridge online ahead of time and receive a discount by entering a the code found on the box.
I chose to use recycled chipboard as my material and to screen print the graphics (using only process inks cyan, magenta, yellow and black).
The ink cartridges are packaged separately, allowing the consumer to purchase only the ink that is empty – Black or CMY. The package also provides a simple and quick solution for recycling empty ink cartridges."