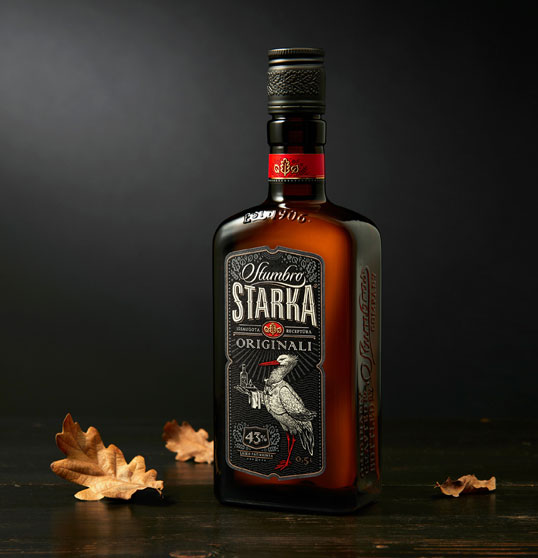 Designed by Studija CREATA | Country: Lithuania
"They say that in the old days, Lithuanian men would make Starka on the birth of their first son. An aged vodka in honor of the stork's delivery. Strong and special. Triple distilled rye vodka, with the leaves of apples and pears. Apples for richness and pears for a long, full life. Buried in an oak barrel, it would wait patiently for the son's wedding day.
For the revamp of Stumbro Starka, we want to blow the dust off this interesting and rich beverage. Our goal is for Starka to be known as the unique Lithuanian beverage that it is – one that you should be proud of treating guests to or bringing as a gift.
By changing the image of Stumbro Starka, in essence, we created a whole from its parts: from the new, uniquely-shaped, dark glass bottle adorned with raised calligraphy and the rich label which tells the legend of the beverage, to the bottle stopper decorated with an oak leaf wreath."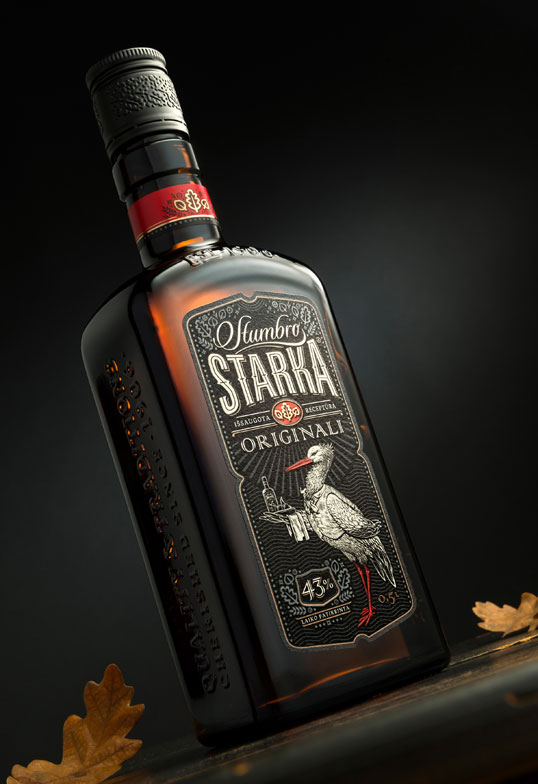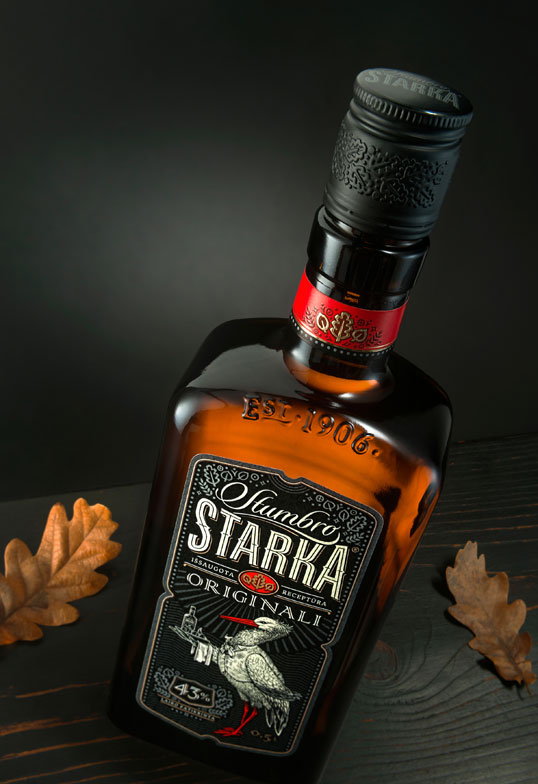 "By maintaining the black, white and red color scheme characteristic of the earlier Stumbro Starka, we wanted to create a reserved, but rich appearance to provide it with an impressive look that its predecessor may not have had. With both the shape of the bottle and the graphic elements, we strived to create associations which turn the wheel of time back a good century.As a symbol of recognition, we created the stork character. As the national bird, the stork – sometimes called a 'starkus' in Lithuania – helps to strengthen its Lithuanian characteristics as well. Caught in the unexpected role of a hospitable innkeeper, the stork became an intriguing and appealing narrator for the story."