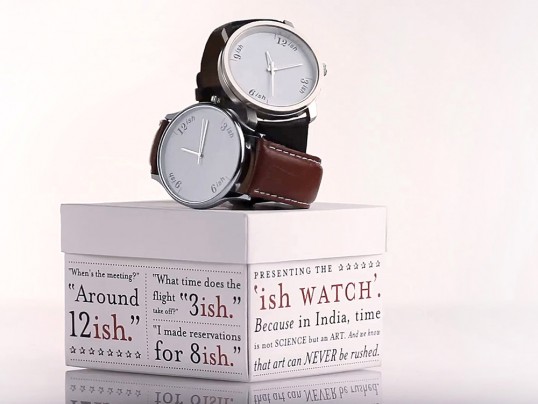 Designed by Hyphen | Country: India
"In India, 'fashionably late' is safely replaced with 'predictably late'. Cow blockades, politician escorts, and cratered roads, compound the problem and offer a valid excuse. So when you reach half-an-hour after the appointed time, you don't explain yourself. You wait for the other person to arrive.
We used this life insight, and added some dark humour to it.
We simply added a suffix to time periods. And moved the numerals from their classic perpendicular positions, tilting them to an approximate point on the dial. Hence six was not six. Eight was not eight. It was 'six-ish' and 'eight-ish'. Thus was born the 'ish Watch'.
The audience instantly connected with the watch, as it reminded them of the times they had been either the victim or culprit of tardiness. However, as a 'non-punctual' attitude is almost part of the Indian ethos, they bought into the idea and the watch, without delay."