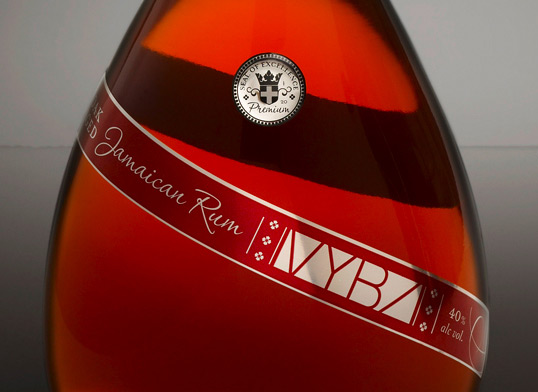 Designed by Project 13 | Country: United States
"Launching hits that are popular in the club scene is pretty sweet and all, but until you've launched your own branded non-music product, you haven't really made it in the music business.
That's why Adidja Palmer, known in the Jamaican dancehall world as Vybz Kartel, went into the rum business. Well, that, and having your own line of premium handcrafted rums is pretty damn cool.
To make sure the bottle was sexy enough for the upscale dancehall crowd, Vybz entrusted the branding to Project 13, who knows sexy. We also know a little something about logo and label design, plus the printing and production processes, all of which helped us tackle the challenges of designing branding for a rum bottle with no flat surfaces. Undaunted, we developed a unique shoulder wrap and neck label featuring a contemporary VYBZ logo that instantly lets discriminating rum drinkers know they're in the presence of a premium product.
Organic line work and a regal seal of excellence ensure an elegant look, while the incorporation of a small hummingbird in the design gives a nod to the rum's Jamaican roots. We also designed with function in mind, as each label must be hand applied and numbered during bottling, a slow and exacting process appropriate to the slow and exacting process of making the triple-distilled silver rum and handcrafted oak-aged rum that are the pillars of the Vybz brand."