July 21, 2009 | 8 Comments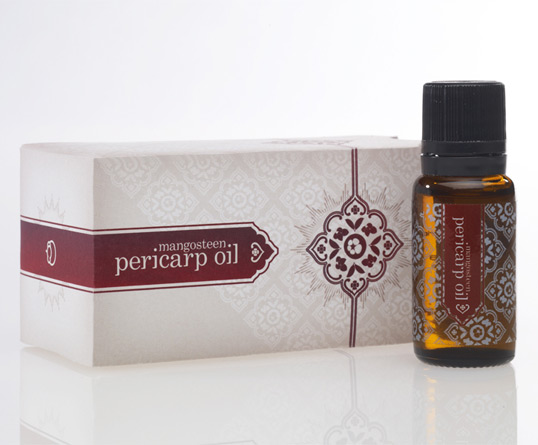 Designed by Struck | Country: United States
"There's something rather regal about the mangosteen fruit. Maybe it's the deep color of the rind, or the pure white fruit it holds, or the density of its nutrients. Whatever it is, it's worth capturing. Which is what we've done in the packaging for XanGo's latest product, a multi-use serum made from all the goodness of the mangosteen. Traditional patterns speak to its origins, and hand treated type and brush stroke textures speak to natural organic beauty. The slide box reveals a product as unique as its custom die line."
July 20, 2009 | 10 Comments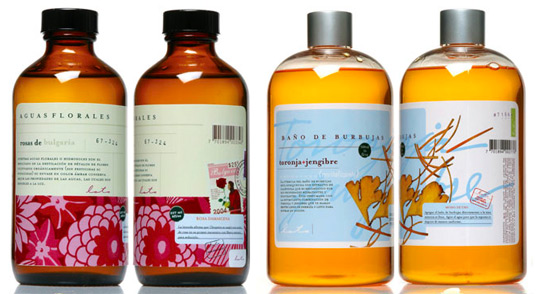 Vanessa sent us these lovely bottles that she stumbled upon a while ago, and is hoping that one of our readers can help her identify them. We'd also love to know, so If you have any information on this work please let us know in the comments.
July 20, 2009 | 4 Comments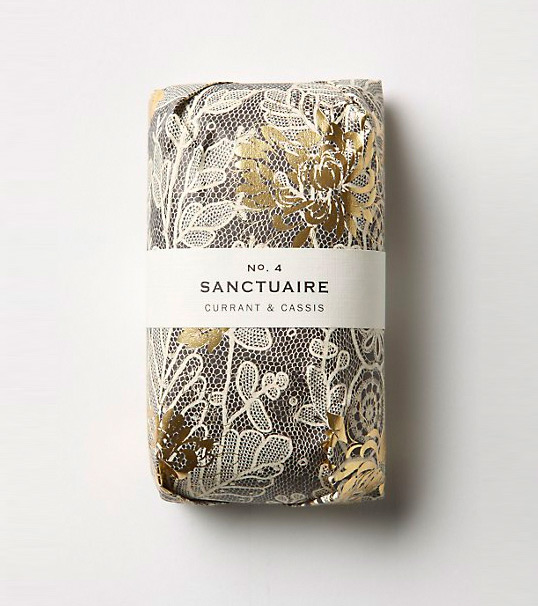 With gold foiling and beautiful patterns offset by simple labeling, this lovely soap is made by Fringe Alchemy.
If any of our readers know who designed this beautiful packaging, do please let us know in the comments.
July 19, 2009 | 34 Comments
Designed by ChappsMalina, Little Fury & Help Remedies | Country: United States | Buy it
Thanks to Richard at Help Remedies for sending us the package designs for their new products. This is one of the best examples of product concept and design. From the naming down to the witty copy and simple, clean design, it doesn't get much better than this.
"Our packaging is made of molded paper pulp and a bio plastic made primarily of corn. We use these materials because they are interesting to look at, and they are compostable—which means one day, they might become part of a large tree. Maybe you can cut down that tree and make it into a speedboat.
Visit this space daily to experience the ongoing struggle of "help I have a headache" as it attempts to biodegrade."
July 17, 2009 | 4 Comments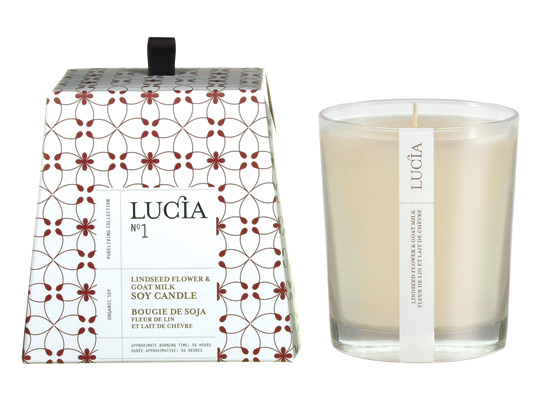 Designed by Pure Living | Country: Canada
"LUCIA was inspired by Lucie Bernier (president) of Pure living products. Her many travels to Europe, Asia, etc has led her to bring back through the years an assortment of Renaissance designs on fabrics from Florence, ceramic work from Portugal, Spain and  Italy, etc. She wanted to create a line of specialty soaps (now candles also)  that reflected these rich  textured designs. Each design reflects old world charm with a modern touch. The logo LUCIA in black & white reflected the 'cleanness' of a soap product and at the same time counter-act the rich and 'busy' textures of the old world designs. Also, this was a product that was designed in our contemporary times so the logo had to refect this. The box construction of the soaps was inspired from old, pre-war soap designs from Spain & Portugal. The candle box contruction was inspired  by the 'Pannetone' cake found in Italy."
July 16, 2009 | 9 Comments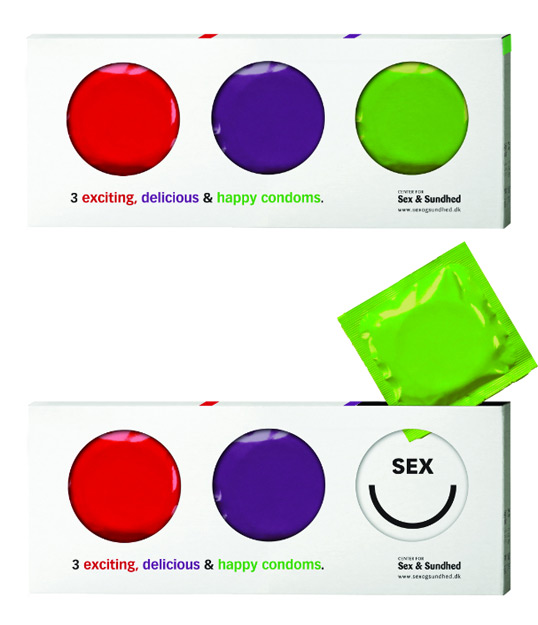 Designed by Robert Daniel Nagy & Mads Jakob Poulsen | Country: Denmark
Robert Daniel Nagy and Mads Jakob Poulsen had 24 hours to come up with this lovely concept.
"This is a handy package constructed so it opens from the right to the left, revealing a simple humoristic statement as each condom is taken out (and hopefully used!). The statement simply connects 'condoms' with 'having sex',and 'no more condoms' meaning 'no more sex'. The message should come across in eye level with the target group without being patronising or judgemental. Sex is fun, yet serious."
July 13, 2009 | 4 Comments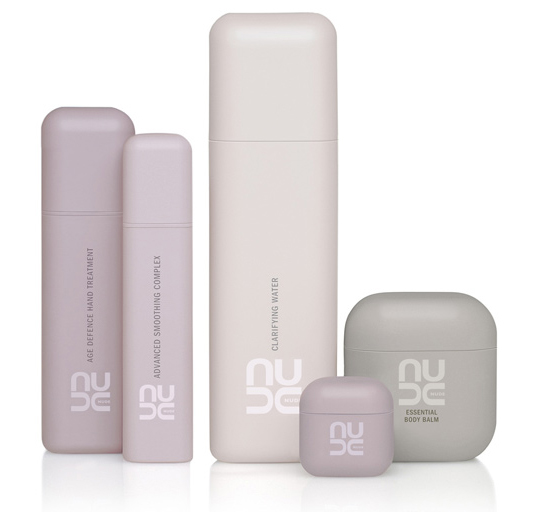 Designed by Pearlfisher | Country: United Kingdom
Beautiful package design for an entrepeneurial luxury skincare company. A great example of minimalist package design reinforcing the brand's identity.
July 10, 2009 | 6 Comments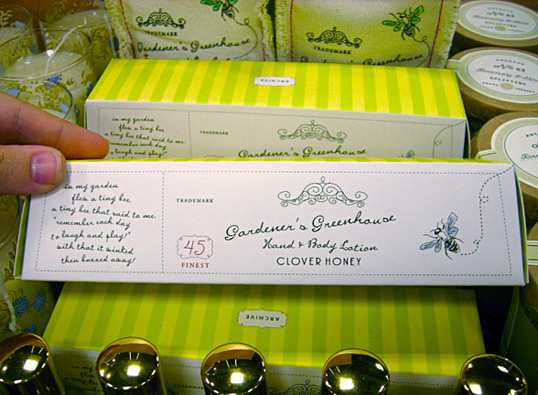 April sent us this beautiful packaging for Clover Honey that she found while visiting Macy's. She's hoping (as are we) that someone might be able to pinpoint the company or person responsible for this design. If you know, please drop us a line in the comments.
July 9, 2009 | No Comments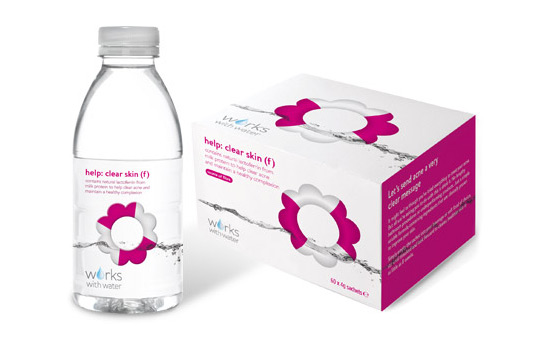 Designed by Elmwood | Country: United Kingdom | Buy it
"Elmwood was tasked with looking at the company's entire brand, from product names and tone of voice to logos and packaging designs.
"We felt Works with Water needed a powerful new look and feel to capture the product offering and new sachet delivery formats. Acne, blood pressure and cholesterol levels are all serious conditions which the branding needs to reflect," said founder, Jules Birch.
July 7, 2009 | 1 Comment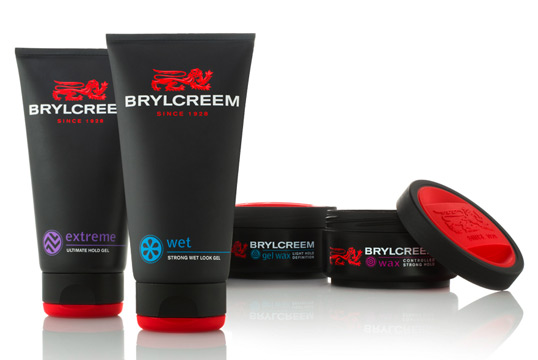 Designed by Echo Brand Design | Country: United Kingdom
"A classic British brand, with a strong male personality and a youthful consumer base, was lost in a sea of unisex competitors. So we gave the 'Lion of Style' its claws back. Integrating a contemporary structural design, with a revitalised classical lion mark and clear navigation gave the Brylcreem brand pride in its heritage and courage to innovate."