May 29, 2009 | 3 Comments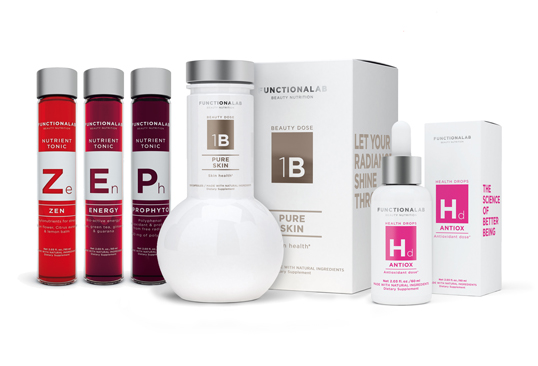 Designed by Sid Lee | Country: Canada | Font: Gotham
"Montreal-based agency Sid Lee launched Functionalab, a 100-product health and beauty line and retail space that lives as a shop within a shop at the high-end women's retailer. Founded by Montrealers Erick Geoffrion and Francis Maheu, Functionalab makes personalized nutritional supplements with a beauty twist, which it calls "nutricosmetics." Functionalab products are sold in stylized packaging with two-letter product names resembling the periodic table of elements."
May 28, 2009 | 6 Comments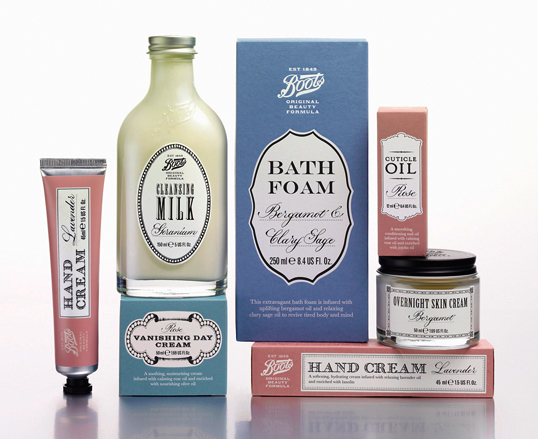 Designed by Camilla Lilliesköld | Country: United Kingdom
"This heritage range was created for Boots The Chemist. It was inspired by Boots own packaging from the 1880's. The launch has been timed to celebrate their 160th anniversary. Each component has a different frame and typeface creating individuality within the range. All cartons are on uncoated card with debossing to create a genuine, premium feel."
May 26, 2009 | 3 Comments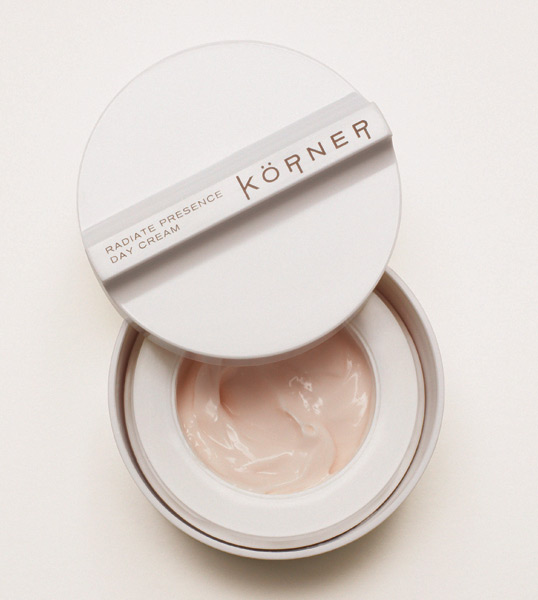 Designed by Container | Country: China/Australia
"A premium brand from a family with over a century of skincare experience. Container was commissioned to develop an identity and packaging that reflected both the heritage and grand-daughter Rebecca Körner's wish for a modern multi-tasking range. Soon after its launch Körner was awarded "Best New Beauty Product" by Wallpaper* magazine and is now available through Harvey Nichols, Colette, Henri Bendel and other leading stores."
May 24, 2009 | 7 Comments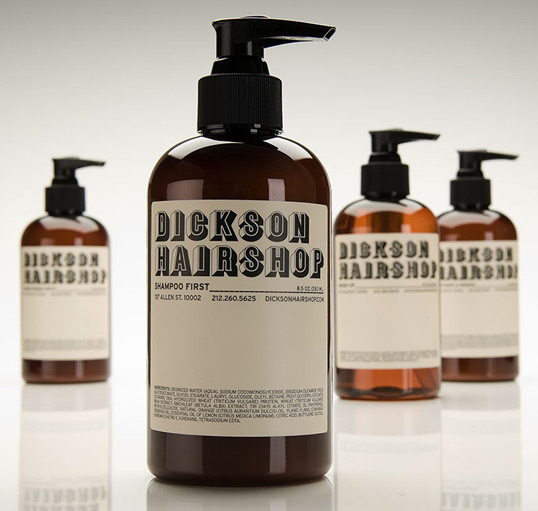 Designed by Zoé Roman | Country: New York | Buy it here & here
"Dickson Hairshop, an old-school/new-style barber shop hailing from the Lower East Side of New York City, has developed an award winning male grooming product line scented with a custom fragrance of juniper and cedar with notes of white pepper. The products are crafted from all-natural plant-derived ingredients and are manufactured and bottled by hand in small quantities in upstate New York."
May 21, 2009 | No Comments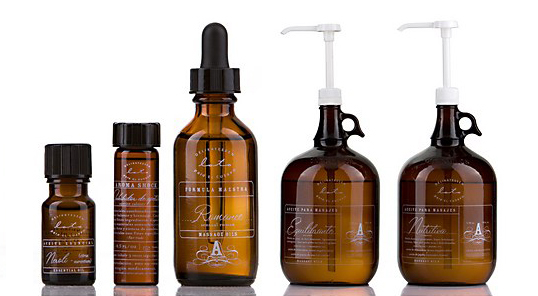 Designed by Arutza Onzaga, P576 | Country: Colombia
"With the help of an aromatherapist, customers can, in the store, mix and combine loto's different oils to create personalized fragrances. Because customers can create individualized scents, Bogotá, Colombia design firm P576 wanted to communicate the singularity of the product. The unique packaging solution uses recycled cardboard, with the line's distinctive seal hot stamped in gold, and affixed typographic labels that describe the makeup of the product, to create elegant and sophisticated packaging that alludes to the individuality of the scent inside."
May 21, 2009 | No Comments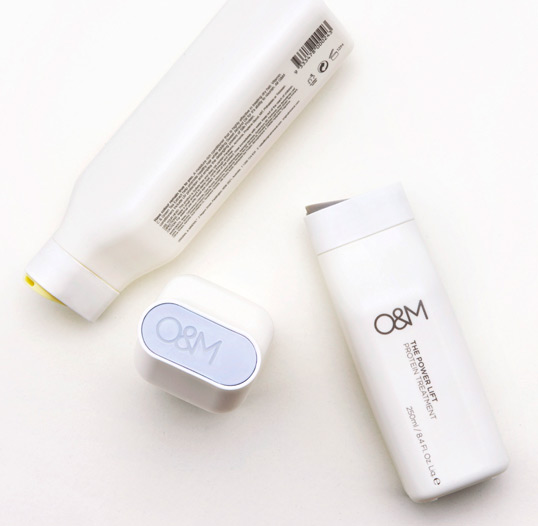 Designed by Container | Country: China/Australia
"O&M are pioneers of ammonia free colour technology. To help the brand come front of house Container were commisioned to produce a new identity and deliver packaging that reflected their offer of salon professional results without harsh chemicals. The forms developed for the wet range are reminiscent of milk bottles giving a visual cue to the formulations within – that they are clean, natural & nourishing. The styling products make a bold statement that helps to create visual tension when merchandised with O&M's other products on shelf."
May 20, 2009 | 5 Comments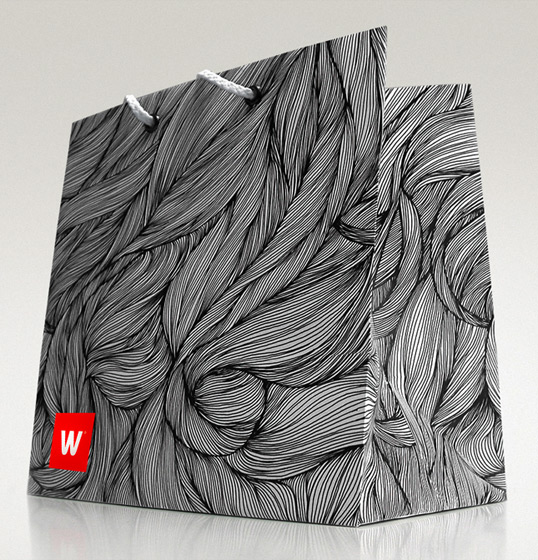 Designed by Peter Gregson | Country: Serbia
"Visual Identity and handbag design for woman's hairstyle studio. Handmade pattern illustration of hair for paper bags. The bags are being used as packaging for purchased hair products."
May 18, 2009 | 2 Comments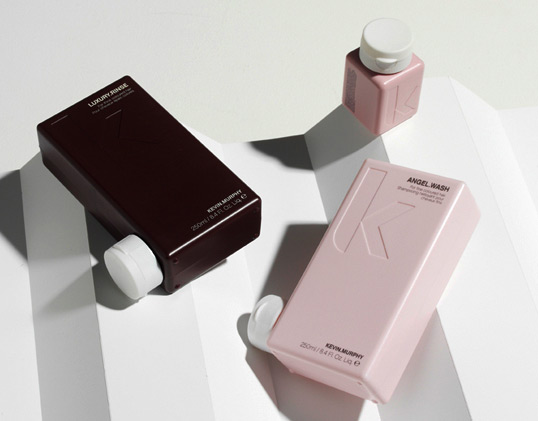 Designed by Container | Country: China/Australia
"Custom packaging and branding for a new concept in hair care. Kevin Murphy's eponymous range of styling products was born from his wish for something "completely different". When the styling products (above) expanded to include a wet range (right) they grew into a slab sided 250ml bottle and a mini that has the same visual voice, but less volume. The quirk of the cap being hung off the base has the hidden benefit of keeping the pack always charged with product."
May 17, 2009 | 3 Comments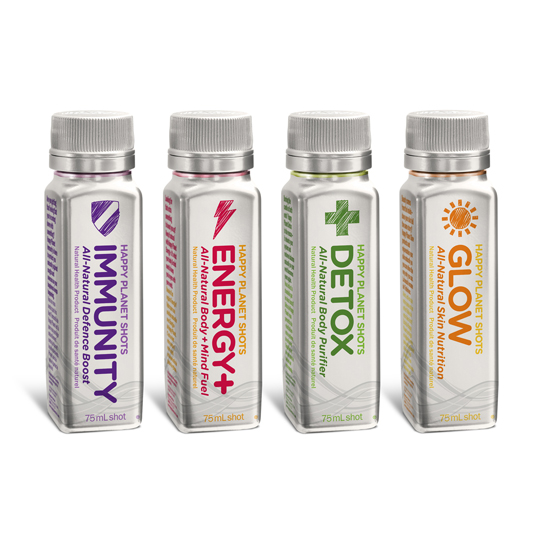 Designed by Subplot Design | Country: Canada | Font: Gotham Rounded
"Tired of typical Energy shots that currently dominate the market with their toxic taste and less-than-credible-ingredients, Happy Planet has brought their reputation and knowledge of healthy natural beverages to the emerging shots category. Happy Planet Shots are formulated to address four specific occasions: Energy, Immunity, Detox and Glow.
Much time and effort was spent creating a bottle that was not only unique, but also environmentally-responsible and cost-effective. The result is a tall, slender, square-sided bottle with a full shrink-wrap film enabling total coverage of the bottle with graphics. The illustrations clearly depict the benefit of the shot; a shield for immunity, a sun for glow, a first-aid cross for detox and a lightening bolt for energy."
May 15, 2009 | 1 Comment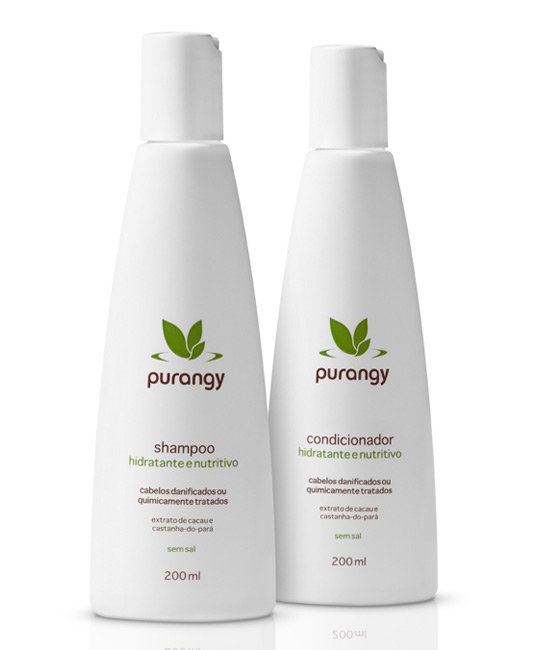 Designed by Contentcom | Country: Brazil
Clean, minimalist package design for Purangy, the first bio-cosmetic industry of Amazonia – Brazil.