July 2, 2012 | 3 Comments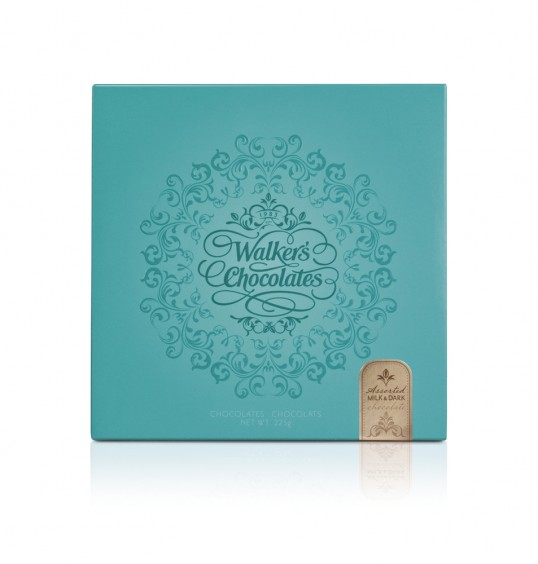 Designed by Bridgemark | Country: Canada
"The Walker's family has been creating confectionery in their Candy Kitchen in small batches, hand-stirred in copper kettles in the traditional way for almost 30 years.
Walker's Chocolate needed to carefully transform their brand to draw in younger consumers while continuing to appeal to their loyal and valued aging customer base. Bridgemark's boutique package stands alone as an exquisite, gift-able offering bypassing the need for additional wrapping which is costly and labor intensive.
What was once a utilitarian box is now a treasured gift. Walker's new versatile packaging is steeped in tradition with an inspired color palette that is bold and contemporary."
February 14, 2012 | 10 Comments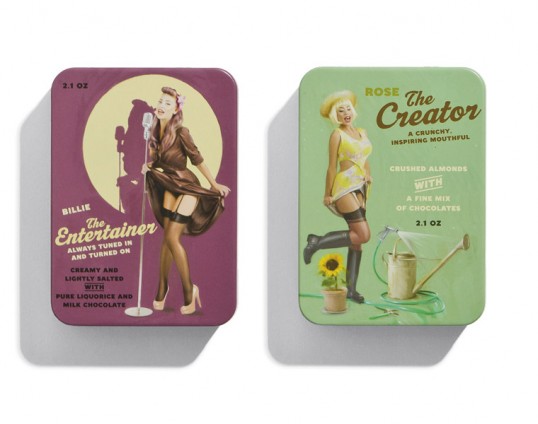 Designed by Bessermachen for Brandhouse | Country: Denmark
"12 archetypes.12 filled chocolates.12 months. Bessermachen design studio had a dream about how archetypes could be shown as young women, calendar girls in a classic 50s style, to create the perfect packaging for archetypes and chocolates. But we knew that for it to be authentic, it would have to be done right.
They were perfectionists in the 50s. First they photographed the model. Then they painted over the picture to achieve the right effect. There were no shortcuts. And speed was of the essence.
To create pin-up girl illustrations, you have to be faithful to the way it was done in the 50s. From the ground up and without compromise.
Packaging for the chocolates is a chapter for itself. Everything from weight to quality and coating needs to be taken into consideration. Suggestions range from using fabrics to cardboard. But in the spirit of the 50s we end up choosing tin boxes. The production, however, is modern and made in China."
November 2, 2011 | 7 Comments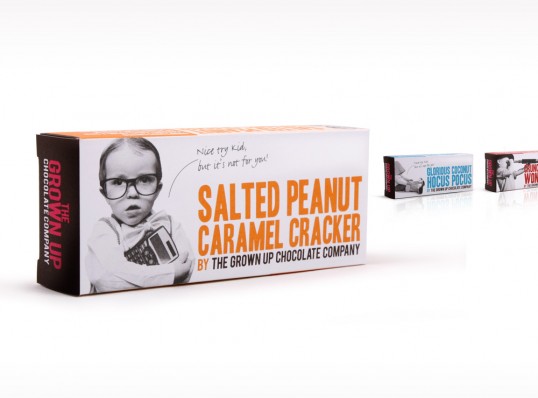 Designed by Toast Design | Country: United Kingdom
The Grown Up Chocolate Company had created a range of luxury hand-made chocolate bars inspired by childhood favourites.  This company and its wonderful bars offered a unique way of satisfying the most discriminating chocoholic, but needed to be branded and designed to ensure the customers experience started before they even tasted the goods – so they turned to Toast Design.
October 4, 2011 | 4 Comments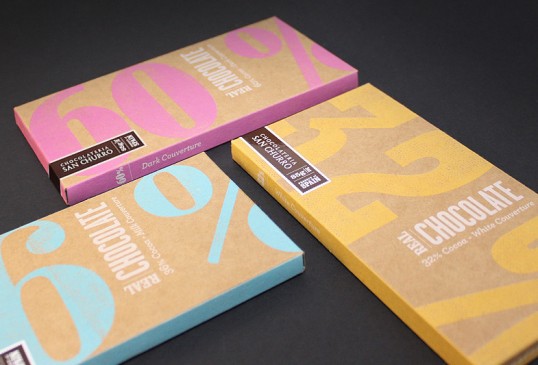 Designed by Studio Alto | Country: Australia | Fonts: Garage Gothic, Archer
"San Churro's Real Chocolate is a product range developed in reaction to a chocolate market flooded with inferior 'confectionary' chocolate.
In the words of San Churro – "When it comes to chocolate, the truth is that there's no substitute for REAL cocoa butter. It's like ketchup without tomatoes, or an omelette without eggs – it's the key, essential ingredient. Chocolate without it simply is not chocolate, but rather a sub-standard B-grade pretender: all show, no substance."
June 30, 2011 | 1 Comment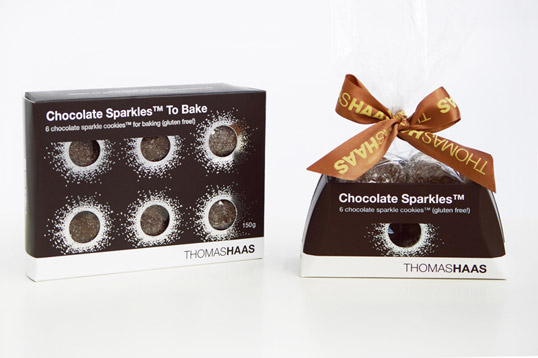 Designed by Cameron Snelgar | Country: Canada
"What started as a label replacement project, gained momentum and we soon found ourselves responsible for delivering two packages for the "The World's Best Cookie" (Vancouver Sun, Feb 2003).
Initially, Thomas Haas' freshly baked Chocolate Sparkle Cookies were presented in a cellophane wrapping with a sticky label attached. The refrigerated home bake cookies were in stock paper with a sticky label attached.
I knew that the Chocolate Sparkle Cookies as with most of Thomas' creations were innovative and unique. The challenge was to communicate the "Sparkle" within, while simultaneously preserving the carefully crafted Thomas Haas brand.
The package for the home bake set of six Chocolate Sparkle Cookies came first. Wrapped in Thomas' signature ribbon branding and logo, it includes angled sides. Earlier in the design process all of the sides were angled, naturally conforming to the spacer tray within. However, the option for additional front display and stacking was needed, hence the flat top and bottom.
April 14, 2011 | 4 Comments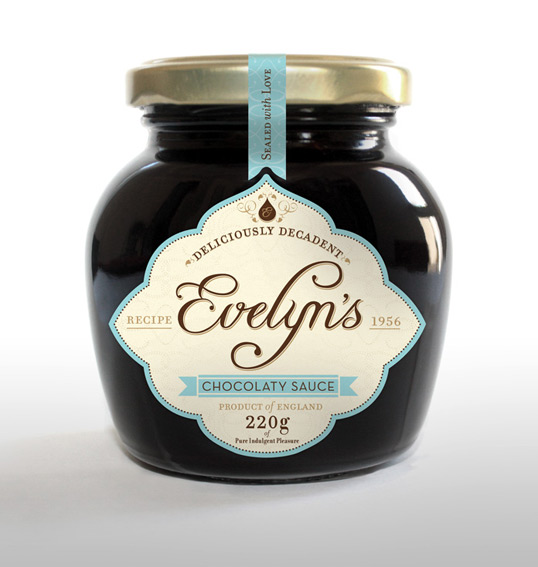 Designed by Jansen Harris | Country: United Arab Emirates
"Evelyn's chocolate sauce recipe has secretly passed from one Evelyn woman to the next over several generations. This sense of heritage and handcrafted quality inspired the creation of the identity and influenced the design to elevate chocolate sauce to a position of being a personal, almost everyday luxury. Rich and chocolaty, this indulgent pleasure is the perfect desert for any dinner party. We were asked to strategically position, create an identity and design packaging for this decadent new brand."
April 10, 2011 | No Comments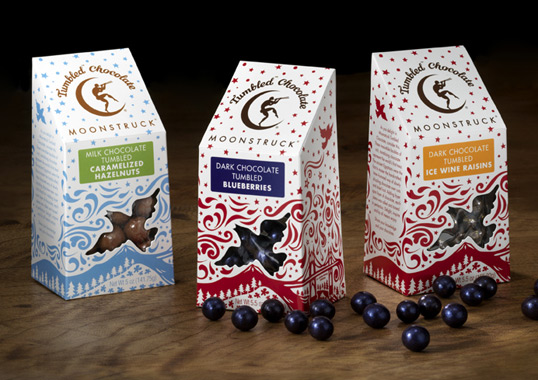 Designed by Sandstrom Partners | Country: United States
"Moonstruck Chocolate asked us to help them name and develop a packaging system for a new chocolate covered fruits and nuts product line. Tumbled™ was the name that quickly rose to the top of the naming list and was much improved over the industry standard term of Chocolate Covered. The container study was a long, multi-faceted process which led us to a very unique, custom box shape. Oregon's Western Meadowlark became a die-cut reveal to showcase the often iridescent coatings of the different tumbled products. Red illustration for dark chocolate and blue illustration for milk chocolate helps discerning consumers find their preference quickly at retail. Also integrated into the packaging design are a beaver, more Western Meadowlarks, a salmon, Mt. Hood, Doug Fir trees and of course, last but not least, a Sasquatch, which can be found on all of the new Moonstruck packaging by Sandstrom Partners. The Sasquatch is hidden in a different location for each flavor of the Tumbled Chocolate packaging line. Cut paper style Illustration by Kate Forrester."
March 30, 2011 | 1 Comment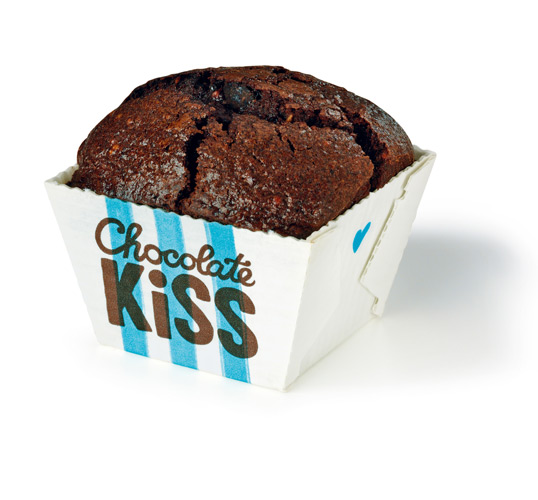 Designed by Nadine Geissbühler | Country: Switzerland
"Packaging design and naming for the new mini chocolate cake of Kern&Sammet. As chocolate is a kind of love-compensation, this small sized chocolate cake is like a kiss."
March 7, 2011 | 5 Comments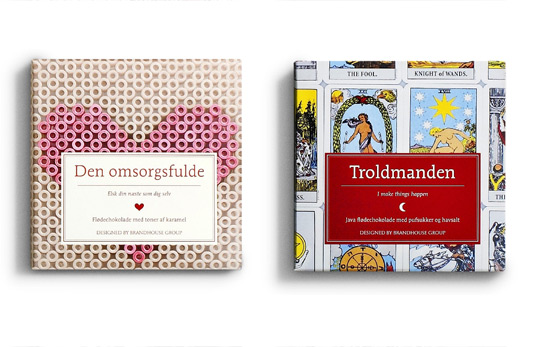 Designed by Bessermachen DesignStudio | Country: Denmark
"These chocolates were designed in cooperation with chocolate artist Henrik Konnerup.
12,000 pieces of chocolate have been produced – 1,000 large boxes. Every piece of chocolate weighs 50 grams and can be divided into four squares, each mould with the Brandhouse symbol in the middle. All 12,000 pieces are handmade.
Every piece of chocolate and each packages design has the same characteristics as the archetypes, thereby showing how to create the personality of the brand through product development as well as packaging design."
December 4, 2010 | No Comments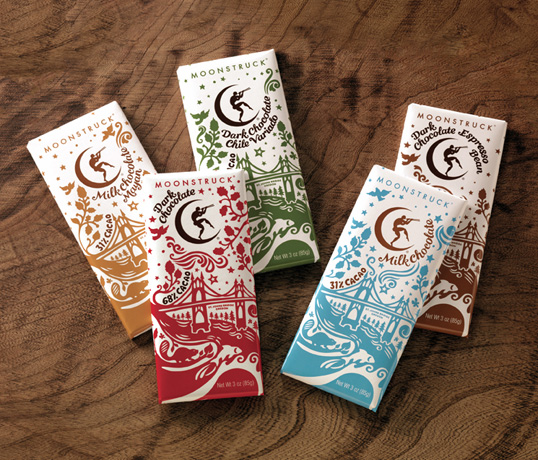 Designed by Sandstrom Partners | Country: United States
"Moonstruck Chocolate Co. is known for making premium handcrafted truffles. Our assignment was to revive a dusty line of chocolate bars. Our goal (and challenge) was to create packaging line that imbues the same qualities that drive Moonstruck brand enthusiasm through its truffles: handcrafted quality, visual beauty, multisensory experience and imagination. We focused the cut-paper style illustration subject matter on Northwest imagery. Specifically the Portland area's landmark St. Johns Bridge, under which Moonstruck is located. Also integrated into the wrapper design are a beaver, Western Meadowlarks, a salmon, Mt. Hood, Doug Fir trees and of course, last but not least, a partially hidden Sasquatch. We also created 3 unique chocolate bar impressions that are randomly used throughout the entire line in production, so that consumers will have a discoverable to enjoy upon unwrapping."