January 5, 2011 | 4 Comments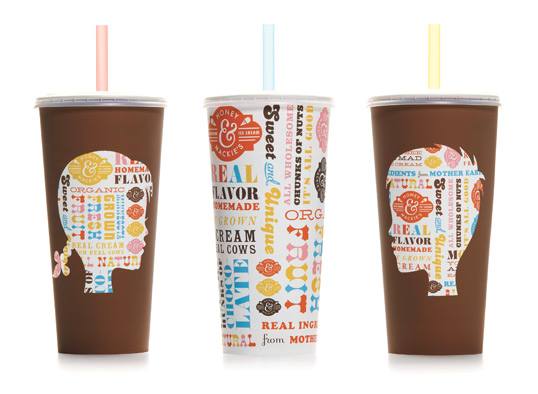 Designed by Wink | Country: United States
"Honey & Mackie's is a ice cream shop for kids that caters to parents. The name of the establishment comes from  the nicknames of the owners children. Thus, the branding & packaging needed to be modern, authentic & kid fun. In addition, the ingredients in their ice cream creations are all natural, organic and locally grown."
November 14, 2010 | No Comments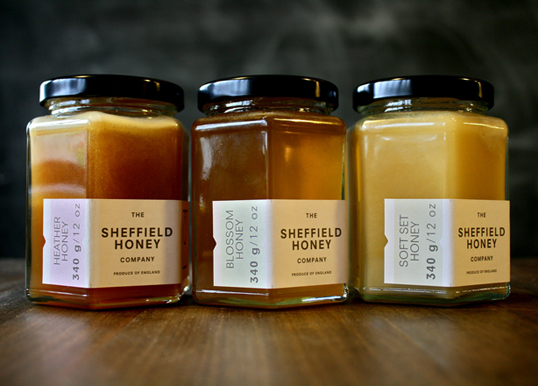 Designed by DEDass | Country: United Kingdom
"15 minutes from the DED Studio, Sheffield bees are busy making Sheffield honey. Made in Sheffield doesn't get more yummy than this."
October 25, 2010 | No Comments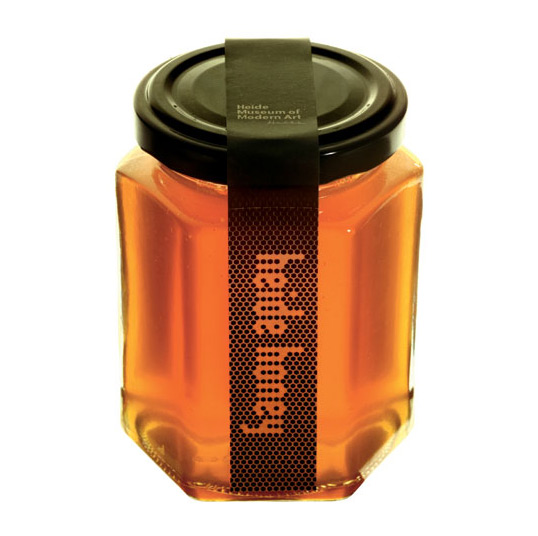 Designed by Pidgeon Design | Country: Australia
"Heide Museum of Modern Art produces and sells its own honey. The packaging and point-of-sale poster are both based on the Hex typeface developed by David Pidgeon."
October 11, 2010 | 3 Comments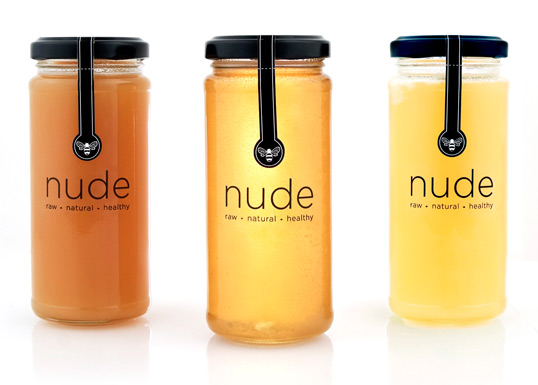 Designed by Edward Okun | Country: Canada
"Nude Bee Honey Co.® was launched in 2010 by entrepreneurs Edward Okun and Jared Cantor with the aim of delivering the most delicious raw honeys produced by independent beekeepers.
Working with independent beekeepers to deliver varietal honeys means a constantly evolving product line. Different types of honey come in and out of stock based on their limited supply, which means all of the honeys we carry at any given time are limited edition.
Produced throughout Ontario Canada, packaged in Guelph and distributed from our small but efficient warehouse in Kensington Market – Toronto, Nude Bee Honey Co.® is changing the way people love honey."
June 24, 2010 | 2 Comments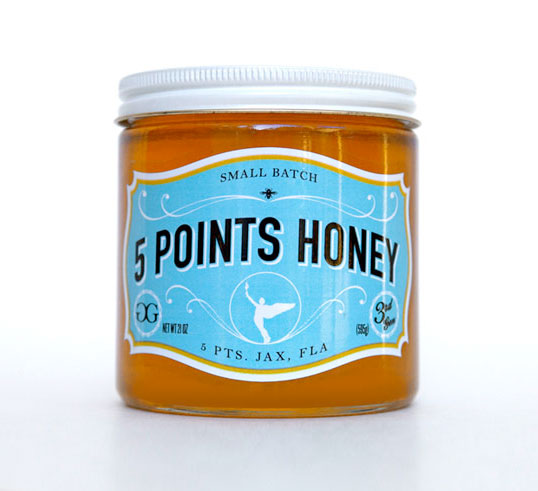 Designed by Chad Landenberger | Country: United States
"The owners of 5 Points Honey started beekeeping as a way for them to slow down and they wanted a label to represent that with a vintage look and feel. They also wanted the historic nature of their neighborhood (5 Points) and the fact that one of the owners is a 3rd generation beekeeper represented in the label as well. I took all of their requirements and combined them into a retro looking label while giving it a contemporary feel."
May 21, 2010 | 28 Comments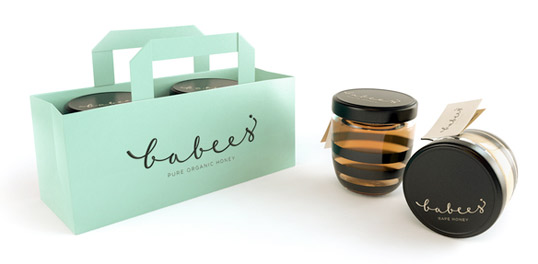 Designed by Ah&Oh Studio | Country: Poland
"A simple and litlle idea of packing for honey. We tried to treat jar as a playground for a character design. Dark cap and stripes made the idea quite clear. Through this project we tried to encourage kids to reach for honey instead of refined sugar. Especially for them we create logo which smiles bee's face. It's hand calligraphed, custom made, and it softens the overall simple, geometric look of the packaging."
March 2, 2010 | No Comments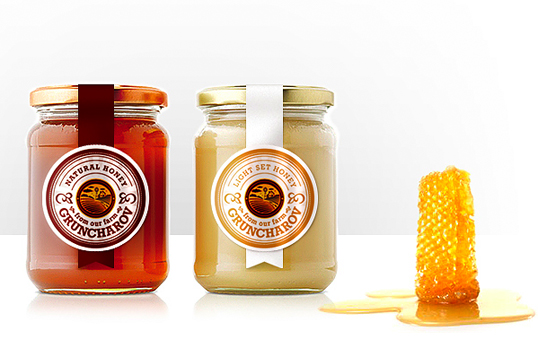 Designed by Dreamworx | Country: Bulgaria | Fonts: Rockwell
"The client wanted a very stylish retro-looking design, but with a modern appeal. So in the end it came down to a not so regular round shape, avoiding all the usuall bees, sunflower stuff."
December 30, 2009 | 7 Comments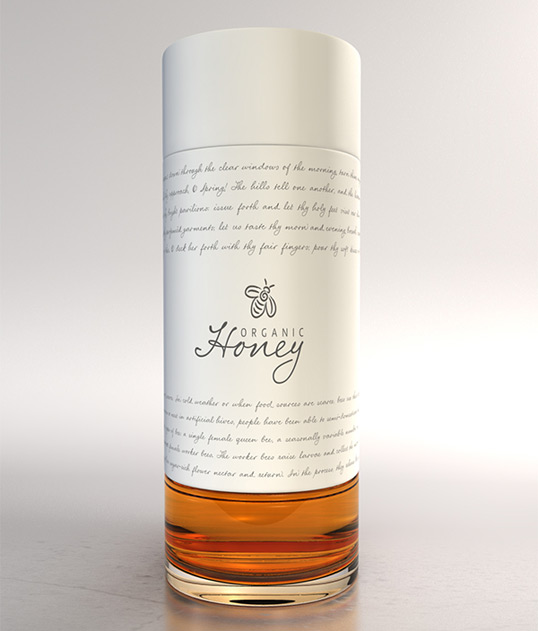 Designed by Marcel Buerkle | Country: South Africa
This elegangt, copy driven packaging concept is the work of South African based designer Marcel Buerkle. The shape and cleanliness of the design almost gives it a bit of a high end perfume look and feel.
August 17, 2009 | No Comments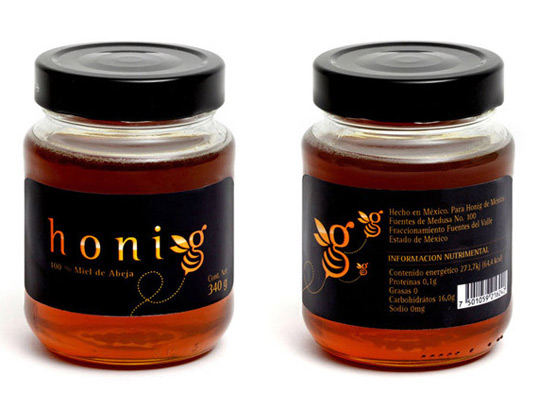 Designed by Factor Tres | Country: Mexico
Playful package design for Honig Natural Honey. The 'g' honey bee illustration is a nice touch which works seamlessly with the product name.
July 10, 2009 | 6 Comments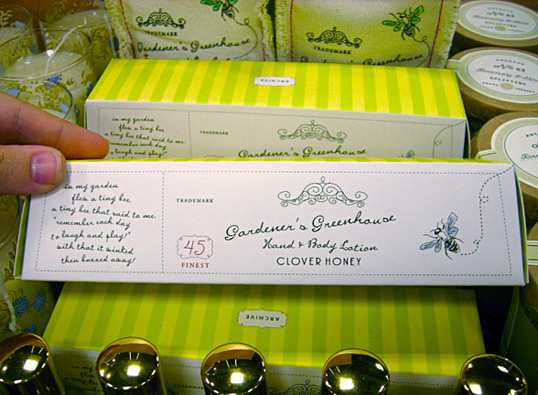 April sent us this beautiful packaging for Clover Honey that she found while visiting Macy's. She's hoping (as are we) that someone might be able to pinpoint the company or person responsible for this design. If you know, please drop us a line in the comments.