January 5, 2014 | 1 Comment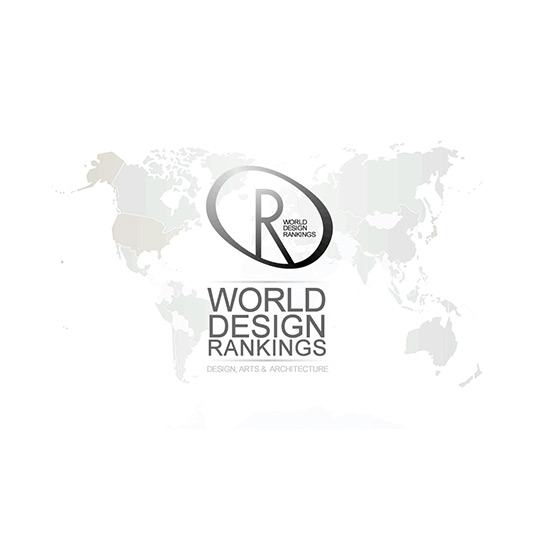 WDR – World Design Rankings announced the updated design rankings of countries based on the number of design awards won at international juried design competitions and awards. United States ranked as number 1 among the 69 represented countries, followed by Italy, England, Japan, Brazil, China, Germany, Korea, Hong Kong and Turkey which took the top positions in 2013.
The WDR – World Design Rankings aims to provide additional data and insights to economists and journalists regarding the state-of-art in design industry. The ultimate aim of the world design rankings is to contribute to global design culture through advocating and highlighting good design. The rankings aim to provide a snapshot of the state-of-art and design potentials of countries worldwide by highlighting their creative strengths, design weaknesses and available opportunities.
See how each country stacked up.
December 30, 2013 | 1 Comment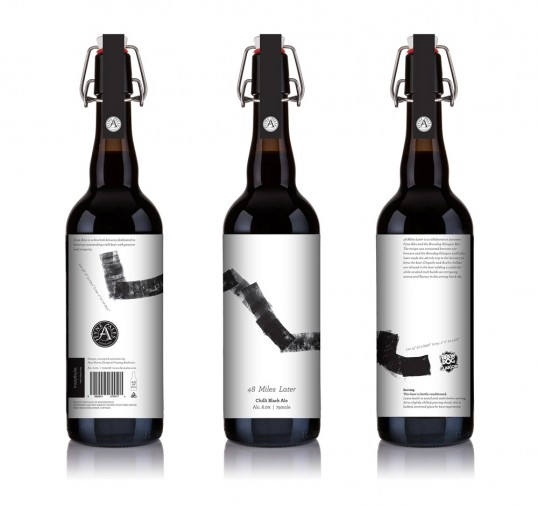 Designed by Freytag Anderson | Country: United Kingdom
"48 Miles Later" is a collaboration brew between Fyne Ales and Brewdog, all in the spirit of Brewdog's recent #Collabfest. The result is a unique Smoked Chilli Black Ale named '48 Miles Later', relating to the distance between the Brewdog bar and the Fyne Ales brewery.
We were engaged by Fyne Ales to develop a label for a limited edition 750ml release of the beer. In collaboration with designer Matt Burns, we developed a concept that would incorporate the two locations as well as the breathtaking drive required to reach the brewery from Glasgow to the shores of Loch Fyne. We interpreted the twists and turns of the epic route using ink and roller onto A1 textured board.
In addition to the beer label we created a short brand film. The film evokes the taste, textures and warmth of the beer whilst capturing the craftsmanship and bespoke nature of the craft beer brewing process."
December 30, 2013 | No Comments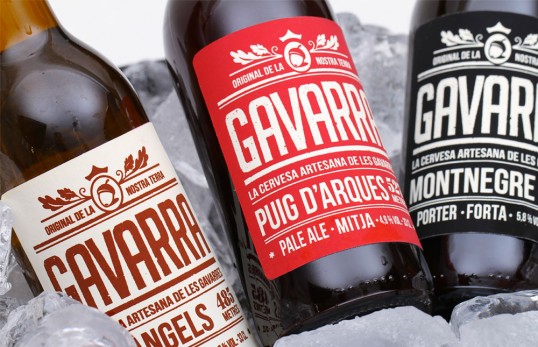 Designed by Font3studi | Country: Spain
"Gavarra beer is made in the traditional manner and seeks to convey the values, history and authenticity of the local cork production trade that dates back to the early 18th century. Peelers, hauliers and stopper makers who, with their effort and dedication, were pioneers in exploiting the finest cork material in the world, while at the same time ensuring the preservation of the landscape of the Gavarres hills.
The territory of the Gavarres, as has always happened and still happens today with any inhabited area, reflects the activities and ways of life of the various human communities that have populated it. The names of the places and their legends reveal a way of perceiving and interpreting his world."
December 17, 2013 | No Comments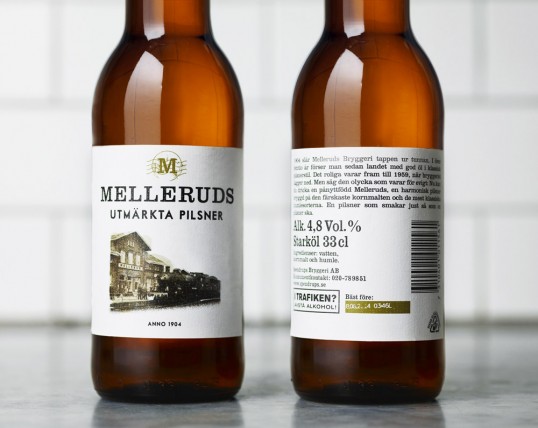 Designed by Neumeister | Country: Sweden
"Whoever said you can't recreate the past, apparently never told Spendrups master brewer, Richard Bengtsson. Inspired by archives and a fascination with historical brewing techniques, Bengtsson did just that, re-launching a Swedish classic that hadn't been around for over 50 years. Although Melleruds brewery is long gone, we wanted to respect the rebirth of its prized pilsner with a design language that presents the nostalgia and unvarnished aesthetic of the 1940s in a way that is current and inviting. Everything from the logotype to label design and packaging takes you back to a time when simplicity trumped sophistication, colour was a fad, and the words 'ordinary' and 'traditional' were considered high praise. Fast-forward to the present and you've got design that gets noticed, because it is honest. That stays fresh, because it is authentic. The perfect dressing for a beer Bengtsson considers "just as it should be."
November 3, 2013 | No Comments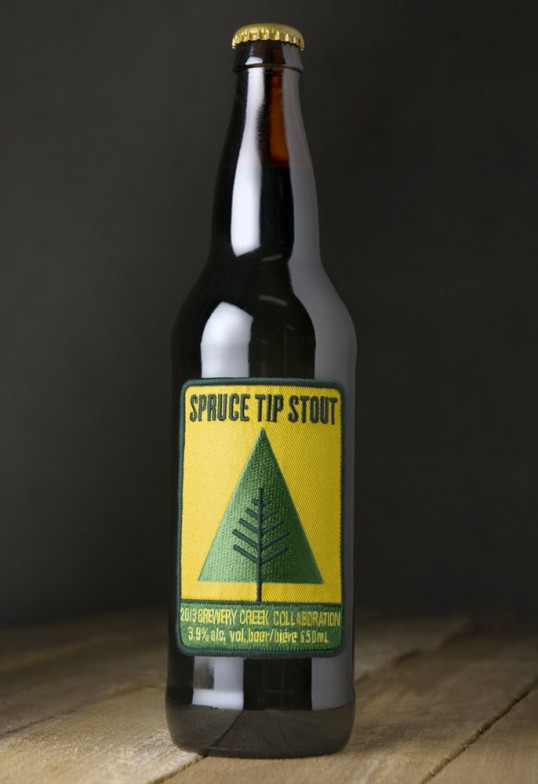 Designed by Saint Bernadine Mission Communications Inc. | Country: Canada
"Five West Coast craft brewers teamed up to create a collaboration beer that required a packaging solution that not only celebrated craft and teamwork – but also saluted the craft beer drinkers bold enough to give it a try. Spruce Tip Stout, made with real Spruce tips, was brewed to celebrate BC Craft Beer Month by R&B Brewing, Brassneck Brewery, Red Truck Brewing, Main Street Brewing, and 33 Acres Brewing – all British Columbian breweries that call the Brewery Creek District of Vancouver home."
October 20, 2013 | 3 Comments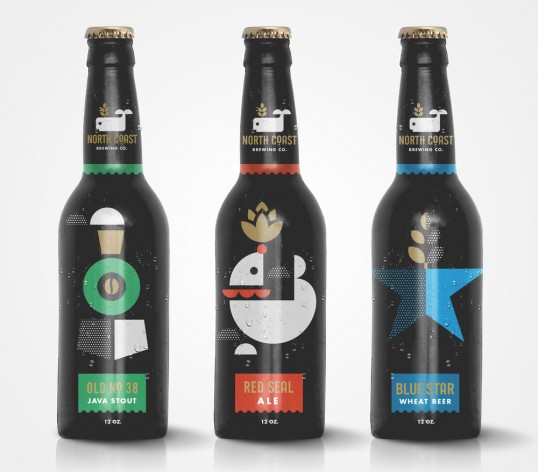 Designed by Taylor Goad | Country: United States
Conceptual work from Philly based designer Taylor Goad.
"What's great about Northcoast's beers is that they only use the necessary amount premium, high-quality ingredients. I wanted the design to reflect that by stripping everything down to basic, geometric shapes."
September 14, 2013 | No Comments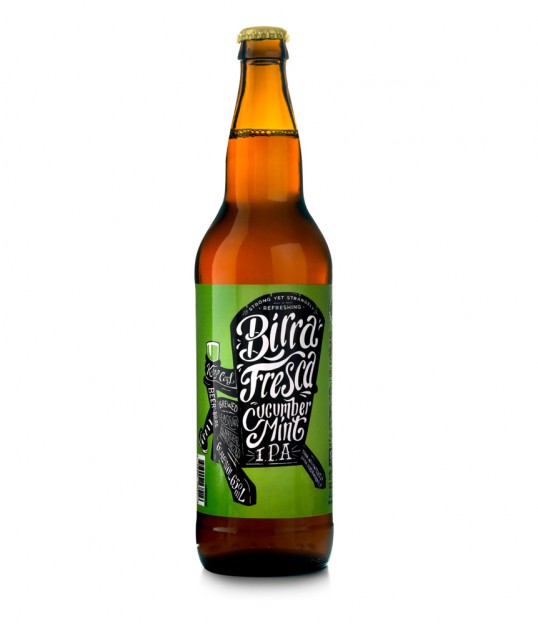 Designed by Saint Bernadine Mission Communications Inc. | Country: Canada
"Birra Fresca, a palate smacking cucumber mint IPA, is the latest addition to R&B Brewing's family of hand-crafted beers design by Saint Bernadine Mission Communications Inc. Strong, yet strangely refreshing, this beer's cucumber and mint notes inspired the fresh summer colours and cues, while the beer's 6% heft required a deep comfortable chair.
Like other R&B Brewing beers, the design language is inspired by R&B's resolutely hand crafted product – as such, every element on the packaging is rendered by hand, including the bar code. Key brand story elements, hand rendered in expressive type, and additional varietal information, like IBU scale, boil information, aging temperature, hop and barley type and mix all support R&B's independent, craft positioning."
September 9, 2013 | 6 Comments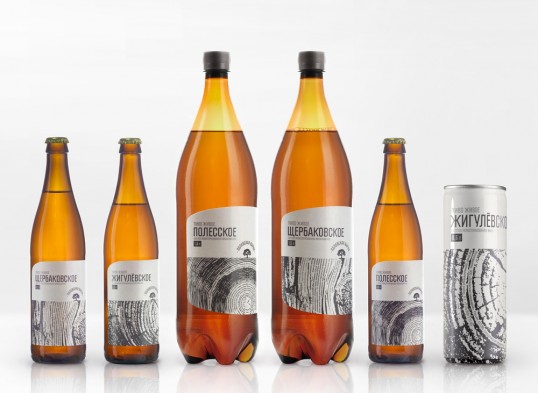 Designed by Red Pepper | Country: Russia
"Beer package concepts are usually very beautiful.
But in reality, the Russian's law demands placing a lot of additional mandatory information on the bottle. And this becomes a problem, because sometimes this information occupies more than 50% of label space.
Looking on the brewery's logo in a shape of a tree, we have chosen direction of eco-labels and used the texture of tree bark and felling. We embedded all mandatory information about consist and limitations to the natural wood texture, saving the visual harmony and purity of idea.
100% of mandatory information shown. 100% of idea saved. 100% not fake and already in stores."
September 8, 2013 | 1 Comment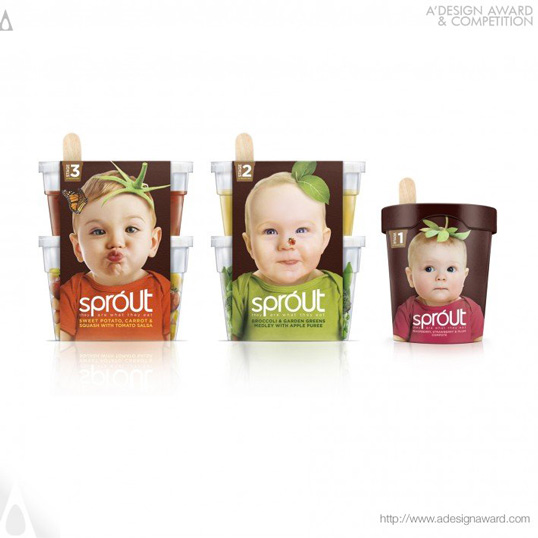 Lovely Package presents the winners of the 2013 A' Design Award & Competitions. Each year creative agencies compete for honor, prestige and international recognition. Here are a few of the projects that we chose to highlight, and for the rest be sure to check out all of the winners at awardeddesigns.com.
Learn more about A' Design Award & Competitions at whatisadesigncompetition.com and adesignaward.com.
September 5, 2013 | No Comments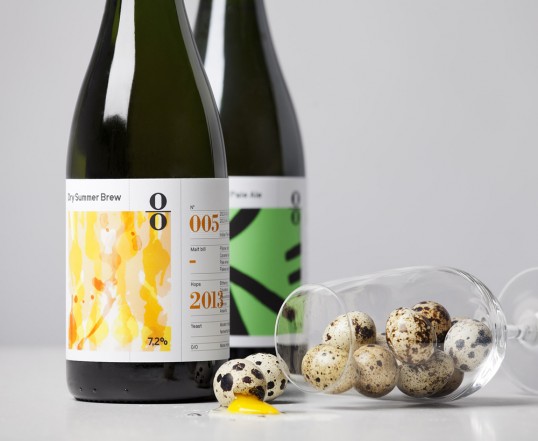 Designed by Lundgren+Lindqvist | Country: Sweden
"O|O Brewing is a recently founded micro-brewery built upon a foundation of many years of home brewing. Founded by two beer connoisseurs – O|O aims for quality rather than quantity, brewing high-end beers serving as a suitable alternative to the traditional choice of wine in fine dining contexts. We designed O|O's identity and packaging. The logotype was inspired by brewmaster Olle Andersson's peculiar glasses, his characteristic appearance having become somewhat synonymous with the brand.
With many friends of the brewery being involved in creative disciplines – we designed the labels leaving a defined space serving as a canvas for artist collaborations. With each beer being produced in limited quantities, the labels will serve as a micro-gallery growing over time."