July 9, 2009 | 14 Comments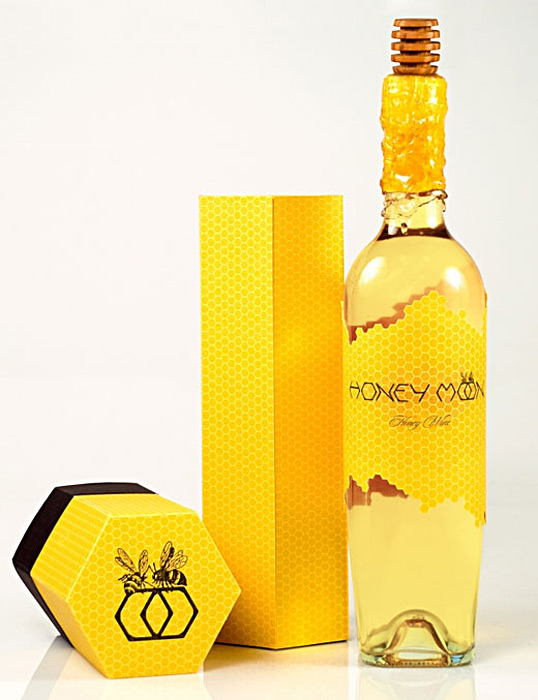 Designed by Lauren Golembiewski | Country: United States
"Honey Moon is a promotional wine bottle that would be sent out for the first day of summer. The concept is based on the the first full moon in June, which occurs near the first day of summer. It is seen as the most optimal time to harvest honey and thus, called the honey moon. The bottle would be sent to new clients, as we start our honeymoon for our sweet new business relationship. I also developed the typeface that was used for the logo."
July 7, 2009 | No Comments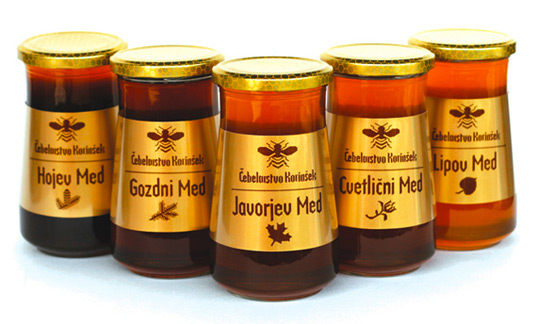 Designed by Katja Korinšek | Country: Slovenia
"Identity and packaging for honey makers Čebelarstvo Korinšek. In the logo is traditional Slovenian bee. The whole artwork is made of six-angle shapes. It includes five different sorts of honey and a honey candle."
June 1, 2009 | 2 Comments

Designed by Turner Duckworth | Country: United Kingdom
"Waitrose has been our client for over 15 years. We like to think our designs reflect their values. Effective, with style. Sales with wit. Originality with relevance.
Bee or honey twizzler – whatever you see, it makes you want toast and honey."
November 17, 2015 | No Comments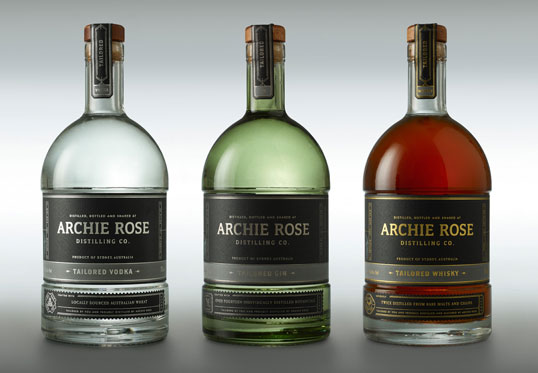 Designed by Squad Ink | Country: Australia
"Squad Ink has created a world first where everyday spirit lovers have the ability to customise their own single bottle of vodka and gin or cask of whisky all from their phone. They even get their name on the bottle.
"We'd been working with Archie Rose Distilling Co. for almost 2 years leading up to it's launch in Rosebery, Sydney, so we knew everything there was to know about their incredible operation. During a workshop we floated the idea, 'What if you could customise your own spirit online?' Will Edwards (Founder), pretty much said 'Yep, we can make this happen'. We had been following the craft craze with Sydney-siders getting right behind hands on projects like, cheese making, producing their own honey and even beer. This was just the beginning but it was time to take it online and offer a unique consumer experience, available to anyone, anywhere, anytime.
The Tailored Spirits range is a truly bespoke, one of a kind offering, so Squad Ink created packaging worthy of the title. "We were given the green light to go all out, so we produced stunning foiled stamped labels, that feature your customised spirit specifications and even your name on the bottle. We found that people were dying to create spirits for friends so you can now add a lucky mate's name to the bottle."
September 21, 2015 | No Comments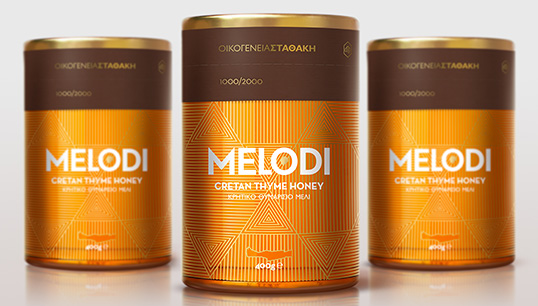 Designed by Antonia Skaraki | Country: Greece
"The Stathakis family bees spend their holidays in the most beautiful areas of Crete! From Gramvousa to Elafonisi, the lighthearted dance gives life to nature, along with the sea breeze caressing the thyme and the beautiful dunes harmoniously protect the pines from which our honey derives. This sweet choreography of bees in harmony with nature, produces a rare honey with intense amber color and fine aroma. The MELODI is an ode to the Cretan honey. We used gold foil printing and colors of the earth that represent that high quality product."
October 22, 2014 | No Comments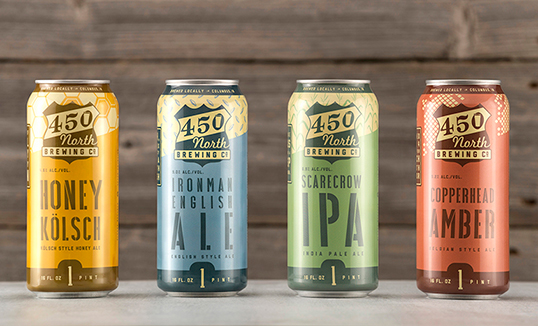 Designed by CODO Design | Country: United States
"We first met Dave and his sons back in 2012 when we helped to brand 450 North Brewing Co. That first project was foundational, ending with a visual identity system.
Earlier this year, we were excited when Dave called to have us design packaging for their 4 house beers; Scarecrow IPA, Copperhead Amber, Ironman English Ale, and Honey Kölsch. We got to dig back into the same Indiana farm aesthetics we explored initially and developed a fun package design system that they can grow into as they continue adding seasonals and specialty beers."
October 6, 2014 | 1 Comment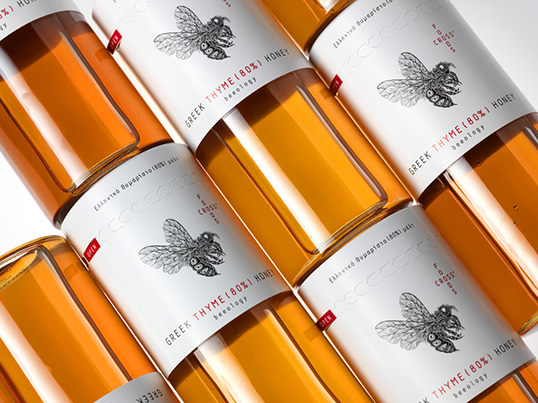 Designed by mousegraphics | Country: Greece
"The briefing (in brief): "We would like to enter the market with our top quality product. We need brand identity design and packaging applications." 
The target consumer: Greek and foreign markets. Sophisticated consumers who look for quality products. 
The design: The market for honey is a rising one and as such already filled with a variety of packaging designs. We needed to realize a brand identity able to convey this product's specific advantage: it's pure synthesis. This is Greek honey distinguished for its extremely high concentration of thyme pollen grains (80%). A rare, natural product of an eco-conscious process, meant to be offered in numbered and signed vases. We developed the logo design as a careful pairing of cross-shaped lettering (brand name) and the image of a bee, designed for us by the internationally known illustrator Si Scott. The elongated glass vessel we chose is covered on its upper part and toped by the brand identity elements and relevant information, in a way that allows the synthesis specifics and the collector's data (number) to be clearly visible even when the top is removed. Black, white and red dominate the packaging design in an alternative reference to a pharmaceutical/cosmetics language."
June 5, 2014 | 1 Comment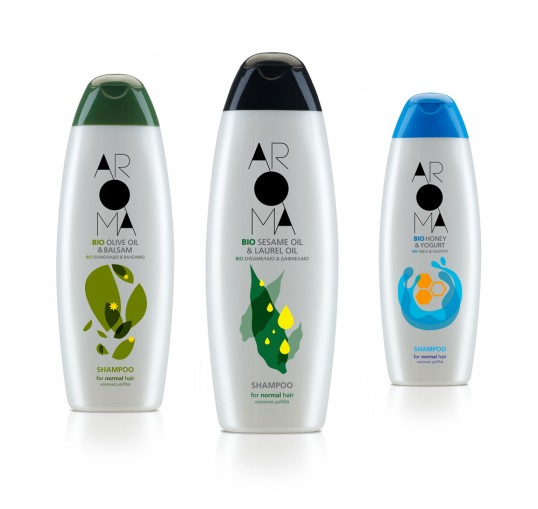 Designed by 2yolk | Country: Greece
"We created the AROMA brand for an extensive range of Greek personal care products available in supermarkets. The range takes its name from the natural scented essential oils and other select organic ingredients contained in the products. ('aroma' in Greek being the word for perfume, scent or fragrance).
Our main concern was to differentiate the range from the competition on long shelves displaying this class of product in supermarkets. This is the reason why we avoided realist illustrations of fruits or water splashes.
For each of the three AROMA lines, we chose stylized, abstract depictions of the two main ingredients: olive leaves dancing with balsam flowers, bay leaves and golden sesame oil, and milk and honey. The typography is sharp and black, an interesting counterpoint to the bright colour palette of the graphic design."
June 2, 2014 | No Comments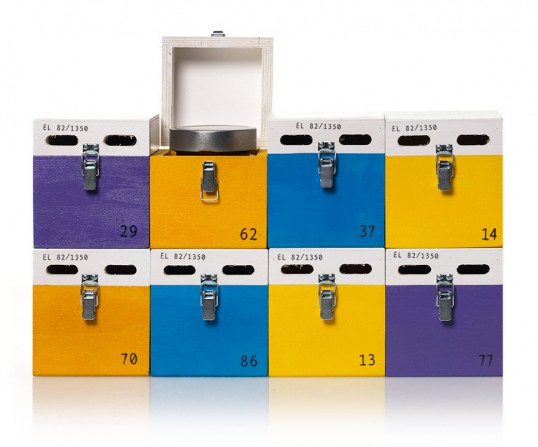 Designed by mousegraphics | Country: Greece
"We proceeded with this packaging design based on the simple truth expressed by the producer himself: "The beehives are on my island, Serifos, within an area full of thyme, protected by Unesco…I learned beekeeping from my father, when I was a kid and visited the beehives… Bees live between 2 and 4 months…not even 2 during Summer due to the heat…They work morning to night until they run out of strength… 
A bee may not have the strength to reach the last 20 m to its own beehive. Then the keepers of the closest beehive allow this bee to spend the night with them…Best beehives are numbers 14, 37, 86…if you see them from the inside you will understand. Another kind of organization. More production! This is why I will make Queens from them….I am doing this for my children, so that they can see the Summer – the work – the bees – the honey."
March 24, 2014 | 2 Comments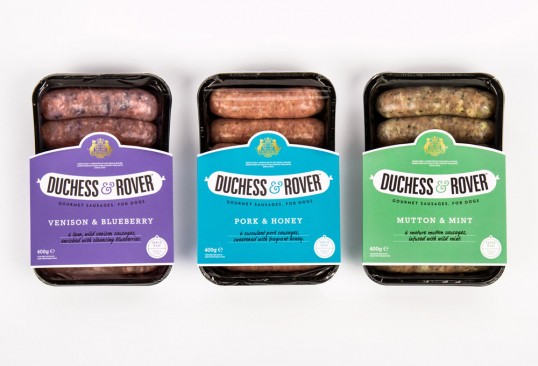 Designed by Robot Food | Country: United Kingdom
"Raw meat for dogs is a growing trend. It's the most natural way for dogs to get the fresh goodness they need and in answer to the rising demand, a whole new category has emerged. But however tasty it is for pets, there's no denying how unpleasant raw meat can be for owners.
Robot Food, the UK-based branding, packaging and new product development specialist, recognised the opportunity to offer dog owners a more appealing alternative. Instead of trays of frankly yucky product that's off-putting to handle, Robot Food came up with 'Duchess and Rover, gourmet sausages for dogs'. Working closely with a Yorkshire meat producer, the creative team developed the proposition, name, branding and packaging."