April 26, 2009 | 2 Comments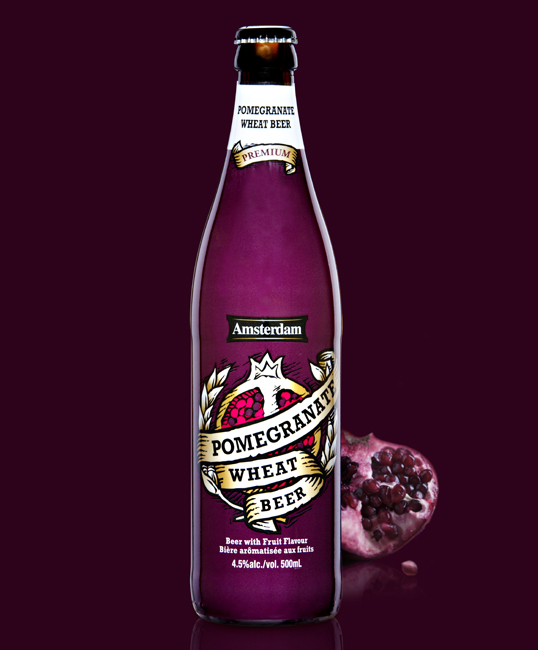 Designed by Brand & Tonic | Country: Canada | Font: Rockwell
"Fresh work from under-the-radar boutique Brand & Tonic Inc., puts a seasonal crown on Amsterdam Brewery's award-winning Pomegranate Wheat Beer."
February 5, 2009 | 1 Comment
Designed by Bliss | Country: France
December 12, 2008 | 1 Comment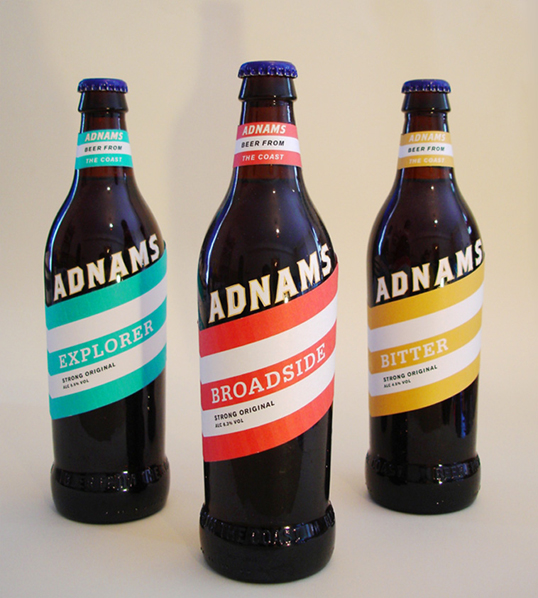 Designed by Thorbjørn Ankerstjerne | Country: United Kingdom | Fonts used: Brothers, Serifa
"Redesign a classic designed beer label. I thought that ADNAMS, Beer from the Coast deserved a bit more of a beachy look."
November 16, 2008 | 2 Comments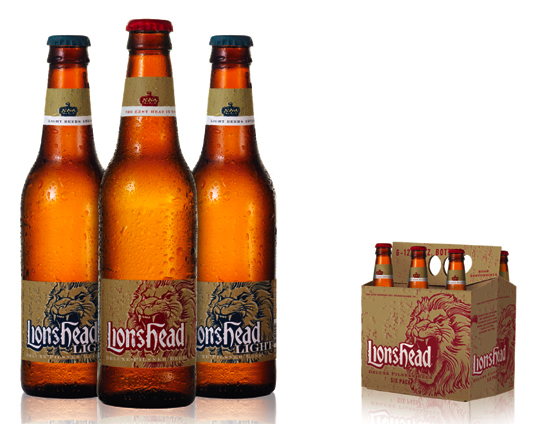 Designed by Little Big Brands | Country: United States
"The Lion Brewery, one of the oldest remaining breweries in Pennsylvania, tapped Little Big Brands to overhaul their signature Lionshead brand.
Lionshead, a popular East Coast college beer received a complete packaging makeover with authentic graphics, tongue-in-cheek neck labels ("The Best Head in Town", "Light Beers Ahead") and "paw holes" on the six-pack. Higher quality materials were sourced, while considering environmental impacts. The smaller labels, which use 40 percent less paper than previous labels, and unbleached kraft stock for baskets and cartons is truly something to roar about."
March 8, 2016 | 1 Comment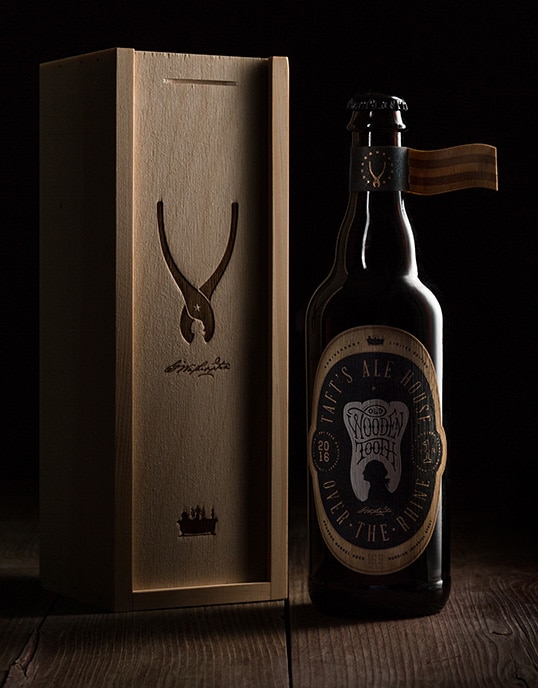 Designed by One Trick Pony | Country: United States
"To celebrate it's first anniversary, Taft's Ale House in the Over-the-Rhine neighborhood of Cincinnati releases Old Wooden Tooth – a limited-edition Russian Imperial Stout that has been aging in bourbon barrels since the ale house opened last year.
Taft's design shop, 1 Trick Pony, teamed up with the folks at Steinhauser, a family owned custom label printer just across the river in Kentucky that specializes in beer and spirits labels. Each 500mL bottle comes packaged in a custom branded wooden box and features a neck flag and label that are custom printed with 9 colors including a metallic copper ink on a cherry veneer label."
February 11, 2016 | 1 Comment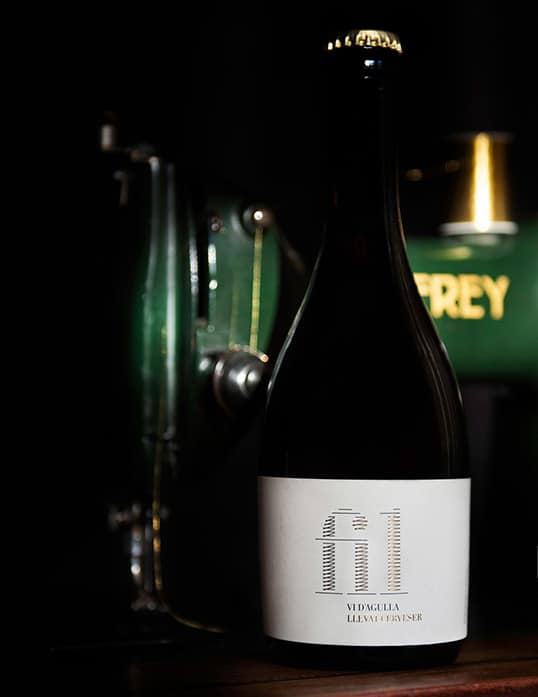 Designed by Senyor Estudi | Country: Spain
"A fine line separates the worlds of wine and beer. Fil is a seam stitched between these two worlds. A sparkling wine made with a type of yeast typically used for brewing beer.
The natural formation of bubbles produced by bottle fermentation manifests itself in a multitude of threads of tiny bubbles that give their name to 'vi d'agulla,' literally 'needle wine' – subtle and persistent on the tongue and the palate.
The name 'Fil' means 'thread' in Catalan."
January 27, 2016 | No Comments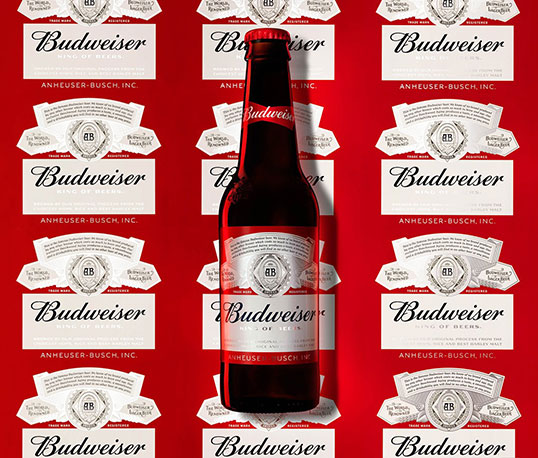 Designed by jkr | Country: United States
"People gravitate towards brands that have a unique story to tell, and few have as rich a history as Budweiser. Since 1876, the brand has represented uncompromising quality and relentless ambition, reflected through the craft and care that goes into brewing every beer. Our task was to capture this spirit through design.
Recognising that it was time to align the brand identity with the beer itself, Budweiser partnered with our NYC team to refresh their packaging and visual identity. Starting with an exploration of the brand's history, we uncovered the depth of Budweiser's rich iconography. We then sweated the details, working alongside the world's best to craft each element by hand.
From there, we created two bespoke typefaces to communicate the brand's principles and a simplified bow tie icon to deliver a more contemporary identity for today's audience."
December 25, 2015 | No Comments
Designed by Estudio Trip | Country: Argentina
"Black Bird beer is brewed for the consumer tired boring beers created for the mass market. Black Bird is handcrafted by a small group of people in limited quantity which assures that the right care and attention to detail is given to every bottle. The idea was to design a label that displays the handcrafted, delicate work of this beer production along with a classical german label style. The lettering design of the brand was completely handmade to match the handcraft ideal of the product."
December 10, 2015 | 1 Comment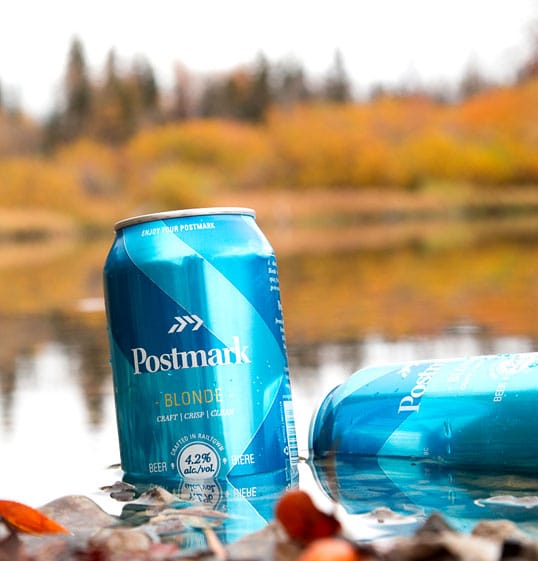 Designed by Burnkit, Steve Thorp, Reid Stewart & Tyler Quarles | Country: Canada
"Postmark Brewing is a Vancouver, BC born and built craft brewery. Our West Coast lifestyle and love for great quality beers for every occasion lead us to the design, development and brew of our favourite pints. Consistent quality is paramount as we strive to create beers that cater to not only our thirsty palate but to the active lifestyles we enjoy with our friends and colleagues. At Postmark Brewing we are inspired by more than just great tasting sessionable craft beers, we enjoy taking a collaborative approach towards our other passions in life including music, photography, travel, design, events and especially those who are taking risks and making great things happen. It's All Happening!"
December 9, 2015 | No Comments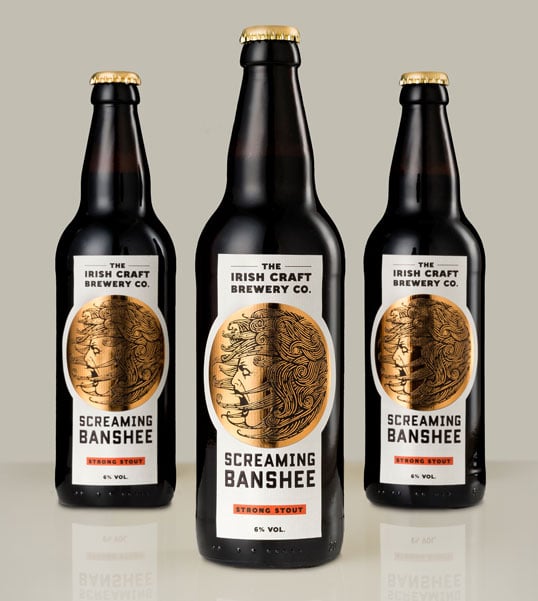 Designed by Brandcentral | Country: Ireland
"Label Tech required a promotional label to showcase their premium label printing capabilities and facilitate a partnership with a successful producer in the fast growing 'craft beer' market. We worked with award-winning illustrator Steve Doogan to craft an illustration style that evoke a distinctively Irish style. The label has been a huge success winning the top prize at Irish print awards."