December 8, 2015 | No Comments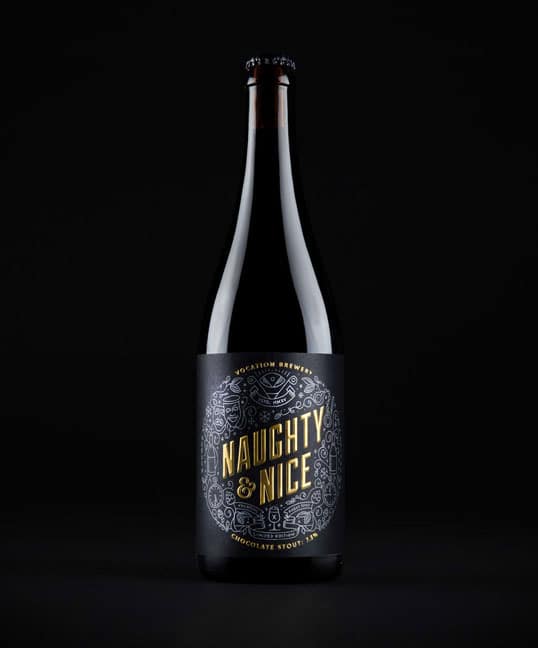 Designed by Robot Food | Country: United Kingdom
"Robot Food created Vocation's branding earlier this year. For Christmas 2015 the agency and brewery joined forces to create Naughty & Nice, a limited edition chocolate stout brimming with festive flavour.
Robot Food and Vocation Brewery make a good team. Both share a challenger ethos, which lives and breathes in Vocation's uncompromisingly delicious craft beers, and in Robot Food's distinctive brand designs.
Naughty & Nice is a collaborative project. The decadent chocolate stout is smooth and warming, and combines a naughtily high ABV with some seriously festive flavours. Comprising of just 1323 limited edition 750ml bottles, Robot Food developed the idea with head brewer, John and got suck in brewing up the single batch."
November 18, 2015 | No Comments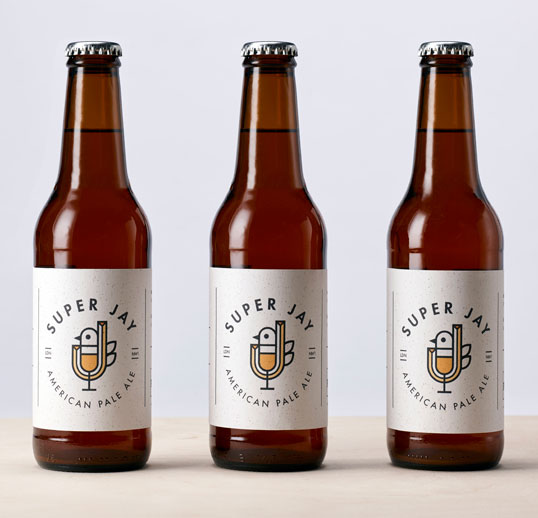 Designed by PWW | Country: United States
"Combining a warming back-story, an illustrative packaging style, and organic American Pale Ale – Super Jay is born!
PWW is a strategic design firm based in London and Seattle, and Super Jay is our very own craft beer made from the bottom up. During beer production, the flavour comes first and the brand identity second, and this is what differentiates Super Jay from other craft beers. Super Jay's brand identity firstly combines character and individuality, with the beer itself following on to match.
The creation of Super Jay is the result of two back-stories merged together. Beginning with the 'Jay' part came from PWW's Graphic Designer Mark Johnson, growing up near Lake District and surrounded by Jaybirds, this became his focal drawing point and inspiration for Super Jay's graphic design. 
Directly linking to the history of beer, Jaybirds colonised Asia, Europe and Africa, to then eventually migrate to North America, which is close to PWW with our second studio based in Seattle. Consequently, beer made the same transition between multiple continents, growing in Europe, to then eventually end up in North America within the leading craft beer movement.  
The 'Super' part comes from PWW's final beer in the craft series, which will be marketed and available to buy. The recipe will be for a strong shandy, with a memorable flavour."
November 17, 2015 | No Comments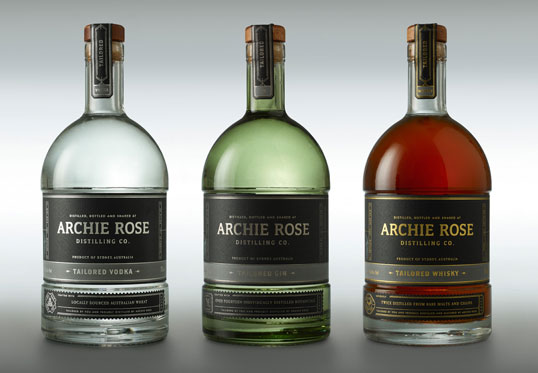 Designed by Squad Ink | Country: Australia
"Squad Ink has created a world first where everyday spirit lovers have the ability to customise their own single bottle of vodka and gin or cask of whisky all from their phone. They even get their name on the bottle.
"We'd been working with Archie Rose Distilling Co. for almost 2 years leading up to it's launch in Rosebery, Sydney, so we knew everything there was to know about their incredible operation. During a workshop we floated the idea, 'What if you could customise your own spirit online?' Will Edwards (Founder), pretty much said 'Yep, we can make this happen'. We had been following the craft craze with Sydney-siders getting right behind hands on projects like, cheese making, producing their own honey and even beer. This was just the beginning but it was time to take it online and offer a unique consumer experience, available to anyone, anywhere, anytime.
The Tailored Spirits range is a truly bespoke, one of a kind offering, so Squad Ink created packaging worthy of the title. "We were given the green light to go all out, so we produced stunning foiled stamped labels, that feature your customised spirit specifications and even your name on the bottle. We found that people were dying to create spirits for friends so you can now add a lucky mate's name to the bottle."
November 10, 2015 | No Comments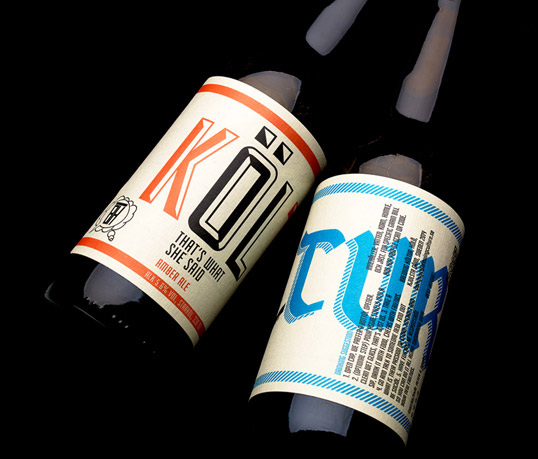 Designed by The Kitchen | Country: Sweden
"The work is for a small craft brewery based just outside of Stockholm called Brewing Költur. Being a small start up with obviously no budget they asked for a label that they would be able to update themselves with low design abilities needed.
What we came up with was quite simple, and the answer was given to us in their name. Their name is a play on the words Brewing Culture (Brewing Kultur), they simply changed culture to Költur, ÖL in English means Beer, so this to us defined what the label should look like. We chose two (well crafted) low cost typefaces to reflect their first two beers, putting emphasis on the work ÖL and placing it on the front of the bottle. Simply stating 'this is beer'.
The simplicity of the design means that the client from now on is purely in control of the whole beer process, from brewing to final labelling and design of the product. All they need to do is to choose a font that represents their beer and place the ÖL on the front. In this way is becomes for them a very natural experimental progression."
October 21, 2015 | No Comments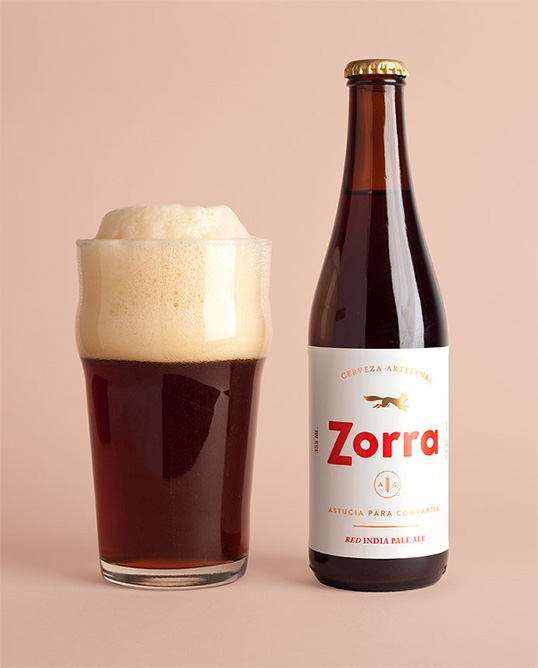 Designed by Análogo | Country: Mexico
"Zorra is a new Mexican craft beer. Brewed on Guadalajara in the state of Jalisco in Mexico, Zorra is dedicated to bring unique tasting experiences. Our naming and branding proposal combines a strong name treated in a friendly and contemporary way. Two strong beer styles have been selected to make the brand's first statement. A black strong Imperial Peanut Stout made with a combination of six malts and brewed with roasted peanut and a Red India Pale Ale wich uses a selected variety of hops to bring floral and herbal scents."
October 13, 2015 | No Comments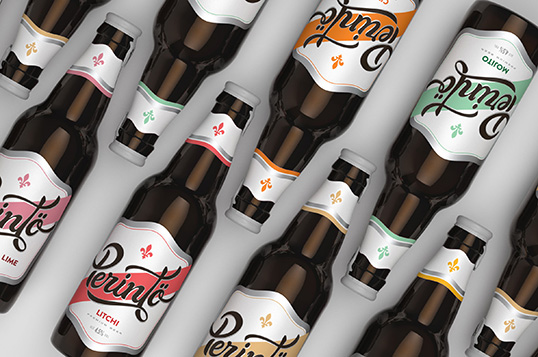 Designed by Butcher & Butcher | Country: New Zealand
"DeVANS Modern Breweries approached Butcher & Butcher with a new product development that challenges traditional concepts in beer. They created a fruit flavoured beer that would challenge existing category norms in the market. We worked closely with Devans to create a contemporary beer brand that would inspire a new generation of beer lovers in India.
We focused on a key aspect of the product to inform our design decisions and align our design thinking, and from this created two guiding principles:1. Challenge Tradition 3. It should still look like a beer.
The design direction came from the name itself, with Perintö being Finnish for heritage. From here we subtly combined other European and Indian iconography to create a postmodern collection of elements; challenging tradition and expected juxtapositions of cultural iconography. The Perintö personality is one unafraid of challenging the past — high spirited, adventurous, curious and proudly spontaneous. The result was a dynamic, colourful collection of beer flavours with a delightfully adventurous feel."
October 9, 2015 | No Comments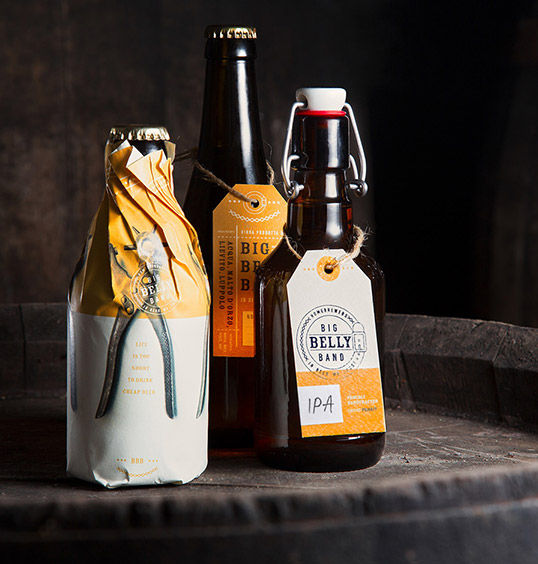 Designed by Daniele Simonelli | Country: Italy
"Inspired by a tour inside the Guinness Factory in Dublin, during the Autumn of 2011 I started to brew my own beer with some friends of mine. Even though we didn't have any knowledge of the art of home-brewing, step by step we learned the craft and started to produce some pretty nice beer. Our intent has never been to create a commercial beer, but a homemade and handcrafted one. We wanted to have fun while brewing and to create a beer to share among our families and friends. Following this vision, I designed a brand identity which reflect the handmade nature of our beer: the BBB beer is totally handcrafted, from the brewing to the label."
September 16, 2015 | 1 Comment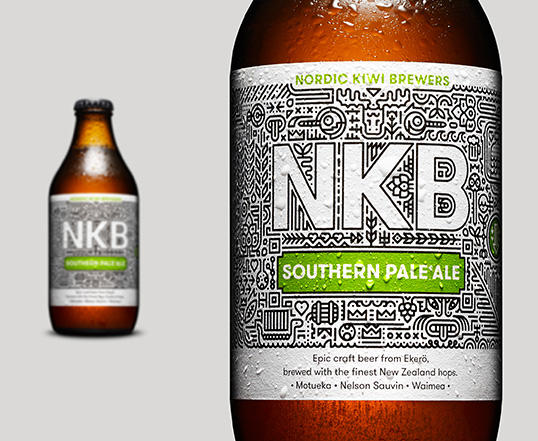 Designed by Nathan Parker | Country: Sweden
"Kerryn and Craig are two guys, born and raised in New Zealand and are now living here in Sweden. In 2014 they established Nordic Kiwi Brewers (NKB) with a very simple goal. Create epic craft beer that showcases the finest New Zealand hops. The brief was to create a unique graphic identity and packaging design that would communicate their journey and the concept of duality. Nordic Heart combined with Southern Soul. The main feature of the design is based on a black and white pattern, this developed using elements from New Zealand, Sweden and the ingredients that go into making beer. The resulting design is clean, fun and has endless possibilities for the future ahead."
September 16, 2015 | No Comments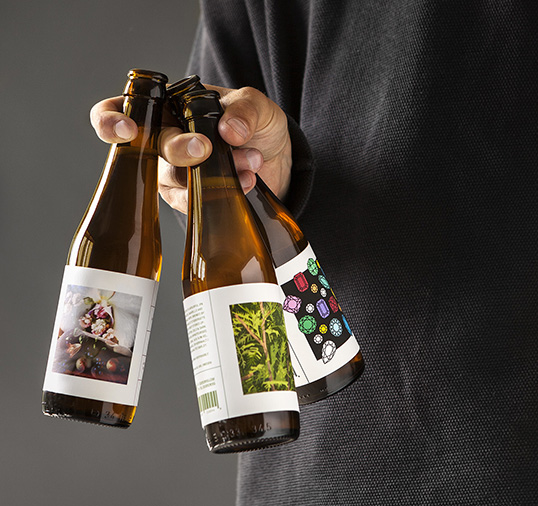 Designed by Lundgren+Lindqvist | Country: Sweden
"During the Spring of 2015, high-end craft brewer O/O Brewing released three new beers: A rich-in-flavor pale ale called Pretty Pale Ale, a saison made with Pilsner Malt and Saaz Hops called Bohemia and Evergreen, is a flavorful IPA inspired by conifer.
For the packaging of the new beers, we revised and simplified our design system used for previous O/O labels and incorporated a 'pronunciation guide', to make the somewhat cryptic name easier to understand. We continued our collaboration with artists and designers, this time teaming up with Fredrik Åkum (Evergreen) and Alexander Palmeståhl (Bohemia), asking them to interpret the beer and featuring the artwork they produced on the labels.
Also included in the presentation is O/O's pop-up bar at the Gothenburg Beer & Whiskey Fair, designed by architects Emma Magnusson and Angelina Kjellén, for which we designed the signage."
September 8, 2015 | 1 Comment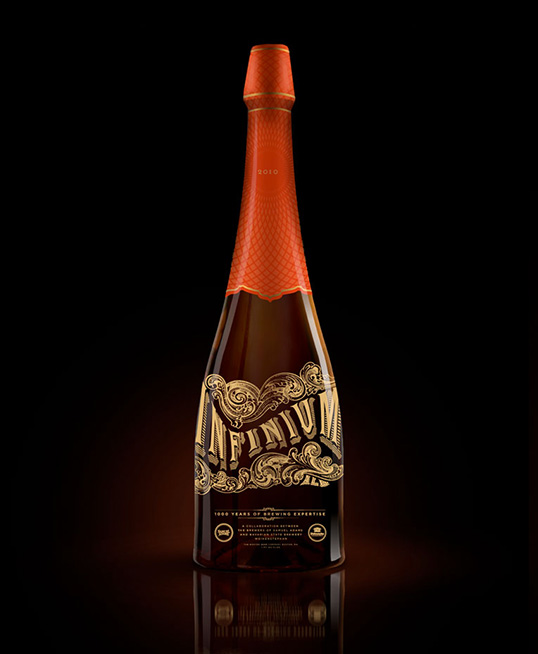 Designed by Adam&Co | Country: United Kingdom
"Sam Adam's Infinium Ale is a new style of champagne beer born from the mastermind collaboration between the brewers of Weihenstephan and Samuel Adams. Using only the four traditional beer ingredients, European heritage, and some solid American ingenuity, this beer defined a class of it's own. We were honored to design the packaging for this limited-edition celebratory libation, released each year around the holidays."