September 30, 2010 | No Comments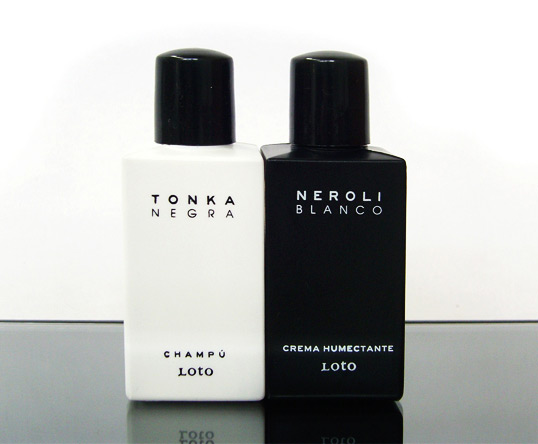 Designed by Cosmetika | Country: Colombia | Fonts: ITC Avant Garde Gothic, Sackers Gothic
"Sophisticated and unique, the Tonka Negro/Neroli Blanco (Black Tonka and White Neroli) collection stands out for its elegance and glamour with its clean and straight shapes. Two fragrances get together to conquer the insatiable taste of the Hotel Avia 93's hosts, located in Bogotá. Tonka Negro represents a intense aroma with sensually savage effects; Neroli Blanco is the royalty's perfume (Azahar flower), which represents the beauty and elegance."
September 23, 2010 | No Comments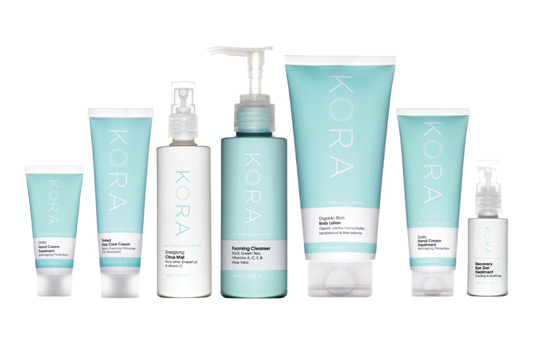 Developed by Jane Abma | Country: Australia
"Packaging design for a new skin care range represented by Australian Super Model, Miranda Kerr. The project involved creating the name KORA, designing the logo and developing concepts for the rest of the branding and website. Although the product is organic skincare and would lend itself to natural and muted tones, we ended up going with an aqua to reflect the purity of the ingredients and to distinguish between it and competing brands."
September 21, 2010 | No Comments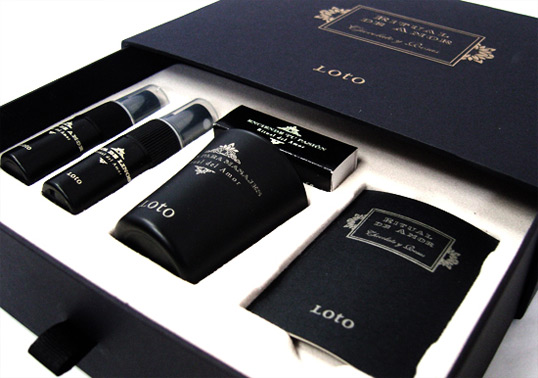 Designed by Cosmetika | Country: Colombia
"Ritual de Amor (Love Ritual) by Loto is a compendium of secrets and millenary practices made for the art of seduction and passion. We have recollected one and each of those secrets, capable of unleash the most sublime passions, to give them to you inside this coffer. We have carefully kept the fascinating history of love and its origins. We have been inspired by magic uses of the chocolate and the roses."
September 18, 2010 | No Comments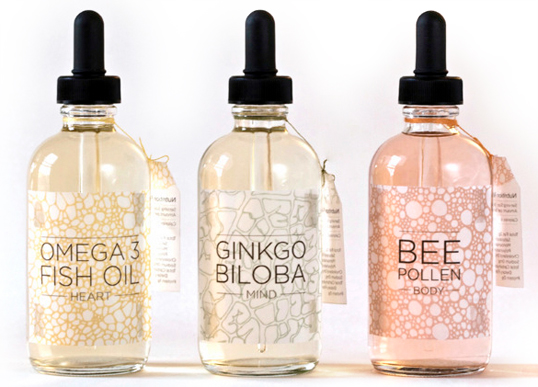 Designed by Sarah Cespedes | Country: United States
"Heart, mind, & body vitamins are geared towards people who are interested in natural supplements. The packaging is slightly transparent in order to highlight the beauty of the natural products. The products are in liquid form for people who don't want to spend their days taking a lot of pills. The patterns on the labels abstractly reflect the different systems of the body that the particular vitamin benefits. The color palette is soothing and pleasant which gives the user a feeling of ease and assurance that the supplements they're taking are pure and natural."
September 16, 2010 | No Comments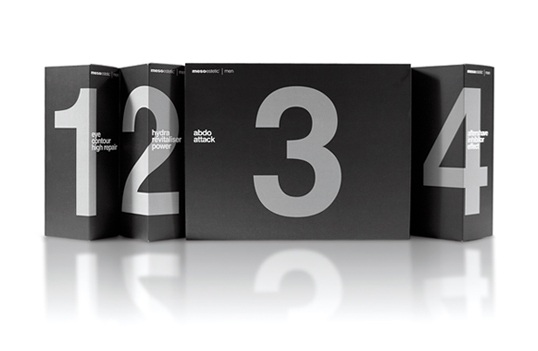 Designed by Espulga + Associates | Country: Spain
Simple typographically driven packaging for Mesoestetic's line of men's skin products. The numbers represent the steps involved for treatment.
September 9, 2010 | 1 Comment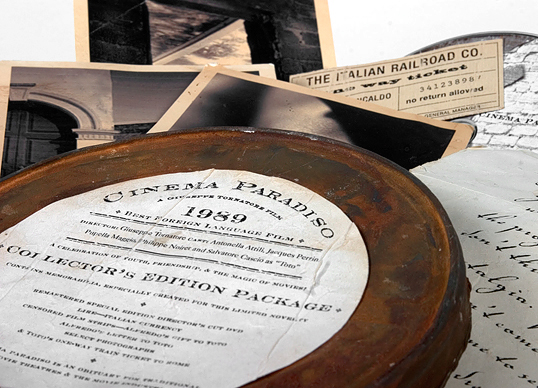 Designed by Nitin Budhiraja | Country: United States
"Special edition DVD set, inspired by the movie Cinema Paradiso—a nostalgic film that evokes a feeling of love and passion through the bonds which the characters share, and the simple lifestyles of rural Sicilians. The music is a masterpeice in its own right, and so this package takes parts of the movie as key points to garner a sense of warm antiquity, that is exotic yet so familiar and human."
September 6, 2010 | 1 Comment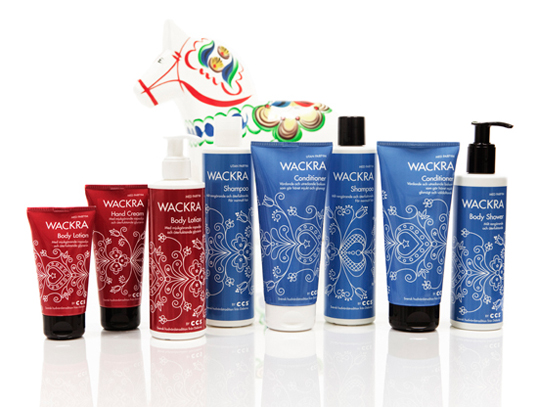 Designed by Lotta Friberg | Country: Sweden
"Wackra's design is inspired by typical decorative paintings from Dalarna in Sweden, where parent company Clean Chemical Sweden is situated,  but in a modern guise. The colours, that differentiate uses (leave-on products are red and rince-off products blue) are also taken from the area. This is Swedish skincare tradition from Dalarna."
August 30, 2010 | 2 Comments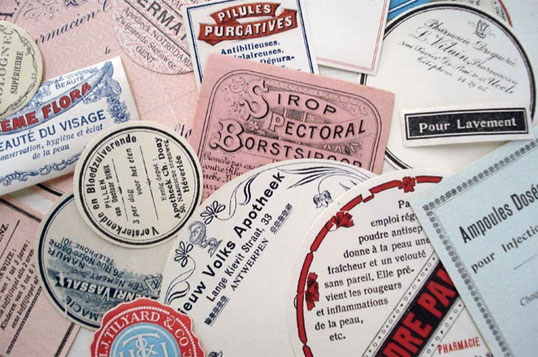 Sourced from the collection of Such Pretty Things | Designed in Europe, early C20th
Vintage labels are a wonderful source of inspiration for modern packaging design. While some are very simple and a little lackluster, others are rich in beautiful typography and delicate linework. Production limitations and costs of the time meant a very limited colour palette was normally employed, often with striking results.
August 27, 2010 | 5 Comments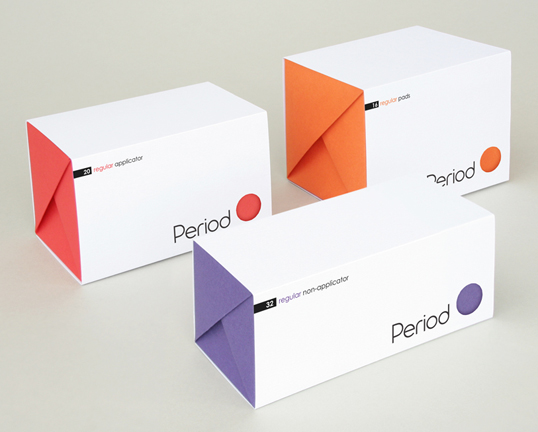 Designed by Kyle Tolley & Sarah Graves | Country: United Kingdom
"The aim of the project was to rethink and re-brand the sanitary protection product category ('Sanpros'), namely sanitary towels and tampons. A necessary purchase for women typically aged 12-55 years old. These products are mainly purchased by women and on occasion by men for women. The packaging should encourage the buyer to be confident of their purchase and not embarrassed. It should also be environmentally friendly and recyclable."
August 22, 2010 | No Comments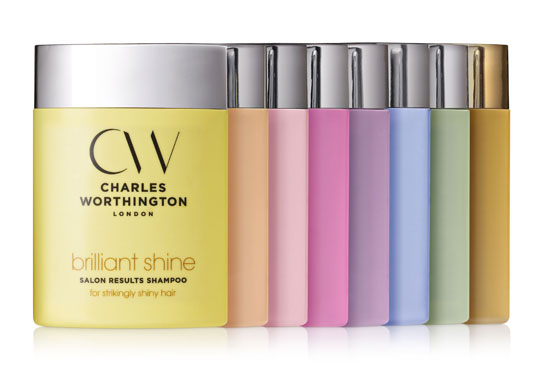 Designed by Cookchick | Country: United Kingdom
CookChick successfully won a 3 way pitch to secure the re-design project for the whole Charles Worthington Results range in September 2009. The Results range includes Shampoo & Conditioner products over 8 'regimes' along with a full range of styling products and hair intensive solutions. The brand occupies a number two positioning in the professional hair care market.
The main objective of the brief was to regain a confident simplicity to the identity and packaging whilst increasing the premium positioning for the brand in an ultra competitive and increasingly noisy market. The starting point was the Charles Worthington brand identity. CookChick developed an idea from Charles himself by using just the CW letters and creating a cut-sharp brand mark. Coupled with the brand mark is a stripped back approach to the regime naming and descriptive copy. Each Regime has a clear, to the point, hair benefit USP and carries a hotspot of colour. It was agreed early on that the Charles Worthington bottle shape was unique and still carried a real point of difference on shelf. However, the new pastel & foil silver colour palette replaces the previous translucent plastic approach suggesting a more premium and sophisticated range.
The attention to detail was a critical aspect throughout this project. One example of this was adding a tactile CW logo embossing to the recessed thumb button on the lid. The overall impression in-store gives a fresh, bright & sophisticated brand feel coupled with immediate product benefit navigation."