October 23, 2015 | No Comments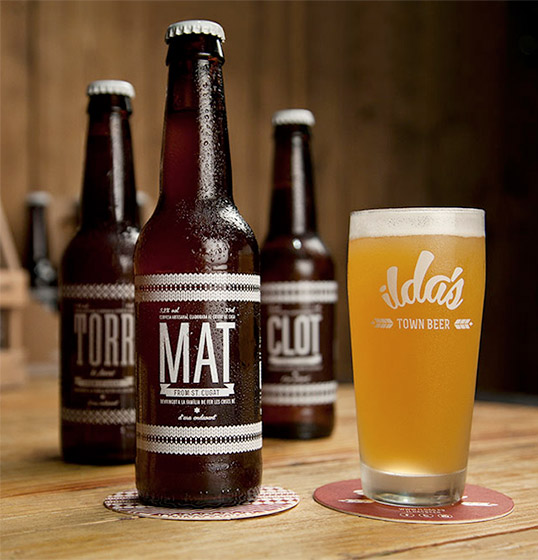 Designed by La Diferencia  | Country: Spain
"Ilda's Town Beer is a small brewery from Barcelona that produces four different varieties of craft beer. From our creative studio La Diferencia we created Ilda's brand and its varieties, their website and also worked as their PR agency."
July 9, 2015 | 2 Comments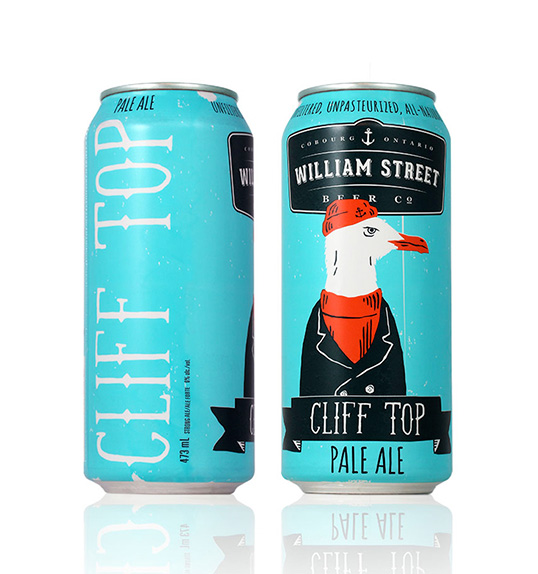 Designed by Freshly Packaged | Country: Canada
"William Street Beer Co. is Ontario's newest craft brewery located in the idyllic port-side town of Cobourg. William Street wanted to acknowledge Cobourg's marine heritage without appearing too stuffy, so we created a series of whimsical maritime characters that reflect the eccentric spirit of the townsfolk."
March 15, 2015 | No Comments
Designed by Patswerk | Country: The Netherlands
"We like brewing beer and handing out presents. So we decided that our 7 year anniversary was the perfect time to combine these things. We created a super limited package for our clients and friends, including 2 home-brewed beers. A nice and smooth porter and one extremely hoppy IPA.
The packaging is printed using 3 carefully selected PMS colors, making the packaging really 'pop'.The labels are silkscreened in 3 colors on transparent vinyl stickers, showing the color of the bottle."
February 22, 2015 | 3 Comments
Designed by Roman Davydyuk, Yaroslav Cherkunov & Katya Chanysheva | Country: Ukraine
"Tusk craft beer. The idea was to express that the new beer is very severe. It's meant for tough guys who don't whine or complain about their life."
December 26, 2014 | No Comments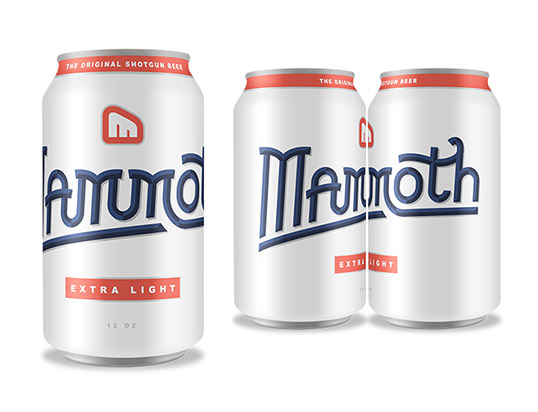 Designed by Sam O'Brien | Country: United States
"Raging Mammoth's inaugural product, the Tusk, provided a simple and clean way to "shotgun" beer. As their brand gained popularity after a successful backing on Kickstarter, the founders explored expanding their product line into other beer tools and even beer itself.
This spec work highlights Mammoth, "the Original Shotgun Beer."
Our Nation's colors shine forth bold and true in the brand's identity to pay tribute to what college America is all about– cold, crappy beer and binge drinking."
May 23, 2014 | No Comments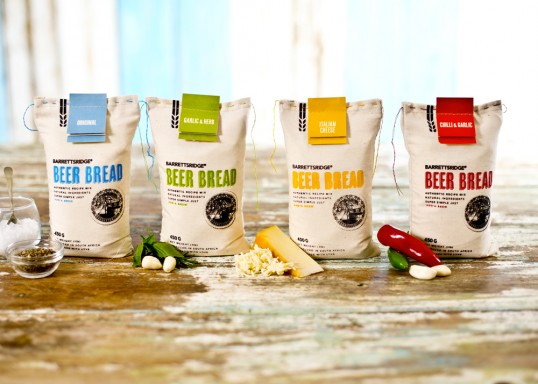 Designed by Carine Nguz | Country: DR Congo
"You like bread. You like beer. You'll love BarrettsRidge Beer Bread. What started out as one of Grandma's secret family recipes is now available to all who reckon that the time has come to end the unholy separation of beer and bread.
This product speaks for itself. Made by a real person and truly simple to prepare; it naturally looks, smells and tastes delicious. I wanted to create packaging that doesn't feel mass-produced, that evokes wholesome home-baked goodness and a fresh twist on heritage."
April 25, 2014 | 2 Comments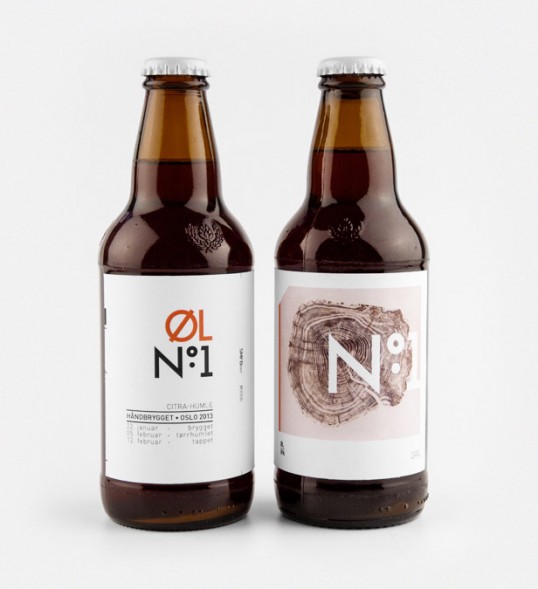 Designed by Nicklas Hellborg | Country: Norway
"What would one of Norway's leading advertising agencies be without it's own homemade beer? Well, thirsty is probably one of the things so we decided to brew our very own IPA beer at our office in Oslo to treat both our clients and our selves with."
March 11, 2014 | 1 Comment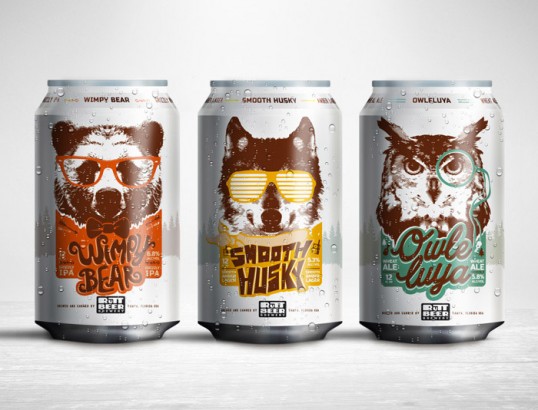 Designed by StudioMax Design | Country: United States
"RuTT Beer Brewery is a small company from the Tampa Bay Area born with a passion for craft beers. We produce Gluten Free specialty beers rich in flavor, aroma and personality."
April 22, 2013 | 1 Comment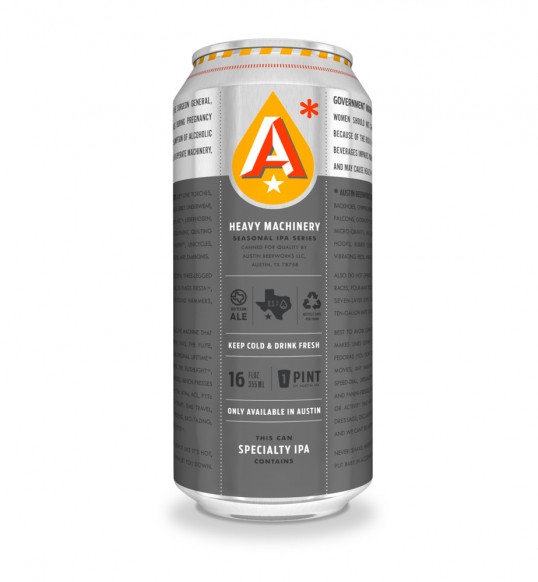 Designed by Helms Workshop | Country: United States
"Working with Austin Beerworks to name and package their new IPA series posed a few unique challenges.
The brewery planned to produce a different IPA every two months, ranging from traditional to experimental IPAs, and to distribute them as a limited-release series throughout the year. With each beer release being smaller than the minimum run of cans, we needed to design a single packaging solution and naming convention that could be used for all eight IPAs."
March 7, 2013 | 4 Comments
Designed by Equator Design | Country: Australia
"In the run up to the summer (in Australia), Equator Design's beer was a small production run of home brew style Pale Ale which we brewed ourselves in our Sydney Office to distribute to our clients. The objective of the beer was to create a beer that not only encapsulated everything that we as an agency are about but to 'create an impression' with our current and prospect clients. We decided to do just that with the labels, deboss them to 'create an impression' on the thick stock through a local printing firm's letterpress machine.
The bottle case's were lovingly crafted by our very own Studio Manager (Master Brewer), Peter Bradley who is a genius when it comes to making anything from native Australian wood. He spent weeks producing a number of boxes which in turn created massive impact when they were distributed to our clients.
So many of our client briefs of recent are requiring us to engage the 'five senses' when defining our creative approach to the design briefs. Tactility or touch was key to this self initiated brief and the label demonstrates that the sense of touch is also vital when considering the path to purchase for consumers. Executed well tactility can add perceived value and indeed add to the overall brand experience.
The 5% Pale Ale is perfect for a late spring session anticipating the warm summer months just around the corner…"