July 4, 2010 | 1 Comment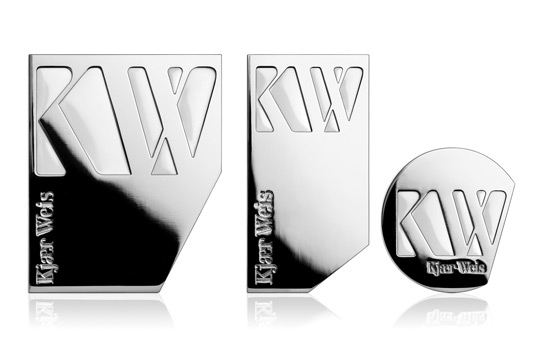 Designed by Marc Atlan | Country: United States
The design of the Kjaer Weis cosmetics line distills the fundamentals of women's makeup to its three essential areas of application: lips, cheeks and eyes.
The compacts are shaped to mirror the features they will be used to enhance: slim and long for the lips, large and square for the cheeks, small and round for the eyes. Aesthetically, the Kjaer Weis line fuses an understated and timeless classicism with the crisp minimal lines of modern jewelry.
July 1, 2010 | 2 Comments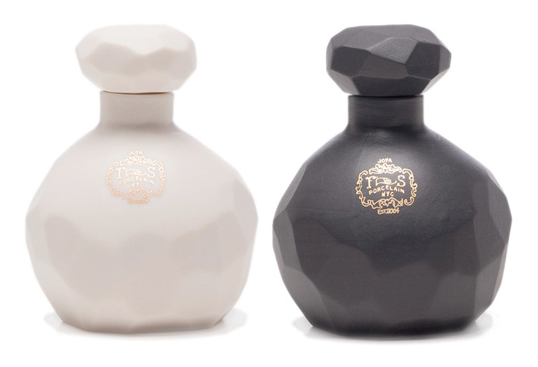 Designed by Joya | Country: United States
Fragrance box and bottle design is a rare opportunity for designers to be able to omit practically all information normally found on the packaging of a product, as standards for fragrances differ in that ingredients and other information can be listed inside perfume boxes, in booklets and leaflets. These porcelain bottles by Joya are a lovely example of a minimalistic approach which takes full advantage of this allowance.
June 26, 2010 | No Comments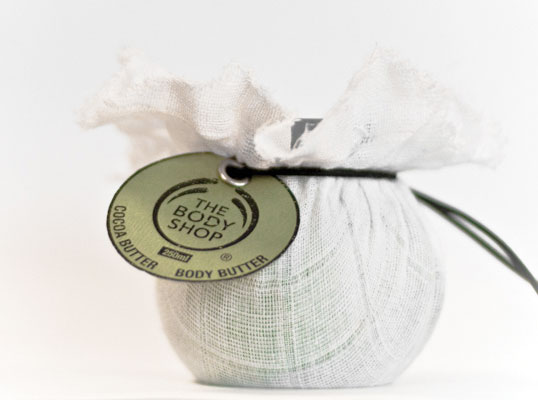 Designed by Kelvin Farrell & Jason Cartwright | Country: United Kingdom
"Instead of using unnecessary packaging we wrapped the product in a muslin cloth which doubles up as a flannel to clean/dry your hands. The product information is displayed on a small, neat label (front/back) around the neck of the jar."
June 25, 2010 | 1 Comment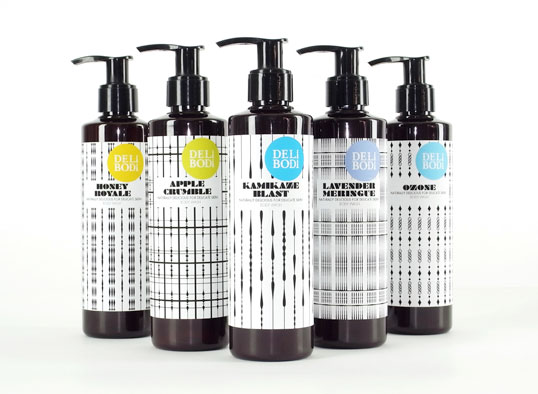 Designed by Default | Country: Thailand
"Deli Bodi is a new body & hand wash & cream product with a fruit aroma. Instead of showing the image of fruit we created a new way to present the aromas though elements that will communicate to women."
June 22, 2010 | 1 Comment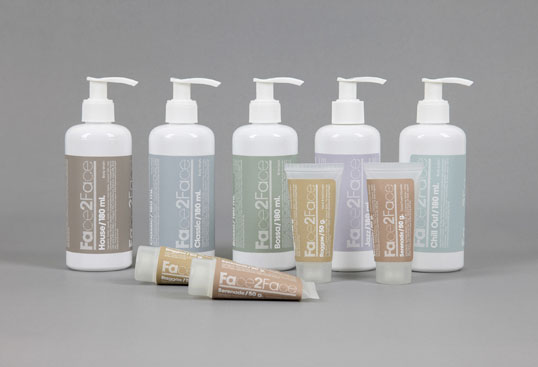 Designed by Default | Country: Thailand
"Face to Face is a skin & aesthetic centre in Phuket, Thailand with cutting edge FDA-approved products. The package was created with clean, simple typography to communicate with the main target audience which is the Western traveler."
June 21, 2010 | 5 Comments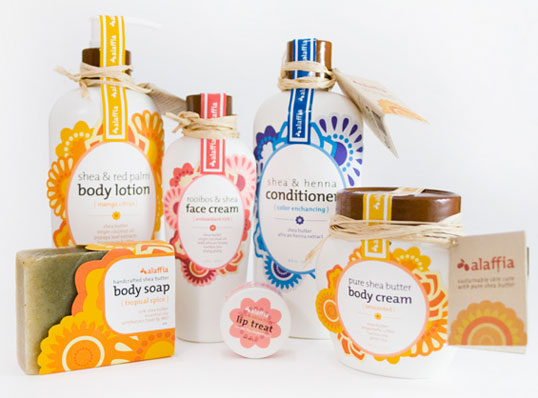 Designed by Nicole Chan | Country: United States
"A rebranding project for the local sustainable skin care line Alaffia. Alaffia uses unrefined fair trade shea butter from their West Africa cooperative as main ingredients in all their products. The rebrand focuses on a new range of audience and unique packaging that stands out from the rest of the natural beauty brands, but at the same time is still environmentally friendly and indigenous."
June 14, 2010 | 1 Comment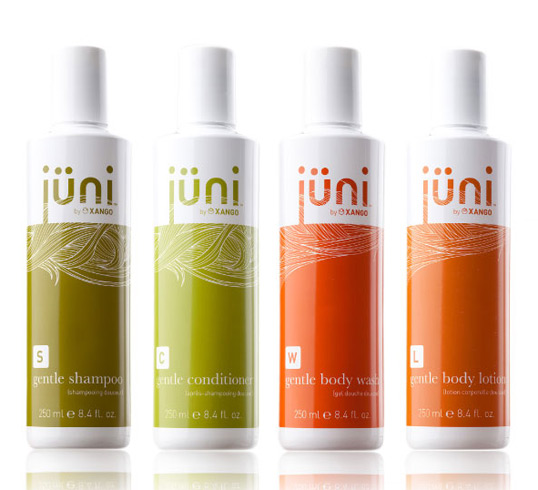 Designed by Only Creatives | Country: United States
"Juni is an all-organic product line for hair and body formulated for gentle yet deep cleansing for the entire family. We started by employing vibrant colors that are indigenous to nature yet also convey a feeling of fresh organic cleanliness. The colors also serve to identify different sections of the product family with the green family representing 'hair' and the citrus orange and reds representing 'body'. The usage of the hair pattern was to establish a subtle yet direct association with the hair and body as well as create a unique organic texture. Overall, we sought to create a design that is simple and natural as the product it contains."
June 10, 2010 | 4 Comments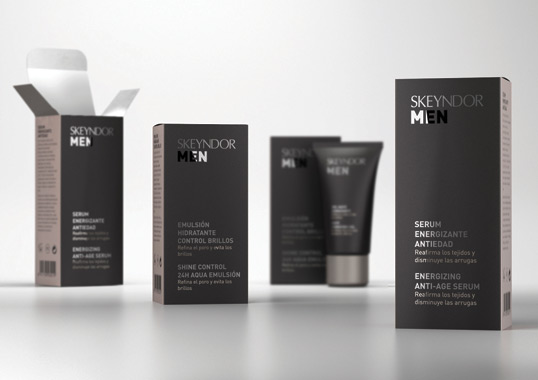 Designed by Garrofé Brand & Pack | Country: Spain
"Complete redesign of the whole line of packaging of the products Skeyndor Men, adapting it to the increasing and innovative sector of the masculine cosmetics. The new image had to transmit the values of the category: masculinity, elegance, sensuality and vitality, without forgetting the role of purchaser that women have in this sector; the resultant packaging had to be attractive also for her."
May 30, 2010 | 3 Comments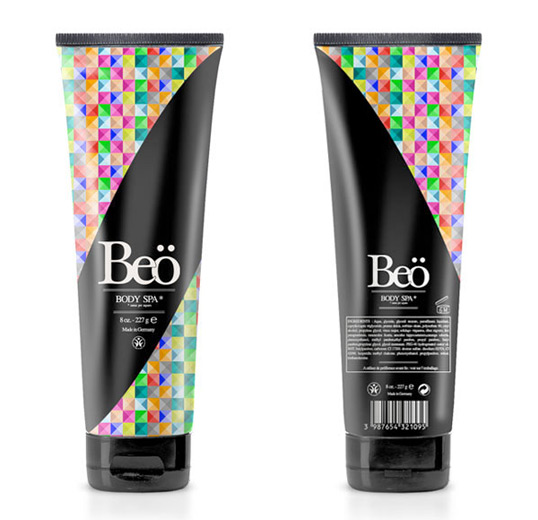 Designed by PikARTZö | Country: France
French designer PikARTZö pairs colourful geometric patterns with rich black for Beö body lotion.
May 25, 2010 | 3 Comments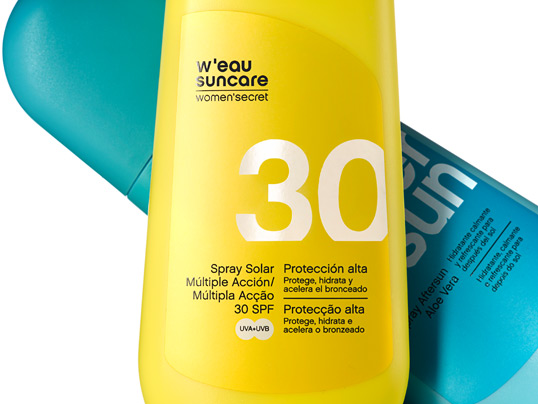 Designed by Base | Country: Spain | Fonts used: Chalet
"Just in time for summer, women'secret has launched a line of suncare products. An extension of the label's w'eau, the line features three products: sun lotion, after-sun cream, and facial suncream. We've designed the packaging for the set, using clear, minimal graphics and color so that nothing gets in the way of your rays."