August 24, 2009 | 1 Comment
Designed by Fluotype | Country: Argentina
"We created all the brand identity, from the logo to the labels, for this new soap and cosmetics brand. The client wanted something edgy, colorfull and a bit masculine. He had a low budget for printing, so we kept the label's shape quite simple.
Something that the client liked very much was the shapes we created for each fragance, and the way these shapes turned into patterns."
August 16, 2009 | 5 Comments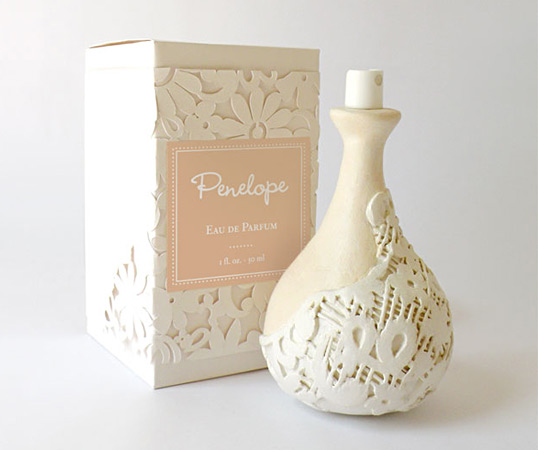 Designed by Erin Dameron | Country: United States
"The goal of this project was to create, brand and design packaging for a five piece cosmetic line. The students were allowed to choose the brands' name, direction and price point.
Penelope is a skin care line that was inspired by the retail store Anthropologie and is targeted towards women who shop there. Penelope's unique bottle designs and intricate 3-D floral detailing, created to mimic lace, merge vintage aesthetics with modern form."
August 15, 2009 | No Comments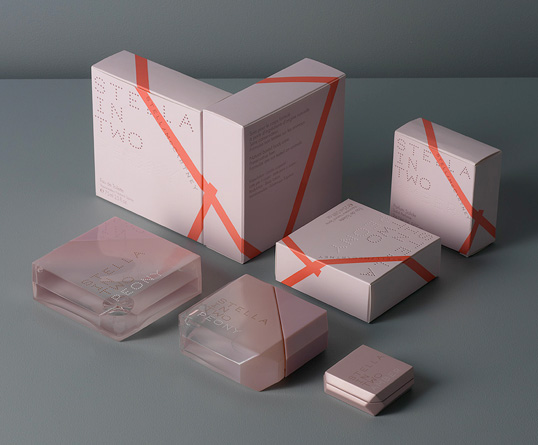 Designed by MadeThought | Country: United Kingdom
"A more conceptual incarnation of the first fragrance, Stella In Two employed the use of graduated opaque glass to simulate traditional ceramic bottles combined with more contemporary geometric forms."
August 10, 2009 | 1 Comment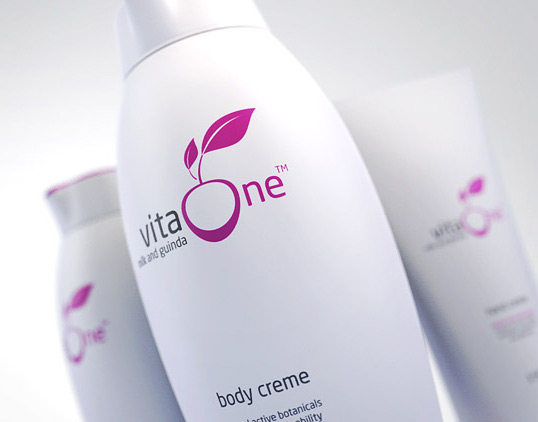 Designed by Sérkin Andrew | Country Russia
Nice bottle shape and clean design for Vita One body creme sent in from Russian designer Sérkin Andrew.
August 10, 2009 | 1 Comment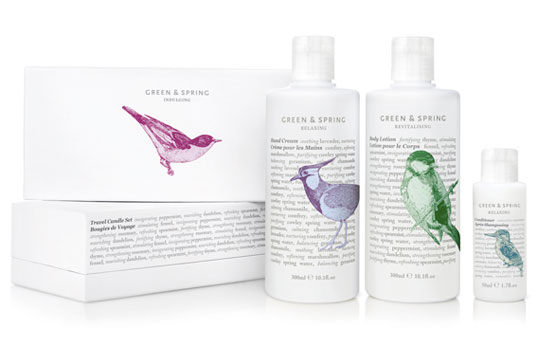 Designed by Pearlfisher | Country: United Kingdom | Buy It
Beautiful designs for a new luxury beauty range inspired by the British countryside.
August 6, 2009 | 1 Comment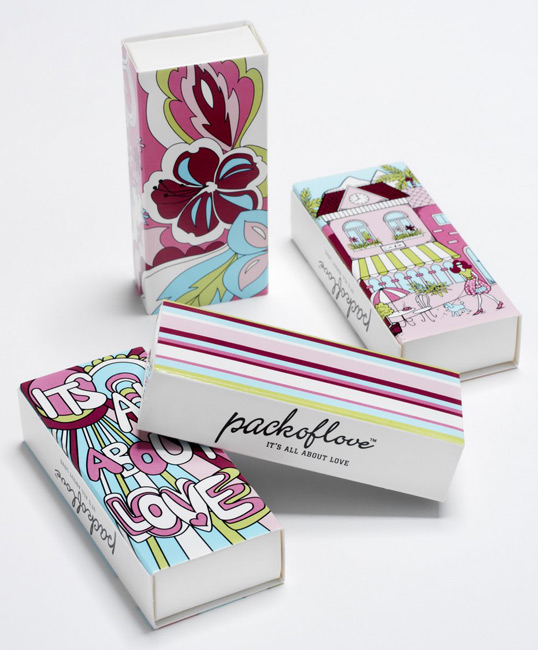 Designed by Packoflove | Country: Sweden
"Our business idea is to offer a new packaging solution for condoms, with unique exciting design and personal expression, where we remove the awkwardness of purchasing condoms. A Packoflove pack comes in a smaller size than the preexisting ones on the market and contains three condoms. Retailers are offered a total solution to sell condoms to the end consumer, with a unique and personal design.
Packoflove is to be the globally most interesting and market leading company in providing a unique package solution for condoms as well as offering other different products and brands. We appeal to the consumers personality visually and communicate in a personal but yet international idiom. We aim to be a leading brand."
August 5, 2009 | 1 Comment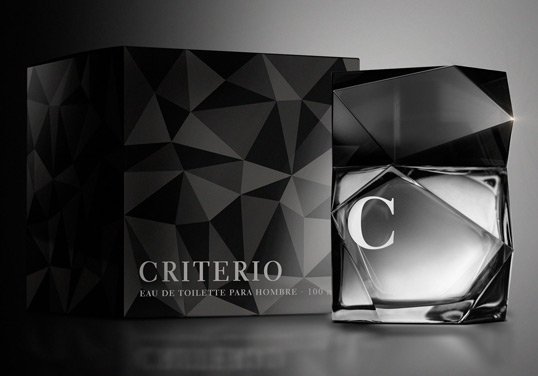 Designed by Lavernia & Cienfuegos | Country: Spain
"CRITERIO is a fragrance targeted for men searching for an exclusive product of quality, but at a lower price than perfumes of luxury range. The container suggests masculine elegance. It is a glass transparent polyhedron with edges and planes producing shines and reflections, helping to create a double sensation of hardness on one side and luxury on the other.
The packaging was solved with graphics that make reference to the faceted shape of the container. It is exclusively distributed at MERCADONA"
August 4, 2009 | 1 Comment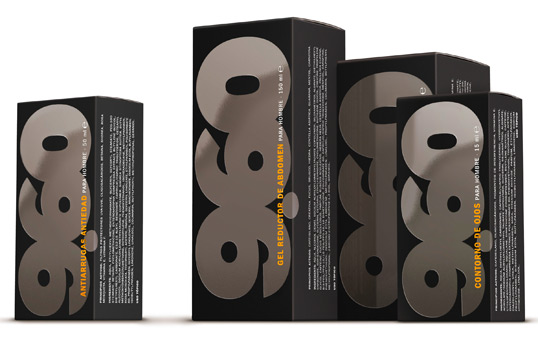 Designed by Lavernia & Cienfuegos | Country: Spain
"A mass-market range of cosmetic products for men that are exclusively distributed in more than 1000 supermarkets of the Spanish chain MERCADONA.
This basic line of cosmetics is related to concepts such as being fit, playing sport, exercising… The design of the package tries to reinforce these concepts. The name brings out the idea of a sport record, and the package makes reference to the morphology of the muscle. All the 100 ml and 200 ml containers were design with an ergonomic shape and fabricated in flexible plastic so they are very resistant and they can be carried in a sport bag."
August 2, 2009 | 1 Comment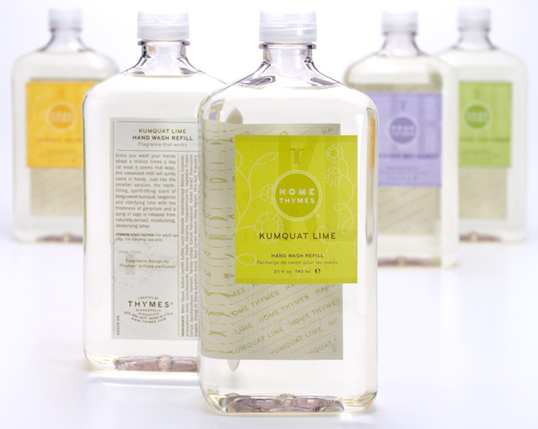 Designed by Duffy & Partners | Country: United States
You may remember we featured some of the Thymes range last December. Here are some more beautiful packaging solutions created for Thymes.
"A leader in the bath and body and home fragrance market, Thymes had recently celebrated its 20th anniversary and was facing tremendous competitive pressure in a fragmented and growing category. For the first time in their history they went to an outside firm to establish a new creative partnership. Duffy & Partners has had the privelege of collaborating with Thymes in revitalizing their identity, a full suite of marketing materials and nearly two dozen product collections. Importantly business results have followed this design revitalization every step of the way".
August 2, 2009 | 17 Comments
Designed by Lavernia & Cienfuegos | Country: Spain
"The collection of mass-market fragrances COMOTÚ, designed for Mercadona, was aimed to be a simple product, in harmony with its price, but with a surprising presentation. In order to achieve a good brand image and minimize the costs of production, only one bottle design was used for the eight different fragrances, four in black for men and four in white for women. The distinct fragrances can be differentiated thanks to the different colours of their tops.
The shape of the bottle is rounded and curved, and the packages show shiny and metallic colours.
The final design both of the bottle and its package has the gift to transmit high quality and modernity at a competitive price. It proves that a mass-market product with a good design can be very successful."