July 29, 2009 | 1 Comment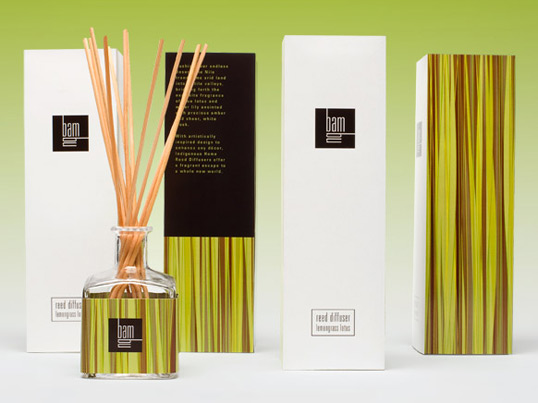 Designed by Bernstein-Rein | Country: United States
"This boutique getaway focuses on personalized customer experiences, so overall  branding and touchpoints create a refreshing, zen-like feel. Inspiration for the logo came from traditional seals used as signatures in Asian cultures. Packaging for the salon+spa incorporated clean lines, repeating patterns and fun usage of bamboo in unexpected places."
July 28, 2009 | 1 Comment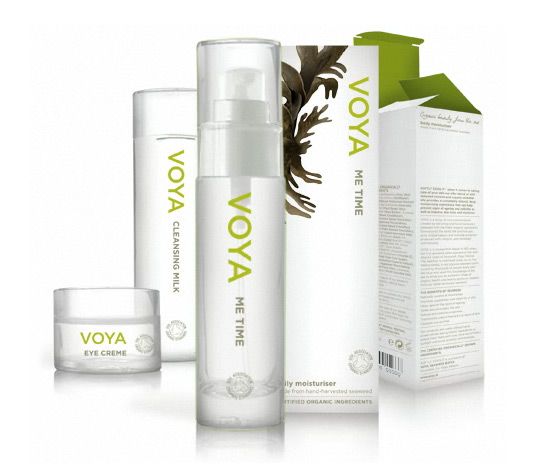 Designed by Dynamo | Country: United Kingdom | Buy it
"We were estatic to receive a Silver ICAD bell at the awards in November. For the last 2 years we have been working really closely with the VOYA team in developing their new and extensive range of 100% organic beauty products. In addition to the work winning a design award, the range is now in huge demand and is being stocked in some of the finest health spas and exclusive retailers including House of Fraser, Avoca Handweavers and Nue Blue Eriu."
July 23, 2009 | 4 Comments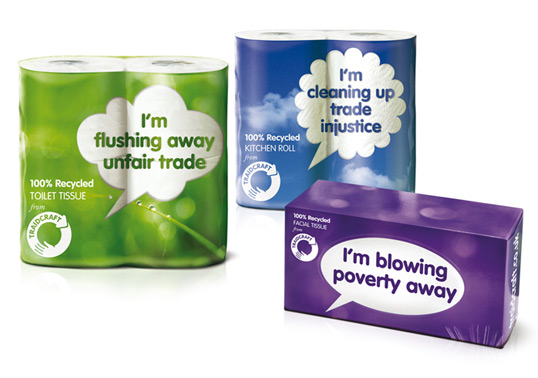 Designed by Studio Blackburn | Country: United Kingdom
Traidcraft was established in 1979 as a response to poverty, and are the UK's leading fair trade organization. The speech bubbles on their tissue range are an excellent way to communicate directly with consumers, letting them know exactly how their purchase is helping a greater cause.
July 22, 2009 | No Comments
Designed by Pure Living | Country: Canada
"The challenge behind Beautea was to develop a line that reflected the earthy naturalness of an Organic Bath & Body line and feminity of the packaging since women were the prime consumers of this type of product. Also, since it is a bodycare line infused with Tea it was very important that the packaging reflect this and not mistaken for "drinking tea". Inner packaging was sourced throughout the world and reflects the "cleanness" of a natural, organic line. Natural Fragrances developed by our Perfumeur in Grasse, France. All organic ingredients were sourced from Organic certified farms mostly in California. All organic tea extracts were sourced in Arizona through a specialized Tea importer. It was essential that the logo with the tea pot be sticking and reflected the ingredients inside the product… tea."
July 21, 2009 | 1 Comment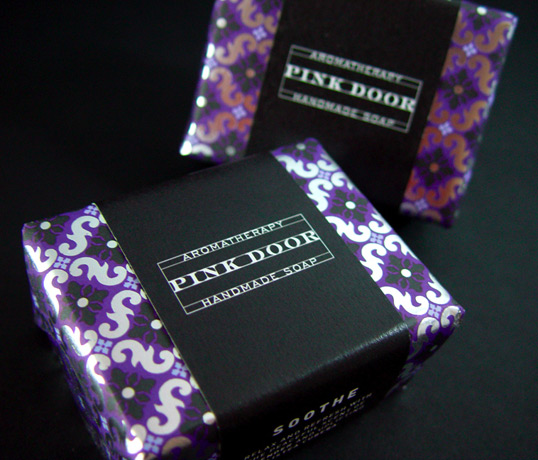 Designed by Hangar 18 | Country: Canada | Buy it
Beautiful work from Vancouver based Hangar 18. The Pink Door Paper Company was created by Sean & Renuka Carter as an outlet to merge his passion for design with her love of personal expression. Their packaging has garnered many international awards from highly respected design institutions such as Communication Arts, Graphis, Applied Arts, and Graphex.
Every product is designed, produced, printed and hand packaged locally. They print with VOC free inks on paper stock which is acid free, archival and made from 30% post-consumer waste by a family owned printer that is FSC certified.
July 21, 2009 | 8 Comments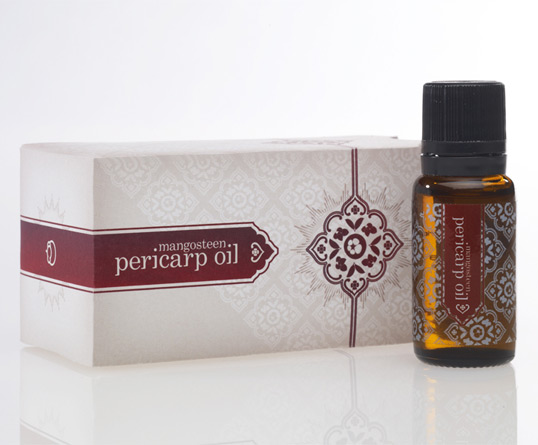 Designed by Struck | Country: United States
"There's something rather regal about the mangosteen fruit. Maybe it's the deep color of the rind, or the pure white fruit it holds, or the density of its nutrients. Whatever it is, it's worth capturing. Which is what we've done in the packaging for XanGo's latest product, a multi-use serum made from all the goodness of the mangosteen. Traditional patterns speak to its origins, and hand treated type and brush stroke textures speak to natural organic beauty. The slide box reveals a product as unique as its custom die line."
July 20, 2009 | 10 Comments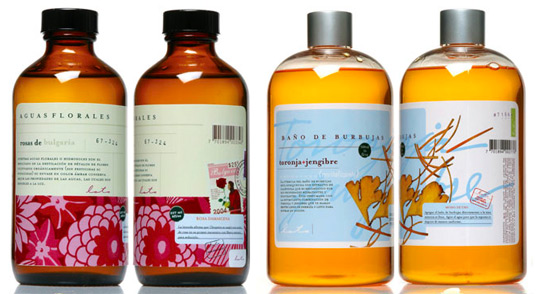 Vanessa sent us these lovely bottles that she stumbled upon a while ago, and is hoping that one of our readers can help her identify them. We'd also love to know, so If you have any information on this work please let us know in the comments.
July 20, 2009 | 4 Comments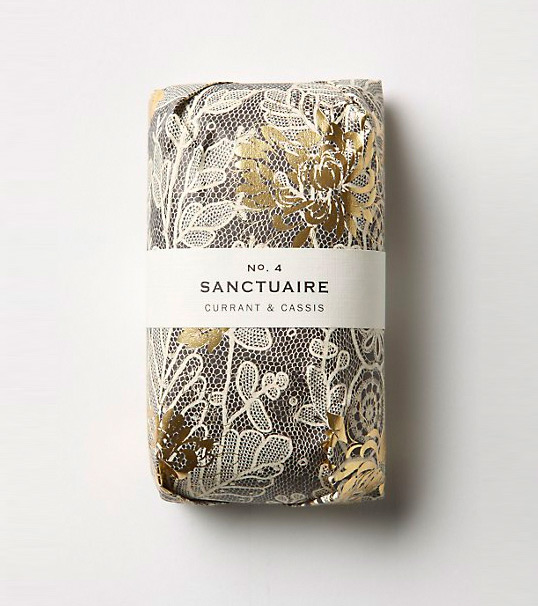 With gold foiling and beautiful patterns offset by simple labeling, this lovely soap is made by Fringe Alchemy.
If any of our readers know who designed this beautiful packaging, do please let us know in the comments.
July 19, 2009 | 34 Comments
Designed by ChappsMalina, Little Fury & Help Remedies | Country: United States | Buy it
Thanks to Richard at Help Remedies for sending us the package designs for their new products. This is one of the best examples of product concept and design. From the naming down to the witty copy and simple, clean design, it doesn't get much better than this.
"Our packaging is made of molded paper pulp and a bio plastic made primarily of corn. We use these materials because they are interesting to look at, and they are compostable—which means one day, they might become part of a large tree. Maybe you can cut down that tree and make it into a speedboat.
Visit this space daily to experience the ongoing struggle of "help I have a headache" as it attempts to biodegrade."
July 17, 2009 | 4 Comments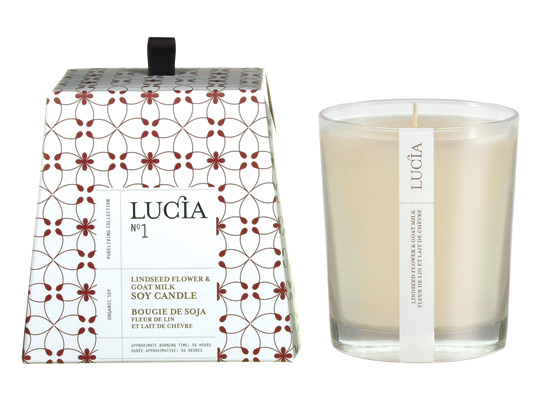 Designed by Pure Living | Country: Canada
"LUCIA was inspired by Lucie Bernier (president) of Pure living products. Her many travels to Europe, Asia, etc has led her to bring back through the years an assortment of Renaissance designs on fabrics from Florence, ceramic work from Portugal, Spain and  Italy, etc. She wanted to create a line of specialty soaps (now candles also)  that reflected these rich  textured designs. Each design reflects old world charm with a modern touch. The logo LUCIA in black & white reflected the 'cleanness' of a soap product and at the same time counter-act the rich and 'busy' textures of the old world designs. Also, this was a product that was designed in our contemporary times so the logo had to refect this. The box construction of the soaps was inspired from old, pre-war soap designs from Spain & Portugal. The candle box contruction was inspired  by the 'Pannetone' cake found in Italy."