May 17, 2009 | 3 Comments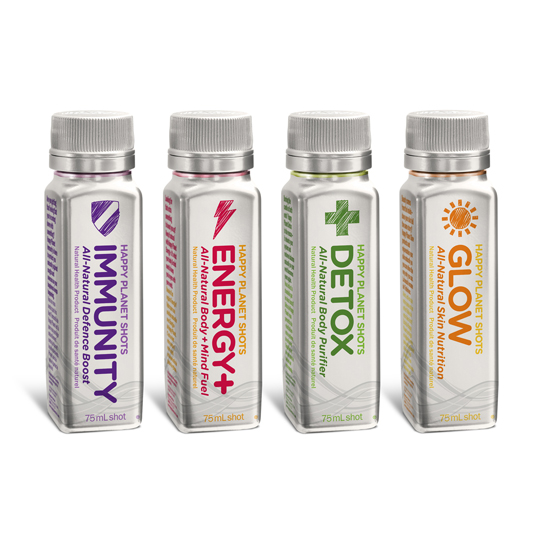 Designed by Subplot Design | Country: Canada | Font: Gotham Rounded
"Tired of typical Energy shots that currently dominate the market with their toxic taste and less-than-credible-ingredients, Happy Planet has brought their reputation and knowledge of healthy natural beverages to the emerging shots category. Happy Planet Shots are formulated to address four specific occasions: Energy, Immunity, Detox and Glow.
Much time and effort was spent creating a bottle that was not only unique, but also environmentally-responsible and cost-effective. The result is a tall, slender, square-sided bottle with a full shrink-wrap film enabling total coverage of the bottle with graphics. The illustrations clearly depict the benefit of the shot; a shield for immunity, a sun for glow, a first-aid cross for detox and a lightening bolt for energy."
May 15, 2009 | 1 Comment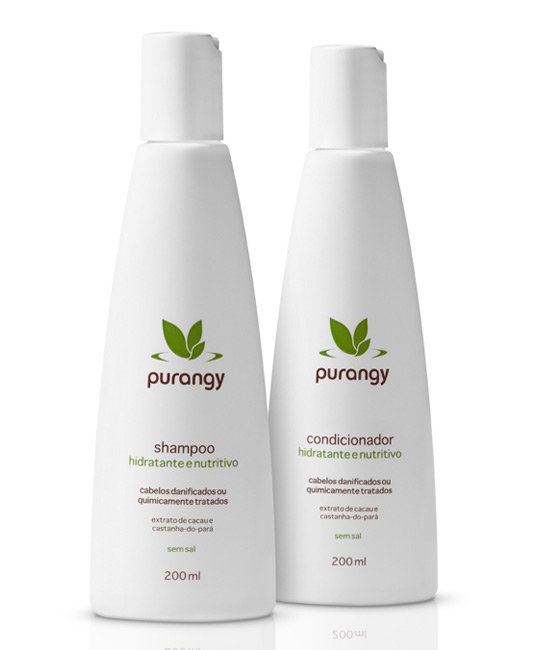 Designed by Contentcom | Country: Brazil
Clean, minimalist package design for Purangy, the first bio-cosmetic industry of Amazonia – Brazil.
May 14, 2009 | 4 Comments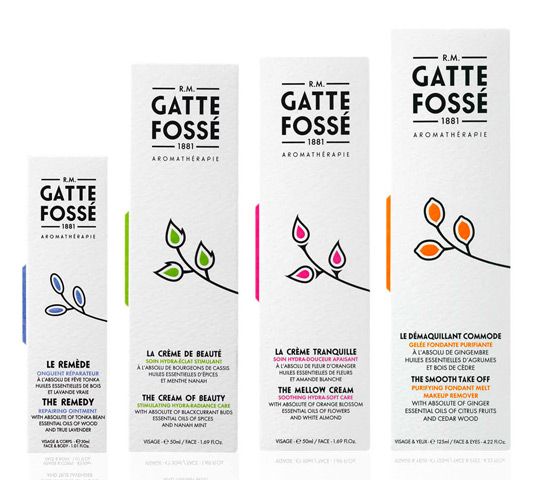 Designed by CA DESIGN | Creative Direction Tommaso Nicolao | Country: France
"The graphic concept behind this new cosmetic line is inspired by the codes of art deco. In the logo, the art deco reference is evident in the typography that conveys the historical savoir-faire of Mr. R.M.Gattefossé, who invented the aromatherapy industry in the 1930's. The pictographic system conveys the art deco codes in a more contemporary manner in order to translate the cutting-edge scientific know-how of the company, while also bringing fun and color to the aesthetic of the packaging.
The right side of the packaging plays a main role in the linear for merchandising presentation, completing the icon and displaying important product details.
The inside of the packaging reveals itself like a secret garden, inviting us to delve into the box and discover the history of the brand. This allowed us to avoid printing an internal leaflet, thereby reducing paper and respecting the ecological goals of the company, also suggested by the highly-textured snow-white Fredrigoni Tintoretto paper."
May 7, 2009 | 4 Comments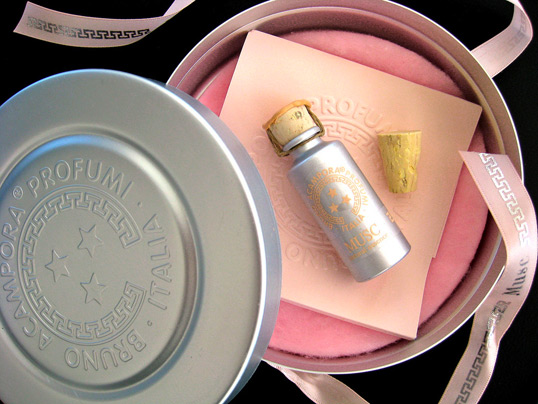 Country: Italy | Buy it
Beautiful packaging for Bruno Acampora Musc perfume. I love the care that has gone into producing the aluminum tin and how it pairs with the aluminum bottle inside.
If anyone knows who designed this please let us know.
April 29, 2009 | 1 Comment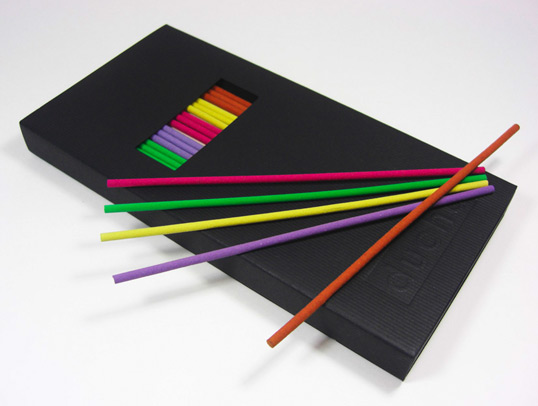 Designed by Ducha Cosmetics | Country: Brazil
April 28, 2009 | 9 Comments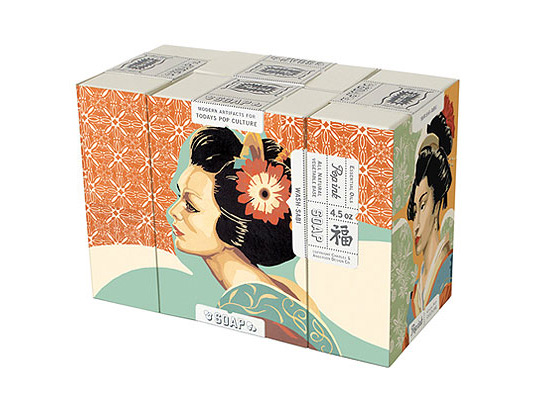 Designed by Charles S. Anderson Design | Country: United States | Buy it
Lovely packaging from Charles S. Anderson for Pop Ink Soap by French Paper. CSA has a great knack for producing work with a high attention to detail. Be sure to check out their website for more.
April 28, 2009 | 2 Comments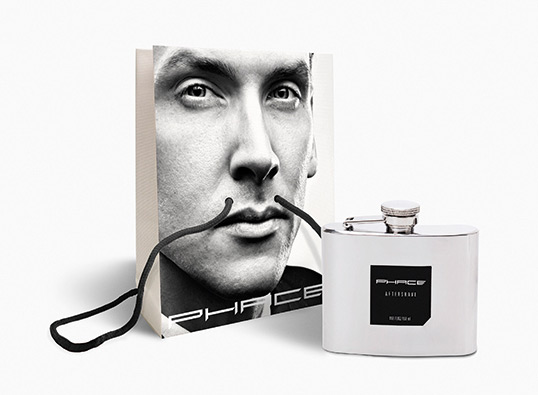 Designed by George Lin | Country: Canada
More work from the IDEA Program at Capilano University. This time George Lin sends us some of his projects.
April 27, 2009 | 2 Comments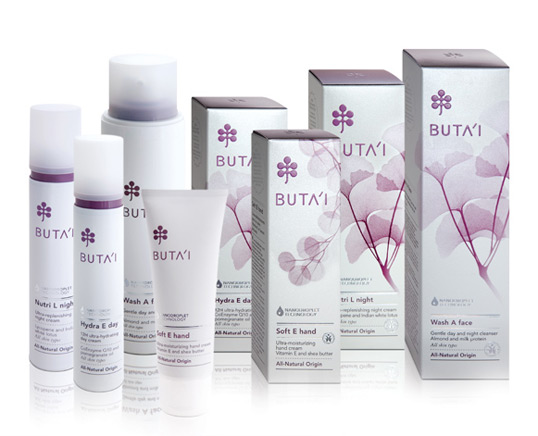 Designed by Danny Goldberg | Country: Israel | Font: Avenir
"Devolping a future cosmetics brand; defining its name, language, concept, identity and packaging, that position BUTA'I as a leading cosmetics brand, combining 100% natural ingrediants with cutting edge Nano-technology. The viual language combines botanical x-ray photography with a descriptive icon system.
April 9, 2009 | 4 Comments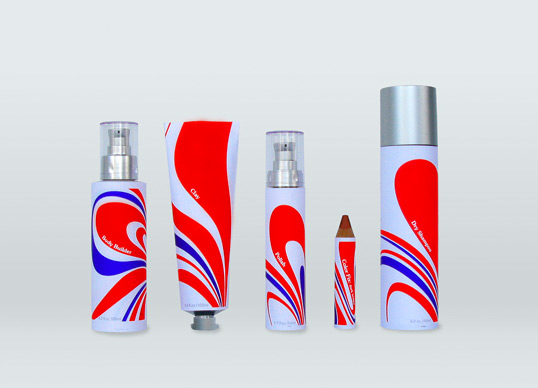 Designed by Base New York | Country: United States
"We were working with Fred Segal Beauty on a new hair care line. The packaging, 18 sku's worth, breaks most beauty industry rules. The project was killed when Fred Segal Beauty closed its doors and filed a lawsuit against Fred Segal."
April 8, 2009 | No Comments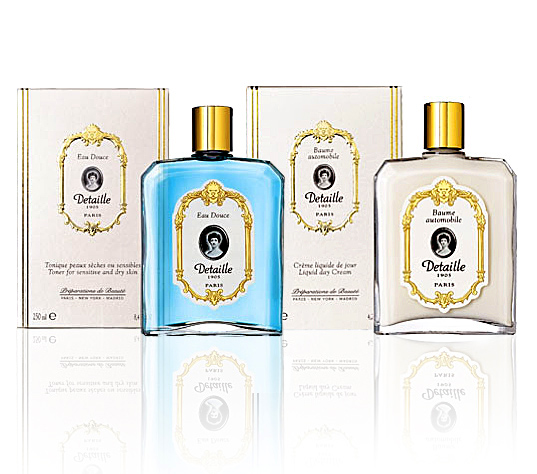 Country: France
Packaging classics for Francophiles from Detaille.
Designed inhouse?