June 10, 2014 | No Comments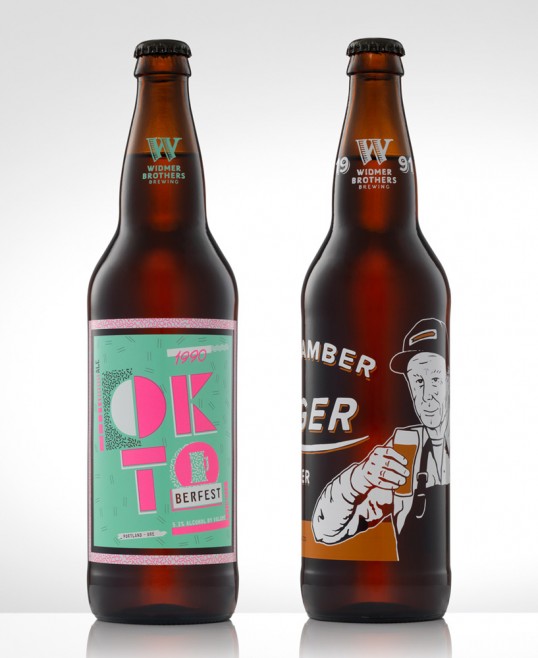 Designed by Ben Willett & Factory North | Country: United States
"Ben Willett, Oktoberfest: "The inspiration for this label comes from the constructivist and Bauhaus design movements of Germany, with a heavy layer of Zach Morris on top of that." 
Tyler Segal (Factory North), Ray's Amber Lager: "I was inspired by the classic look of sign painters' hand-done lettering. I wanted to feature the Brothers' dad Ray on the label since the beer was brewed for him. I illustrated him using an old photograph I was given. A simplistic, two-color design using white and amber evokes feelings of nostalgia."
June 5, 2014 | No Comments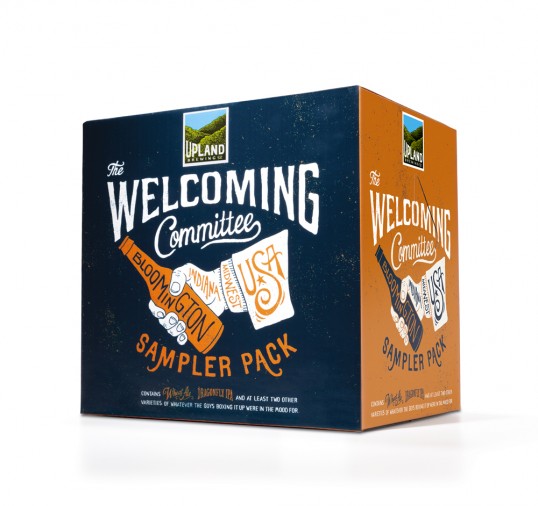 Designed by Young & Laramore | Country: United States
"Upland Brewing Company announced today the release of "The Welcoming Committee," a new twist on their traditional beer sampler pack that seeks to welcome fans—both new and old.
Containing twelve bottles of, as the packaging puts it, "Wheat Ale, Dragonfly IPA, and at least two other varieties of whatever the guys boxing it up were in the mood for," the Welcoming Committee is, as its name suggests, an ideal introduction to the company's beer for those new to the brand. It's also a favorite of Upland fans, who appreciate its combination of old favorites (the flagship Wheat Ale and Dragonfly IPA) and randomly selected seasonal beers to try. (Those who know the brewery, also know that "whatever the guys boxing it up were in the mood for" perfectly captures the laid-back spirit of the culture.)
The packaging continues the style of the brand's recent, extensive rebranding, with artwork and hand-lettered type by France-based BMD Design. The pack's illustration—a hand holding a bottle—is designed to resemble a handshake, reinforcing the welcoming attitude of the name. The words "Bloomington, Indiana, Midwest, USA" are prominently featured, as well, staking Upland's claim as a brewery proud of both its Hoosier and Midwestern labels."
May 27, 2014 | No Comments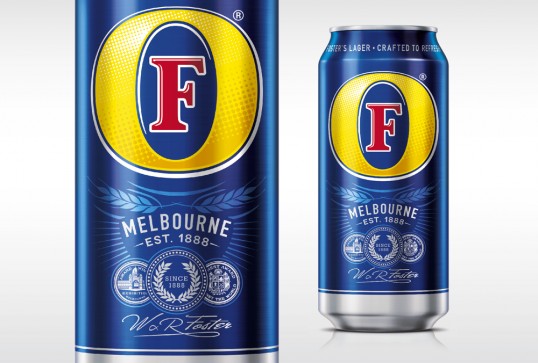 Designed by BrandMe | Country: United Kingdom
"Building on BrandMe's radical redesign of Foster's in 2010, the growing success of its Gold and Radler line extensions and the brand's 2013 crowning as number 1 UK off-trade lager, BrandMe were commissioned by brand owner HEINEKEN to reposition and redesign Foster's core proposition.
The brief was to capitalise on the 125th anniversary of the brand and assert the brand's long standing brewing heritage and product credentials, as a lager crafted in the Melbourne heat in 1888 for ultimate refreshment."
May 20, 2014 | No Comments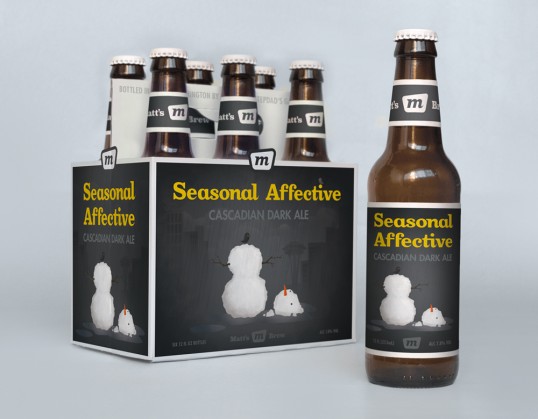 Designed by Jackson Willits | Country: United States
"Matt's Brew is just that—beer brewed by Matt Flores, a fellow Seattle-based designer. When he mentioned needing packaging for a CDA this winter, we started ideating and decided the beer should be a play on the notorious rain and darkness we experience here in the Pacific Northwest. From there, I chose to create a design and illustration that's somewhere between the classic WPA national parks posters and a New Yorker cartoon. This jaded snowman is dedicated to all the folks who spend their short daylight hours in grey and soggy concrete jungles."
May 17, 2014 | No Comments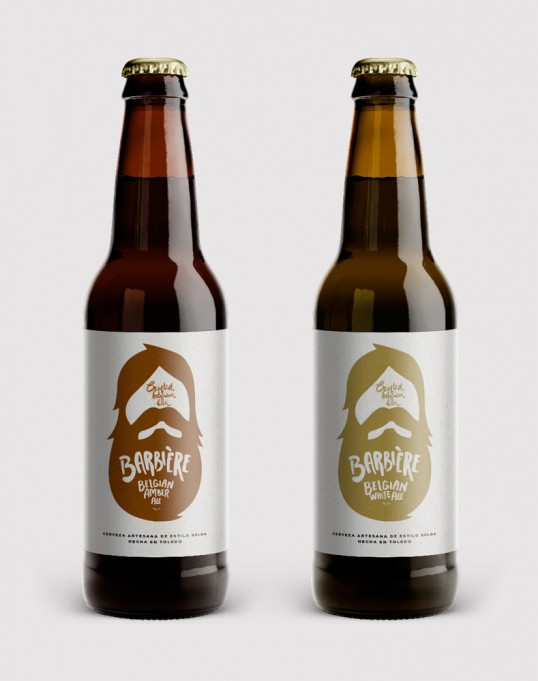 Designed by The Woork Co | Country: Spain
"It's always great when a great product arrives at your desk and you have to name it, brand it and package it. That's what happened when this awesome belgian beer produced in Toledo, Spain arrived to our hands. Artisan Beer's Market has been terribly growing for the last year and we needed an eye-catching name and image to make it look different from its competitors when someone is about to order a beer in a bar. Barb & BIère (Beer in French) made the name and beards and different hair tones made the pack for the different varieties. All of it wrapped with a sense of artisan made, from the illustrations and the lettering to the printed materials' choice. "
April 29, 2014 | No Comments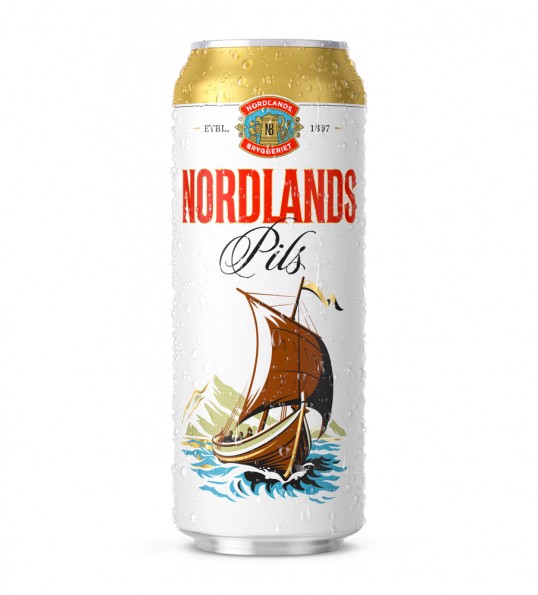 Designed by Strømme Throndsen Design | Country: Norway
"Ringnes is Norway's largest brewer and part of the Carlsberg Group. Strømme Throndsen Design has redesigned their Nordlands Pils, a regional Northern Norwegian beer with a history dating back to the 19th century, that looked to establish a more contemporary interpretation of their heritage.
All the original elements have been kept but have been redrawn and hand lettered with a retrospecitive appreciation for detail and craft, and the iconic Nordlands boat has been given more contrast and dynamism to stand out in the shelves.
The redesign clearly provides the beer with a high quality and brand sensitive revision of the established local pilsner."
March 30, 2014 | No Comments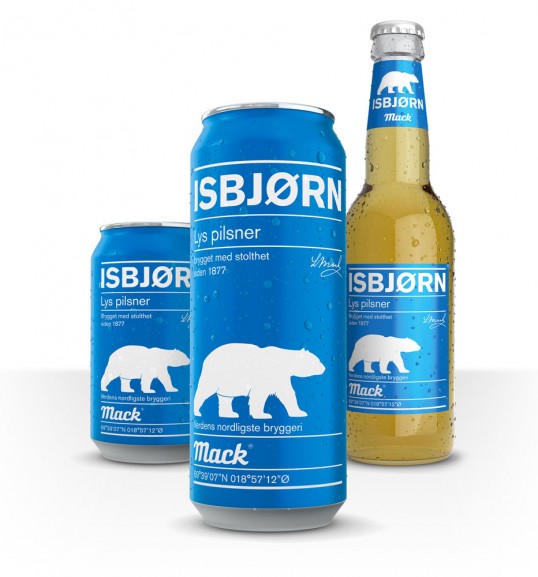 Designed by by north™ | Country: Norway
"In February 2014 Mack Isbjørn is back on the shelves after being away since 2007. This is the first project by north™ has taken on for Macks Ølbryggeri, the worlds northernmost brewery. The goal for Isbjørn is to establish it as a competitor to products like Tuborg pilsener and Ringnes pilsener who today dominate the lower price-bracet in the beer-category in Norway, and to recruit new customers to Mack.
The design lends it's language from Swiss Modernism and challenges the traditional beer-design seen in the category, which makes it stand out on the shelf with great impact both in graphic language and use of color."
February 19, 2014 | 1 Comment
Designed by Brennan Gleason | Country: Canada
"This self directed student project for my final semester of design school was initiated with the goal in mind of creating a unique, eye catching identity and packaging design for a craft brewery.
High Seas Brewing Co. is a home brewed brand myself and my roommate created to give our small batch beer an identity all its own. With his love of the high seas and my love for crafty, simple, eye catching design I saw this as a perfect opportunity to create something great."
February 10, 2014 | No Comments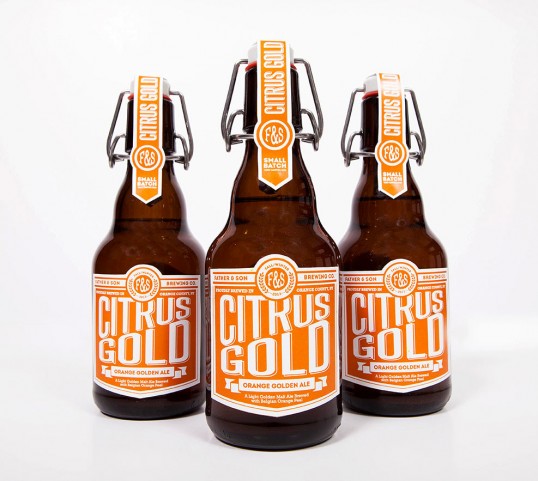 Designed by Craig Valentino Design | Country: United States
"During the 2014 holiday season, as per tradition, the home brew of Father & Son Brewing Company was created. This year, the name Citrus Gold was given to this orange golden ale, which of course was named after the sweet notes of Belgian orange peel used in the brewing process.  The idea was to create a label that was as bright, as bold, and as crisp as the the beer itself, allowing it to accurately represent the brew. 
The beer was then bottled using 2 different sizes of swing top bottles and hand-labeled with bright white thick-stock paper. It was then distributed as holiday promotional gifts."
February 8, 2014 | 1 Comment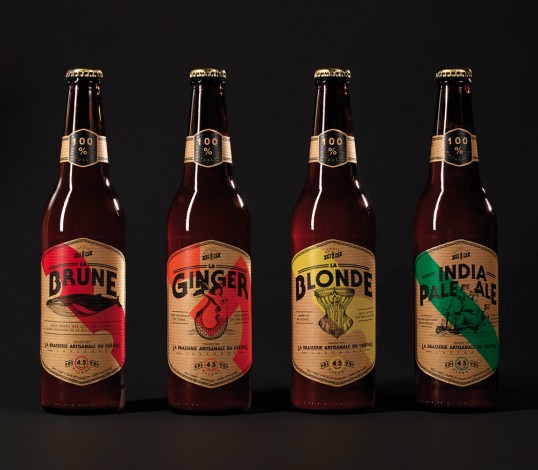 Designed by A3 Studio | Country: Switzerland
"The Brasserie Artisanale du Château based in Lausanne, Switzerland, commissioned the graphic design agency A3 Studio to create four new labels for their traditionally made beer, as well new packaging. 
The beers are brewed with a traditional process, for this reason A3 Studio has developed a graphic style which is both contemporary and traditional. The labels for la Brune, la Blonde, la Ginger and the India Pale Ale are inspired by the sea world and are decorated with ropes. The illustrations (a whale, a corset, a siren, and a ship) are drawn by hand to emphasize the hand made production of the beer, they are inspired by old engravings and sailor tattoos. 
Printed on craft paper, the labels stress the authenticity of the beer. The brown cardboard of the four-pack completes the look."