June 24, 2010 | 15 Comments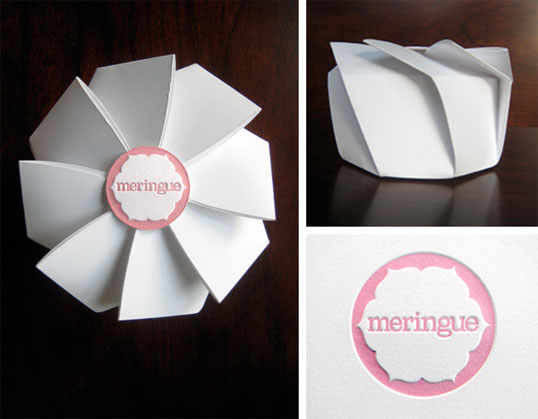 Designed by Samira Khoshnood | Country: United States
"Identity and package design for Meringue, an upscale dessert boutique, seeking to capture the airy whipped quality of meringue, the main ingredient in most of the store's pastries. Three types of packaging highlight the form and color of meringue cookies and macarons, two of Meringue's signature sweets.
The origami-inspired cookie box emulates the folds and peaks of meringue cookies. Macaron boxes and bags frame the beauty and color of the macarons. Letterpressed tissue and seals add a pop of color and tactile quality to white and clear packaging."
June 22, 2010 | 2 Comments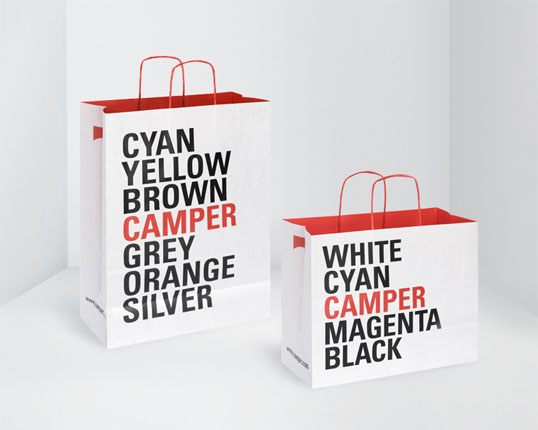 Designed by Ruiz+Company | Country: Spain
Lovely premium bags for Camper footwear by one of our favourite design studios. The coloured interior paired with the stark white exterior and strong black type make these bags look clean and simple, much like the product they sell.
June 15, 2010 | 11 Comments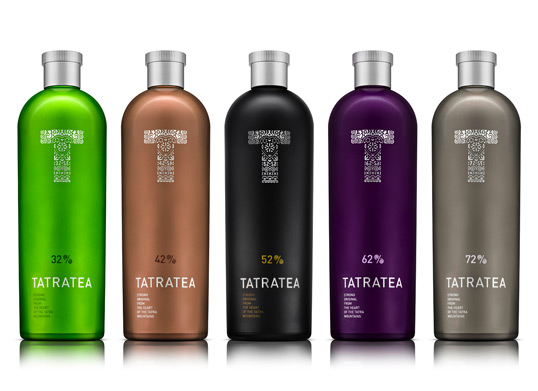 Designed by Pergamen | Country: Slovakia
"In 2009 Karloff, a premium Slovak producer and distributor of spirits and wines decided to change the design of a popular Tatratea. Design studio Pergamen created a new bottle, symbol and design for this strong Slovak spirit. Inspiration for the shape of the bottle was a therm flask used in Tatra Mountains resorts. Easily identified silhouette with no bottle neck is accompanied by a symbol "T" that is inspired by traditional wood-carving and jewel-making. The initial contains solar symbols for the circle of life, symbols of love, happiness, fertility etc. Simple (but distinct) colour scale helps to identify particular kinds of Tatratea according to the volume of alcohol. A limet-green glass of Tatratea 32 underlines its citrus flavour. A gentle peach tint of Tatratea 42 respects the presence of a white tea. The legendary 52 with extracts of black tea occupies the black bottle. Forest fruits in Tatratea 62 are softened by a glass with forest fruits colour. The strongest Tatratea 72 has a titan metallic look. The aim of re-design of Tatratea was to accent the brand essence: "Strong original from the heart of Tatra Mountains".
May 28, 2010 | 4 Comments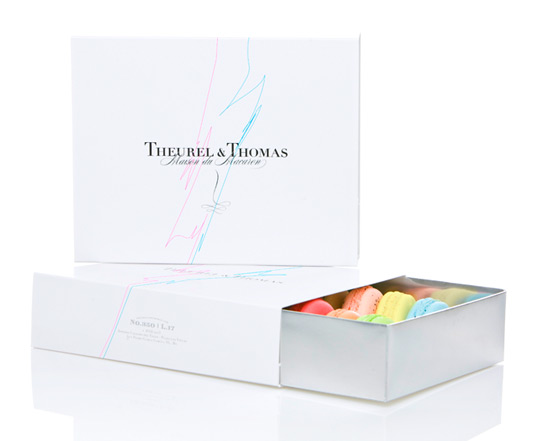 Designed by Anagram | Country: Mexico
"Theurel & Thomas is the first pâtisserie in Mexico specialized in French macarons, the most popular dessert of the French pastries.
For this project it was very important to create an imposing brand that would emphasize the unique value, elegance and detail of this delicate dessert.
White was our primary tool for design. As a result of this the attention was fully oriented to the colorful macarons. We placed two lines in our design in cyan and magenta, as a relation with a modern French flag to inject a vanguard vision to the identity. We selected Didot (created by Firmin and Pierre Didot), a French typography that would present the brand with sophistication."
May 18, 2010 | 1 Comment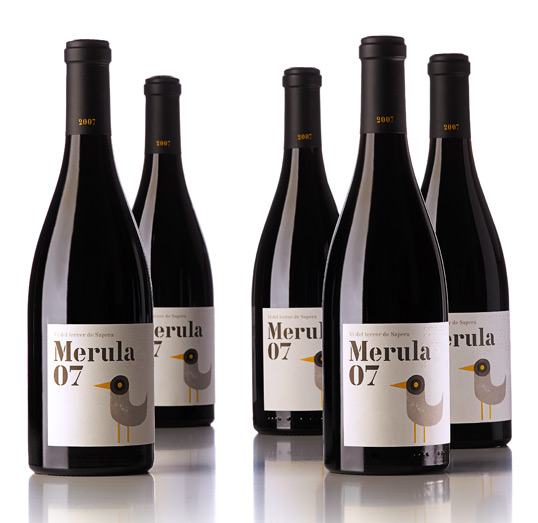 Designed by Base | Country: Spain
"70 kilometers outside the city of Barcelona is Alt Penedes, a region long renowned for its Catalan wines. In the village of Torrelles de Foix is a plot of grape-growing land known as Terrer de Sapera. From this land comes the new wine on the block, a merlot called Merula. The name Merula translates to blackbird in Latin—mirlo, also the source of the name of the merlot grape, whose deep wines are said to resemble the color of blackbird feathers.
We designed the label, capsule, and a six-bottle case for Merula. As it's a new winery producing a grape not typical in Alt Penedes, we opted for a non-traditional approach. Building on the name Merula, we worked with illustrator Miguel Ordoñez to create friendly blackbird."
May 17, 2010 | 6 Comments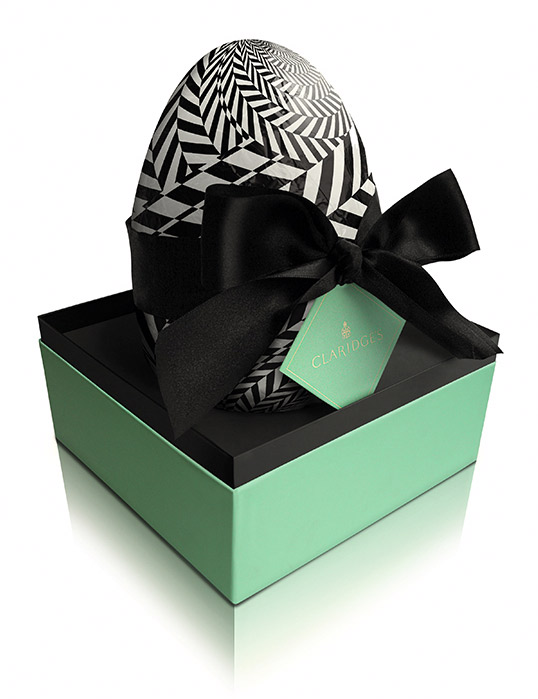 Designed by Construct | Country: United Kingdom
"London design studio Construct has given the branding of London's famous Claridge's hotel a thorough overhaul. Because it is a working hotel with a huge number of items traditionally branded (from teapots and egg cups through to slippers and dressing gowns), Construct's task of not just branding, but implementing a consistent and cohesive sense of identity throughout the hotel and the objects within it was by no means straightforward. In fact, the rollout of the new branding is ongoing throughout this year as there are so many different ideas to implement across a huge range of items.
As well as introducing a sophisticated colour palette of jade, gold, white and black, bold architecturally inspired chevron patterns appear on the inside of bags, envelopes and on various objects, publications and goodies guests at the hotel are lilkely to encounter."
May 3, 2010 | 11 Comments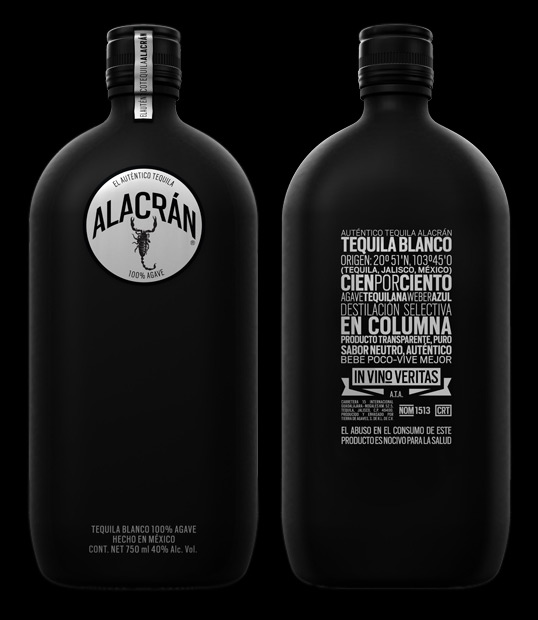 Designed by Sociedad Anonima | Country: Mexico
"Auténtico Tequila Alacrán (ATA) – Authentic Scorpion Tequila. This is not a brand or some product created by a transnational corporation. Instead, it was made by a group of friends in Mexico City, who rebelled against the status quo and created this unconventionally pure white spirit concealed within a matte-black bottle. The special and rubbery (some say velvety) "Soft Touch" finish is a unique  texture, never before applied on a tequila bottle, or any other that we know of.  The shape was inspired by a canteen crossed with a liquor flask and Its rugged skin makes it the ultimate urban trend. The tequila is absolutely delicious by the way."
April 2, 2010 | 7 Comments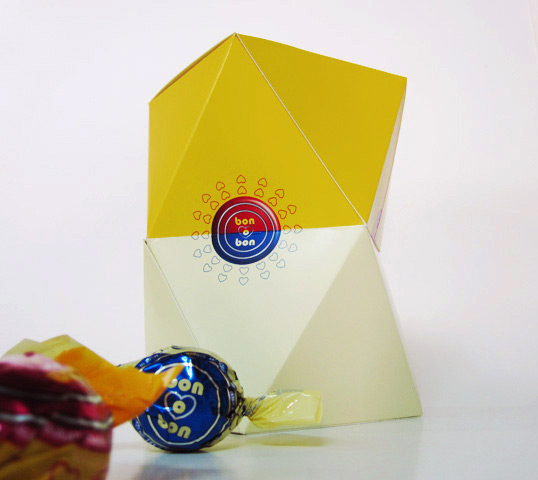 Designed by Diego Hodgson | Country: Chile
"The idea of the product is the Bon o Bon chocolates (classic and white chocolate) are given as a gift or present, packaging both varieties in one."
March 25, 2010 | 11 Comments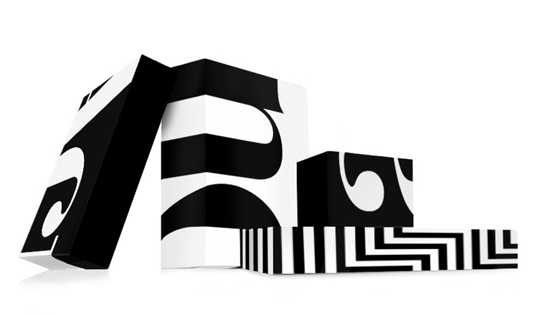 Designed by Kevin Cantrell | Country: United States
"This proposed rebrand for Swedish based Acne Jeans focuses on Acne's iconic name by incorporating crops and using a stark black and white color palette"
March 25, 2010 | 6 Comments
Designed by SeriesNemo | Country: Spain
"The bottle design combines straight and curved forms with hints of blue and white that suggest a synthesis between sea and sky, water and foam. A unique cap saw all the neck of the bottle thereby reinforcing its premium character. Mare Gin has been created with the highest quality botanical (Arbequina olive, thyme, rosemary and basil), selected in Mediterranean areas. Made by hand in a still single, has a base of barley and distilled Premium macerated with each independently botanical ingredients to create a unique blending. A new generation of gins."