April 15, 2009 | 1 Comment
Designed by Pentagram | Country: United States
"Kit Hinrichs and Erica Wilcott worked with the San Francisco Symphony to design the identity and promotional materials for the city's famous bi-annual Black and White Ball—a 5,000 person black-tie block party that took place on May 31 and featured over a dozen performers including Seal, Blues Traveler and Afrika Bambaataa performing in six venues arrayed in front of City Hall.
The mark suggests the evening's various entertainment venues at the same time as it references a modern city block. Its modular form allowed for a high degree of design flexibility and visibility across a range of communications from invitations to street banners while presenting an updated look and feel for this traditional city event that began back in 1956."
March 29, 2009 | 2 Comments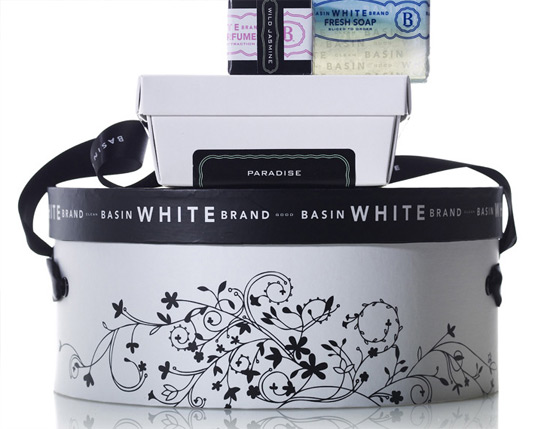 Designed by Duffy & Partners | Country: United States | Font: Avenir
"Sophisticated and stylish. Basin White is an upscale version of Basin, a retailer of unique bath and beauty products originally created by Duffy & Partners. Basin White was designed to create an experience that extends the brand, presents an array of unique products, and gives a new audience reason to connect with the brand. Designed to appeal to a more affluent and sophisticated audience who appreciate the finer things in life, Basin White is located in Disney's flagship hotel, the Grand Floridian Resort & Spa in Orlando. Plans to expand in other locations are in the works."
January 28, 2009 | 1 Comment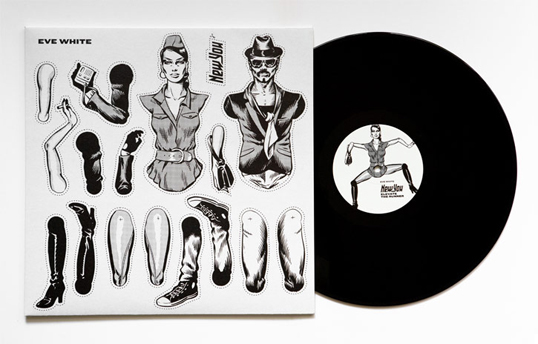 Designed by Contentmissing | Country: Germany
"Following the Swiss import from Crowdpleaser, the 2nd release from Eve White is now available on Contentismissing. On the new EP New You the duo has consequently developed their sound and underlines their musical variety."
December 4, 2015 | 2 Comments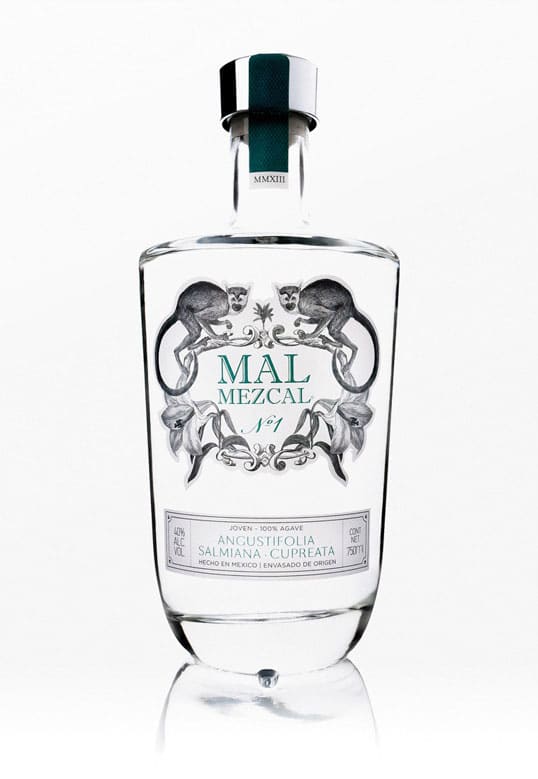 Designed by A-ya Design | Country: United Kingdom
"Mal Mezcal is a luxury mezcal brand with international distribution. Using finest 100% agave, this premium alcohol is produced in small batches by a family-run artisanal distillery in the wilderness of Oaxaca.
The overall aesthetic is inspired by the domestication of jungle wildlife which was practiced in Mexico in the beginning of the 20th century. Influenced by the lifestyle of the Mexican intelligentsia of the time, we imagined that Mal Mezcal would be drunk by people who related to that lifestyle.
We wanted to position the design in contrast to everything that was on the market. We stayed away from traditional Mexican-themed design references and aimed to develop an identity and packaging with a contemporary, sophisticated and modern look, for the global consumer."
November 26, 2015 | No Comments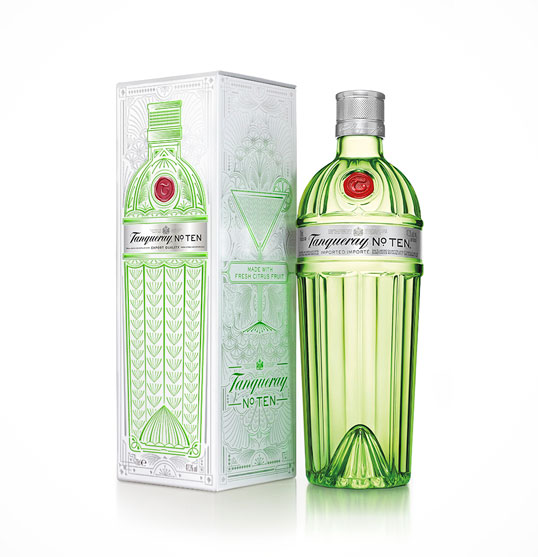 Designed by ButterlyCannon | Country: United Kingdom
"Tanqueray No. TEN is a super-premium gin from Diageo Reserve's luxury portfolio of World Class spirits. Using a unique combination of botanicals, Tanqueray No. TEN is an ideal choice for a number of serves, including the classic martini.  Its instantly recognisable bottle design celebrates the fresh whole citrus fruits that have always defined the spirit with ten elegant facets flowing down the green bottle, meeting at the base, taking the shape of a citrus squeezer and capturing the 1920s Art Deco period perfectly.
ButterflyCannon was asked to create a glamorous gift box that brought its dazzling 1920's style to life for the festive season."
November 25, 2015 | No Comments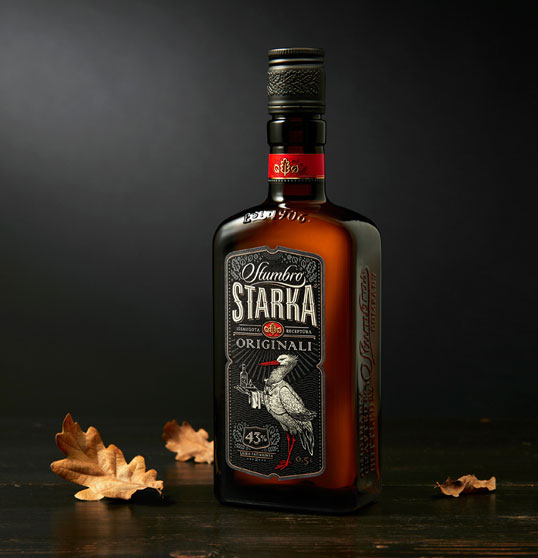 Designed by Studija CREATA | Country: Lithuania
"They say that in the old days, Lithuanian men would make Starka on the birth of their first son. An aged vodka in honor of the stork's delivery. Strong and special. Triple distilled rye vodka, with the leaves of apples and pears. Apples for richness and pears for a long, full life. Buried in an oak barrel, it would wait patiently for the son's wedding day.
For the revamp of Stumbro Starka, we want to blow the dust off this interesting and rich beverage. Our goal is for Starka to be known as the unique Lithuanian beverage that it is – one that you should be proud of treating guests to or bringing as a gift.
By changing the image of Stumbro Starka, in essence, we created a whole from its parts: from the new, uniquely-shaped, dark glass bottle adorned with raised calligraphy and the rich label which tells the legend of the beverage, to the bottle stopper decorated with an oak leaf wreath."
November 18, 2015 | 1 Comment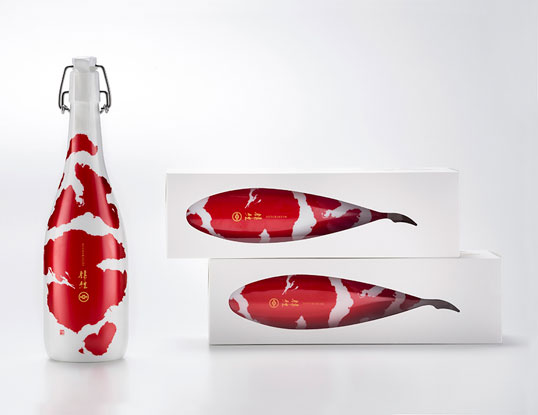 Designed by BULLET Inc. | Country: Japan
"This package is for Japanese Sake, which is called KOI. The KOI is a vividly patterned ornamental fish that represents Japan (KOI is also known as "Nishikigoi")
KOI is ornamental carp that have beautiful colored markings on the spindle-shaped heroic body. They can be defined as inedible carp that have admirable figure, markings or colors. Also they are known as a "living jewel". In 1918, first KOI was born in Niigata Japan where the Imayotsukasa Sake Brewery has their brewery.
Likening the white porcelain bottle to the shape of a KOI, we graphically applied a KOI pattern to the surface of the bottle. The package is complete with an outer box, which has a KOI-shaped window to make the display even more appealing. The target will be the people who don't drink sake daily. Because KOI has unique bottle appearance it is able to appeal to the people who don't drink Sake much. Of course Sake lovers are also our main targets."
November 16, 2015 | 3 Comments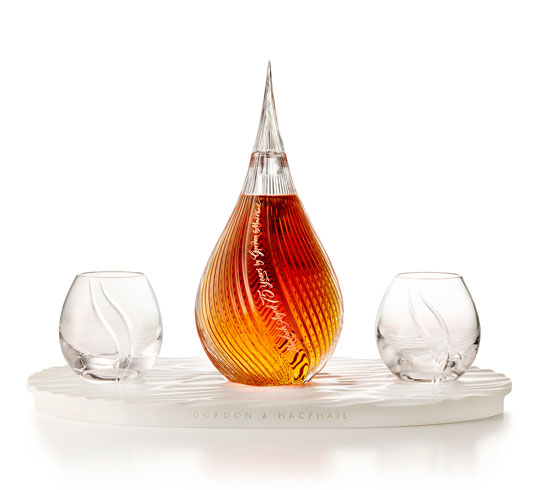 Designed by Contagious | Country: United Kingdom
"Edinburgh agency Contagious worked in close collaboration with client Gordon & MacPhail to create the decidedly modern interpretation of traditional whisky packaging which was recently launched at The Royal Opera House, Covent Garden.
According to Creative Director and MD of Contagious, Matt Chapman: "This incredible liquid spent 75 years maturing in darkness and our brief was to interpret the client's product proposition of sharing, owning and drinking by packaging and presenting Mortlach 75 Years Old to be displayed, shared and enjoyed by a new generation, not hidden away in a box to gather dust. We took that 'spirit of sharing' as the big idea behind our creative strategy."
The agency's starting point was the elegant teardrop shaped hand-blown crystal decanter that is the iconic feature of the Generations range of which Mortlach 75 is the newest release. Working with master craftsmen, Contagious introduced 75 ribbon-like channels, hand-cut into the crystal of each of the 100 decanters, which were then uniquely numbered. Marrying traditional craftsmanship with cutting edge technology, the team designed and commissioned a seductively tactile plinth which features 75 gently undulating ripples across its cool white surface (a subtle nod to Speyside's soft water), to hold and display the decanter and two hand-cut crystal glasses. Each element was then packaged into a luxurious Aniline leather travel bag. James Hartigan, Senior Designer, explains: "This is a unique and luxurious weekend bag, perfect for the sophisticated traveller, it's certainly not just a single-use presentation case. We wanted to create a package that's designed to be unpacked for a whisky that's meant to be drunk."
November 14, 2015 | No Comments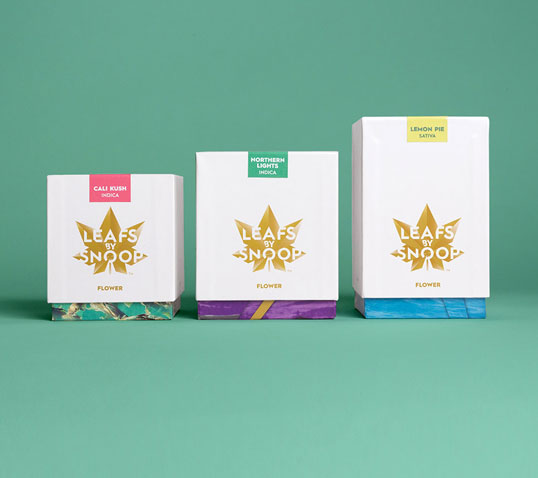 Designed by Pentagram | Country: United States
"Laid-back California cool inspires the branding for a line of marijuana-based products from hip-hop legend Snoop Dogg.
With songs like "Smoke the Weed," "This Weed Iz Mine," and "California Roll," it's no secret the rapper Snoop Dogg has long been a cannabis connoisseur. Now he's sharing this passion with the public—at least in Colorado, where consumption is legal—with a new line of marijuana-based products called Leafs By Snoop. Pentagram's Emily Oberman and team have designed the brand identity and packaging for the line, which includes both flower and edibles ("Dogg Treats") such as chocolate bars, chews, drops and gummies."
November 13, 2015 | 1 Comment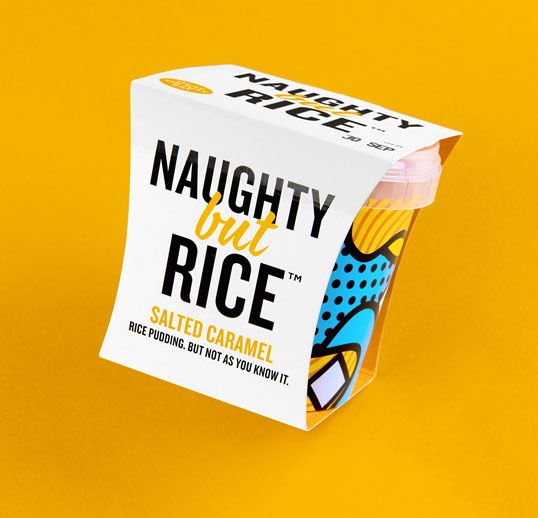 Designed by Robot Food | Country: United Kingdom
"Rice pudding is rising in popularity, and to coincide with the trend, The Hain Daniels Group has launched Naughty But Rice, a vibrant new brand with a bit of a twist. The clue's in the name. Naughty But Rice brings pud lovers all the heart and soul of traditional rice pudding with a deliciously contemporary edge.
Leeds-based brand and design agency, Robot Food, are well-known for their daring challenger approach, and were asked to help create the brand look, feel and packaging. Leaving behind the tired, whimsical category cues of old, the team came up with the strap-line, 'Rice pudding. But not as you know it', and got to work on a strikingly indulgent aesthetic that deliberately disregards the category's moody, rather serious look and feel."