August 27, 2015 | No Comments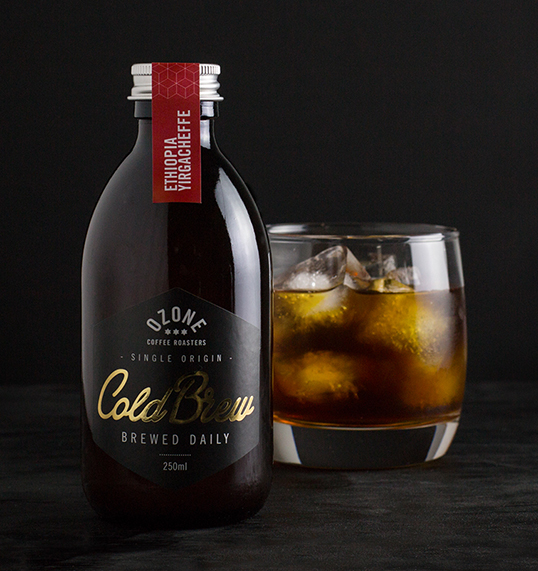 Designed by Macfarlanes Assist | Country: New Zealand
"The Ozone Coffee Cold Brew were designed to serve both New Zealand and United Kingdom specialty coffee markets. The cap labels provide a proof of seal and indicate the origin of the single brewed coffee. The brown bottle is a nod to the days of old – vessels for rejuvenating elixirs and home-brewed beer. Presented on a hexagonal label, the gold foiling of the product label captures the eye and reinforces the attention to detail and craft that goes into making each brew by hand."
July 2, 2015 | 1 Comment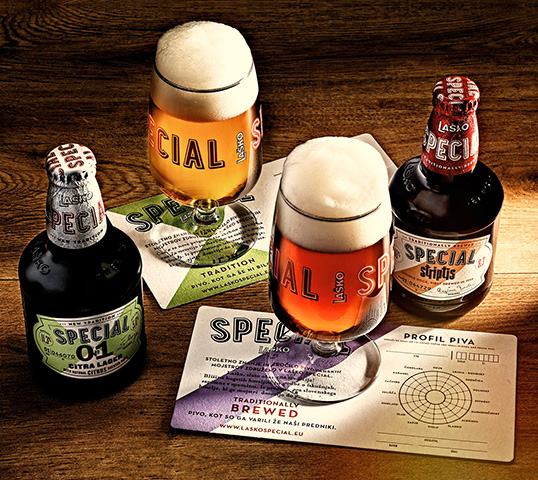 Designed by HUMAN1ST | Country: Slovenia
"SPECIAL was developed by the Laško Brewery in response to the increasing popularity of craft beers. Human1st developed the entire brand narrative. We included master brewers in the communication, put their signature on the bottle and put a serial number on each bottle. We also designed and developed a new SPECIAL bottle. We designed rules for communicating the brand, made brand book and made an info film about the brand and two TV spots. In designing the label we studied Laško's label history, and developed a new labelling system for each of the two lines of beers which will join the SPECIAL family. SPECIAL has two lines: Traditionally Brewed (red) with traditional Laško recipes, and New Tradition (white) with new experimental recipes."
June 26, 2015 | No Comments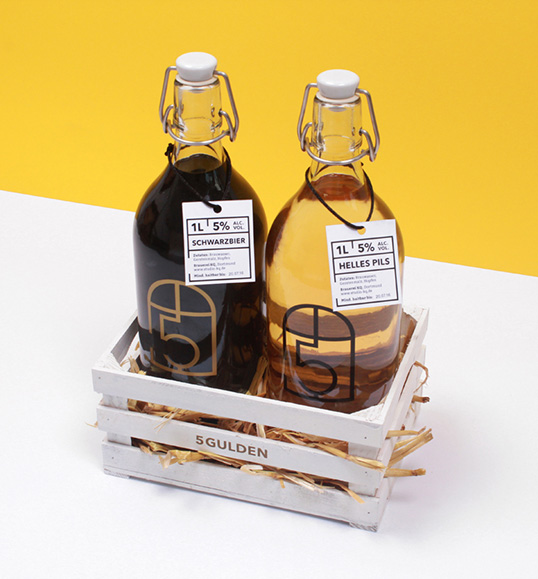 Designed by Studio KQ | Country: Germany
"1156 Duke Friedrich Barbarossa induced a regulation which punished those who served beer of poor quality or wrong quantity. The penalty: 5 Gulden. Inspired by this responsibility, the product concept 5 Gulden – a good beer of proper quantity – arose. The design is like the statement: plain and honest. The logo puts elements of the gothic architecture in a modern context which influence this unique product character. Every wooden box contains two 1 litre bottles of German premium beer: one filled with black beer and another with pilsner."
June 16, 2015 | 1 Comment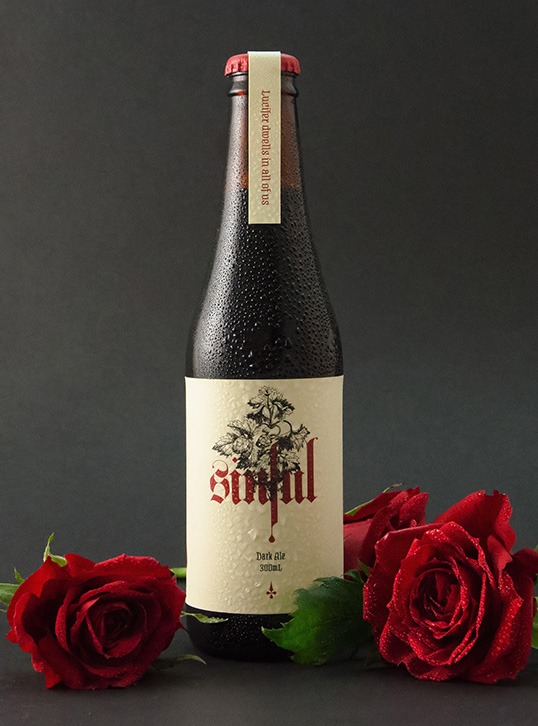 Designed by Rida Abbasi | Country: Australia
"Sinful is metal-inspired craft beer with a sensual personality, with the target audience of unisex adults ranging from 20-35. Visuals and custom logotype inspired by the Arts & Crafts movement."
June 15, 2015 | 2 Comments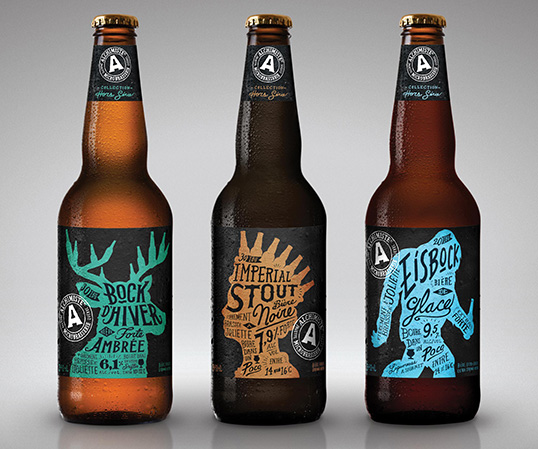 Designed by SVYR | Country: Canada
"Totally non-commercial specialty beers. A brand keeping true to real microbrewery beers lovers.
Context: The Alchemist is a well known microbrewery from Joliette in Québec, Canada. I have previously rebranded its commercial beer line up.
Challenge: Create a new look for the Alchemist specialty beers that resonate with true microbrewery enthusiasts. A look that is strong enough to compensate the fact the the bottles would have the same size as commercial beers.
Solution: Stepping away from the somewhat commercial looking mainstream line up and go for a completely different approach. A 100% hand crafted design that reflect what true microbrewery is all about. Using an illustrative approach that is inspired by the beers names, with hidden beer bottles (a wink to the hidden beer bottle in negative space in the brand logo). I also created a specific specialty brand stamp to make sure that there is a separation between the commercial line up logo and this sub-brand."
June 2, 2015 | 1 Comment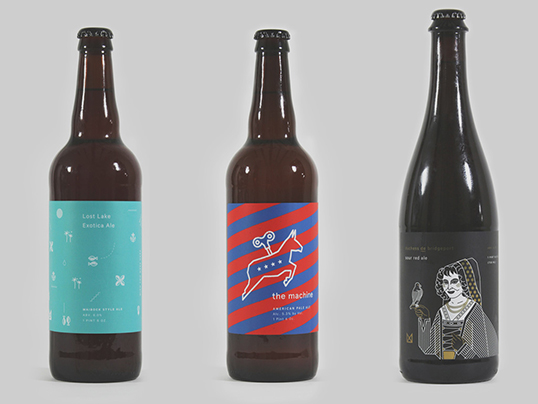 Designed by Franklyn | Country: United States
"Marz — both as a brewery and a brand — is a collaborative endeavor made up of a community of artists, home brewers, beer nerds, and probably your cousin, all united by our desire to make exceptional (and provocative) brew. Each beer label is incredibly different, each collaboration unique and bizarre. Since our brand identity and packaging needs to accommodate so much weirdness, it's always changing: Imagine if the Coke logo dropped out of school, traveled around, snorted things, experimented, then got its shit together and slapped itself on a beer. We're a challenger who's still rough around the edges, and we try our best not to be boring or expected. Since that would be boring. Out of the bajillion (seriously, count them) craft breweries we see out there, no one is taking big risks with their beer or their brands. We're doing that with Marz, and we're excited to share our beautiful mess."
May 26, 2015 | No Comments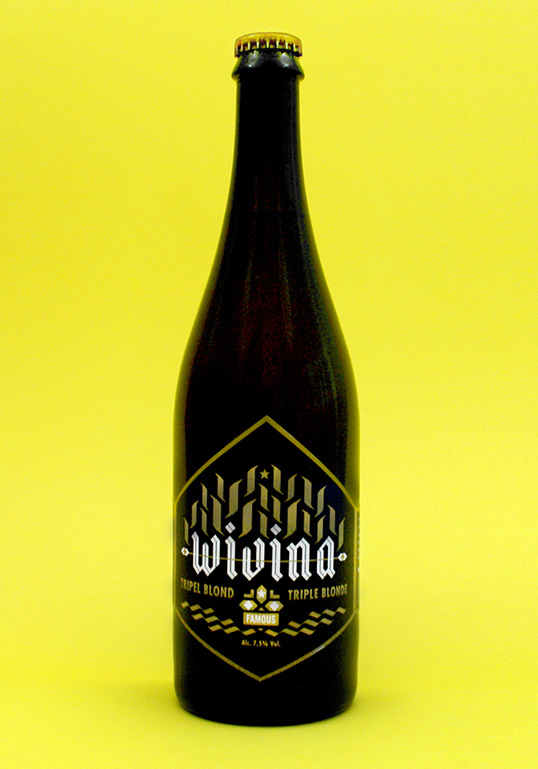 Designed by The Last Dodo | Country: Belgium
"This was a limited edition blonde triple beer that was brewed and bottled to celebrate the move of Famous (ad agency) in to their new offices in the former Wivina monastery.These bottles was sent to their clients, originally there would be signature glass made for the beer, but unfortunately the costs were to high.
The clients received the bottles with following copy:
In the 12th century, close to a spring in the west of Brussels, the holy Wivina founded an abbey which was named after her. Several hundred years later Famous moved in this blessed place and celebrated that memorable event with this specially brewed abbey beer. Wivina is a blonde tripel beer based on 100% natural ingredients: water, malt, spices, hops and yeast. The result is an unpasteurized and unfiltered natural beer with fermentation in the bottle."
May 5, 2015 | 1 Comment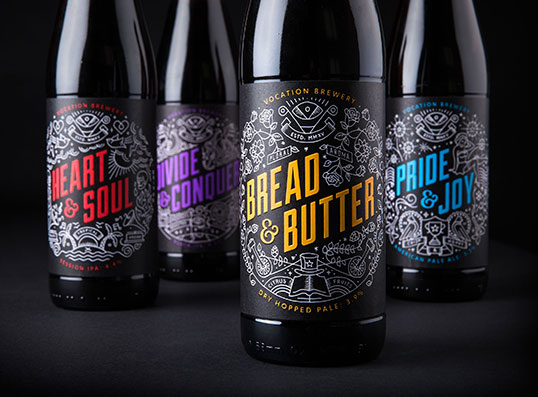 Designed by Robot Food | Country: United Kingdom
"Craft beer is riding the crest of a wave, and as microbreweries gain in popularity, brand identities are getting more expressive and creative. Robot Food's identity for new microbrewery, Vocation, is as daring as the beer it crafts.
John Hickling brews beer with distinctive, punchy flavour. Each hop forward beer stands out from the norm and names such as 'Heart & Soul' and 'Divide & Conquer' fly the flag for the brewery's fearless attitude. Vocation's beers are bold, brave and uncompromising and like beer, like brewer, they all epitomise Hickling's passion for his trade. John originally left his job in a bank, sold his house and set up his first brewery, Blue Monkey. After selling up to explore new ventures John realised he only had one vocation. He's now back where he belongs, brewing the types of beer he wants to drink."
May 4, 2015 | 1 Comment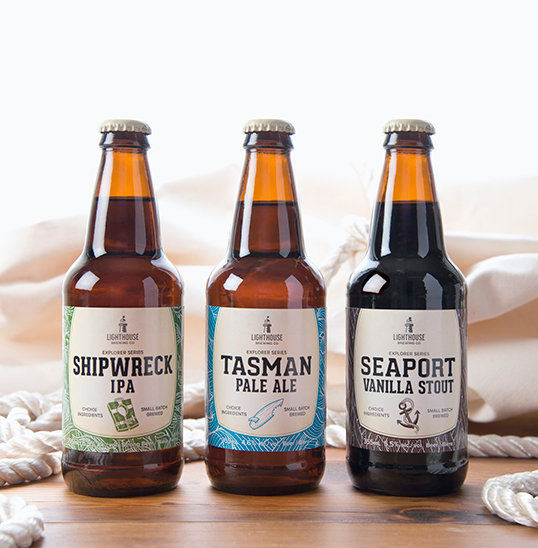 Designed by Saint Bernadine Mission Communications Inc. & Blended| Country: Canada
"As part of an entire portfolio rebrand, St. Bernadine was asked to help create a new look for Lighthouse Brewing Co.'s "Explorer Series" family of craft beers. Lighthouse Brewing's Explorer Series is a family of craft beers brewed for those looking for a little more in their beers; more hop, more malt, more character.
This inspired a design system that was created to reflect the layers and complexity of the beers, while still honouring the hand crafted nature of the brews and remaining true to the brand's nautical positioning. For launch, the family included Shipwreck IPA, Tasman Pale Ale, and Seaport Vanilla Stout."
April 24, 2015 | 1 Comment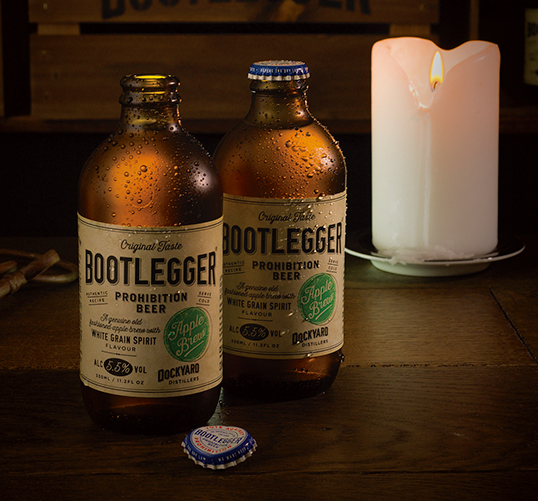 Designed by Halewood International | Country: United Kingdom
"In the years of Prohibition, Moonshiners used fruit juice to sweeten their raw, illicit booze before transporting it in used spirit bottles. Inspired by these lawless rebels, independent drinks company Halewood International created Bootlegger Apple Brew – an old fashioned apple beer that's flavoured with White Grain Spirit.
The packaging is inspired by American Prohibition and vintage drink labels and has a raw, hand made feel, featuring simple black typography on an old paper background. The variant is communicated using a green stamp which adds a pop of colour and reflects the apple flavour. A 330ml stubby bottle was chosen to give the brand a point of difference from the rest of the spirit beer category and reflects the uniquely distinctive liquid.
To complete the look the bottle features a red, white and blue crown inspired by the anti Prohibition badges of the era."