September 6, 2012 | 1 Comment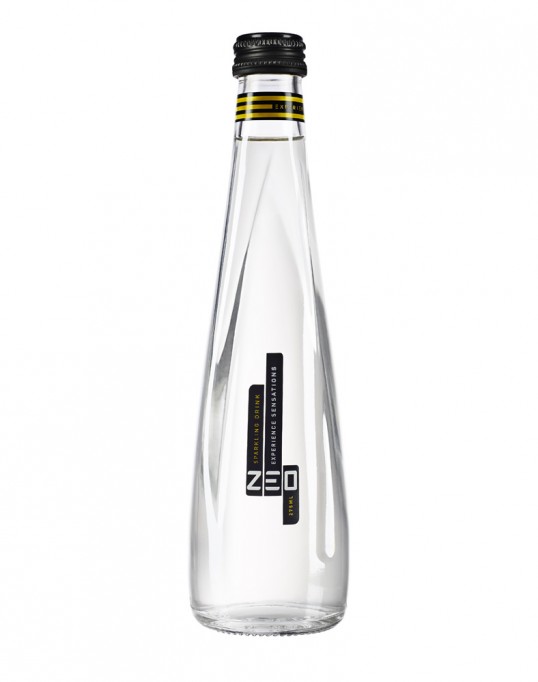 Designed by Blue Marlin | Country: United Kingdom
"'Wonderfully unusual' non-alcoholic adult beverage ZEO has been given a spectacular brand expression by integrated brand design agency Blue Marlin.
"The flowing form of our structural design plays with your senses, like ZEO itself. Its curious curves unpredictably refract light, enigmatically disguising the physical shape of the bottle in a low-lit bar or nightclub setting. The intangibility of the new design encapsulates ZEO's mysterious mixology and unique sensorial effects in a bottle," says Blue Marlin's head of structure, Guy Williams.
"We kept the design simple, to allow ZEO's unique bottle shape to do the talking," explains Blue Marlin London creative director Simon Pendry, "The minimalistic black, gold and white graphic design gleams with sophistication, communicating essential information with perfectly premium appeal."
August 29, 2012 | No Comments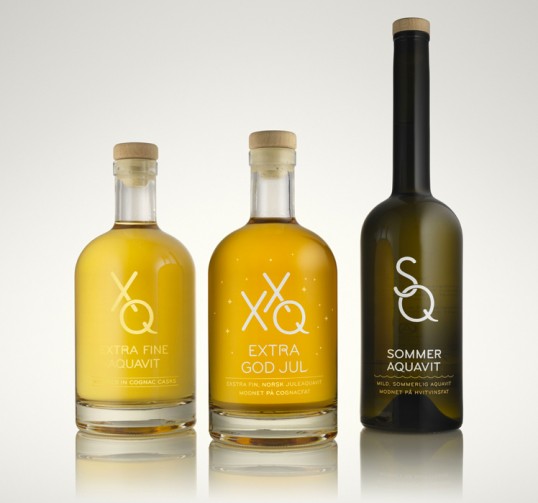 Designed by Permafrost | Country: Norway
"Our latest design for AQ Norwegian Aquavit is called SQ Sommeraquavit. The product itself is a smooth and mellow aquavit matured in white wine casks, and the bottle is inspired by the equally peaceful and bright Scandinavian summer nights.
Our ongoing relationship with the manufacturer has included designing the entire brand identity for AQ New Norwegian Aquavit, as well as developing the branding strategy and bottle designs for their entire range of spirits."
XQ aquavit, matured on cognac casks.
XXQ xmas aquavit, matured on cognac casks
SQ summer aquavit, matured on white wine casks
August 21, 2012 | No Comments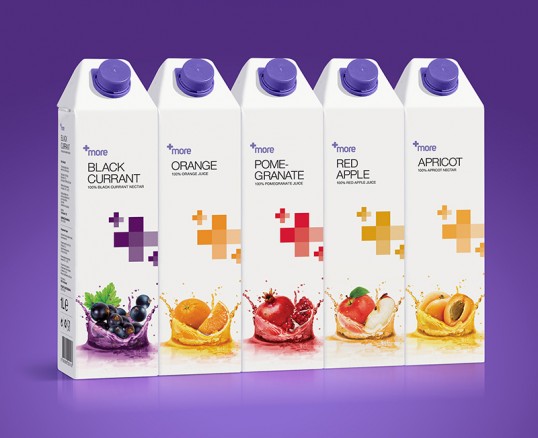 Designed by Kayhan Baspinar | Country: Turkey
"More is a premium fruit juice which contains high percentage of real fruit extracts, therefore the name "More" was selected for the brand. The plus (+) icon on the package is used as a symbol to indicate the rich fruit ingredient of More. The plus changes color according to the flavor. White is used all over the package. Plus and white emphasizes the health and triggers the perception of hygene. White is also differentiating the package of More from the other fruit juices on the market shelves and putting it forward. The simplicity of the package is an advantage. Illustrations on the package are effective but not distorting the simplicity."
August 10, 2012 | 3 Comments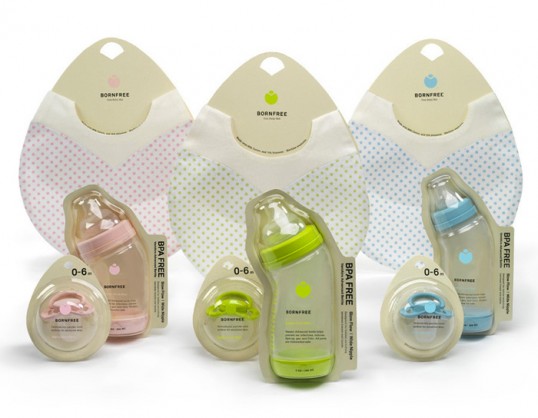 Designed by Lily Hu | Country: United States
"BornFree is the world-leading brand in baby feeding products. They stand out from their competitors by using BPA Free material that is safe for babies and also good for the environment. However, their packaging and branding didn't communicate these key features.
The new packaging has a clear front that allows consumers to see and choose their product. The front part is blow-molded with PETG while the back part is molded with paper pulp, both of which are environmentally friendly, cost-efficient, and recyclable. The front and back are Pressure Fit together instead of using binding material, which renders them non-recyclable."
August 8, 2012 | 5 Comments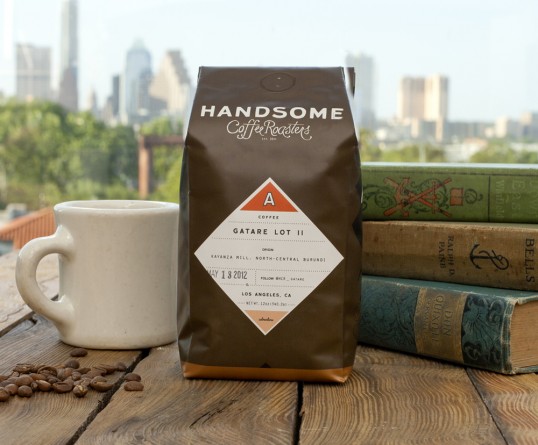 Designed by PTARMAK | Country: United States
"Handsome needed a robust label system and an all purpose bag that could serve as its backdrop. " We were briefed that Handsome intended to have two lines of coffees: Comfort and Adventure. Each line would have coffees and espressos, and each line (and its category) needed to be immediately recognizable. We employed color, shape and a little figure ground to differentiate between the lines and categories. The color system was developed loosely around a 1940's craftsman—workshirt blue, denim, utility orange, metallic copper, crisp white, no-nonsense black and a rich black-brown… in honor of the coffee." Continue…
July 16, 2012 | 1 Comment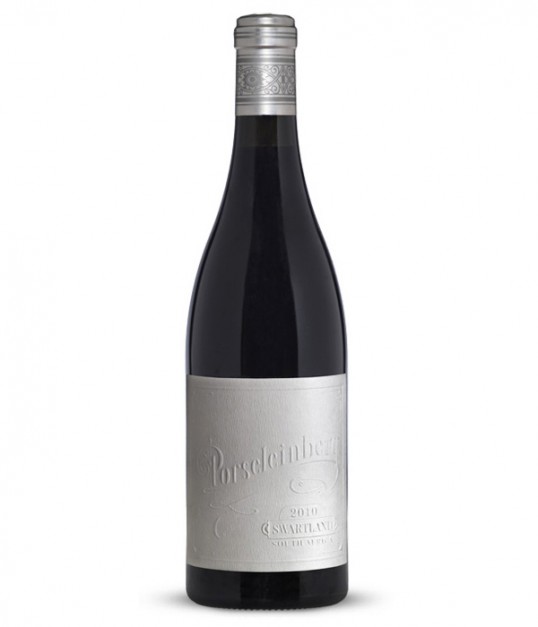 Designed by Fanakalo | Country: South Africa
"Porseleinberg, situated on top of a mountain in the Swartland has just released its first vintage. This wine is one of the most anticipated releases of all the new wine releases in South Africa this year, even though we designed the label two years ago. The aim was to design a premium wine that is both 'green' and unique. We proposed a wine label that that made use of the absolute minimum amount of printing. Letterpress printing has the smallest carbon footprint of all printing methods, so the owners of the farm decided to buy their own 1940's Heidelberg printer, and the winemaker took on the position of printer himself. It took a year to get the letterpress machine restored and up and running on the mountain, and another year for the wine to mature. The name Porseleinberg translates to Porcelain Mountain and the fragile white label draws its inspiration from porcelain, whilst the motifs on the neck and the blue colour on the back is derived from Delft tiles, which were a popular feature in historical Cape Dutch homes."
July 16, 2012 | 1 Comment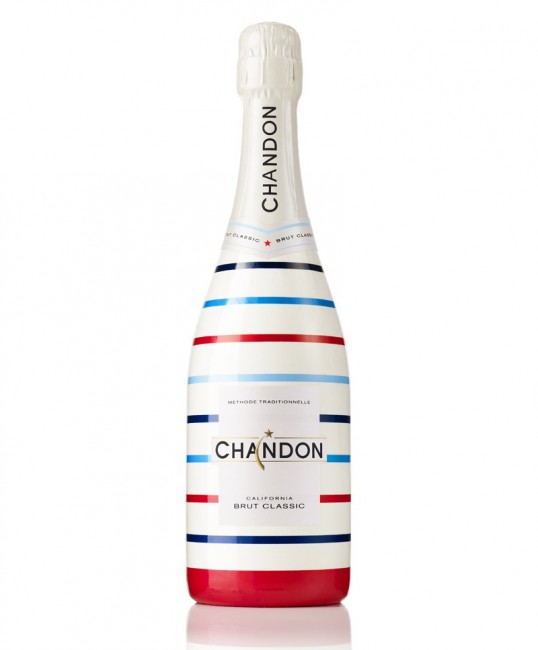 Designed by ButterflyCannon | Country: United Kingdom
"To celebrate Chandon's American Heritage, ButterflyCannon have created a limited edition summer bottle, inspired by the great "All-American Summer".
Wrapped from head to toe in classic red, white and blue stripes, the design for both the standard 750ml and 187ml bottles evoke a classic Hamptons-style yachting theme. ButterflyCannon also designed Chandon's limited edition ice-buckets, towels, tote bags, deck chairs and ice cream carts – all sporting the same American Summer theme.
"ButterflyCannon have managed to perfectly capture the essence of an American Summer for our limited edition bottles and in doing so created the perfect summertime accessory for our consumers" says Chloe Lloyd-Jones, Vice President ~ Wine Portfolio, LVMH."
July 15, 2012 | 2 Comments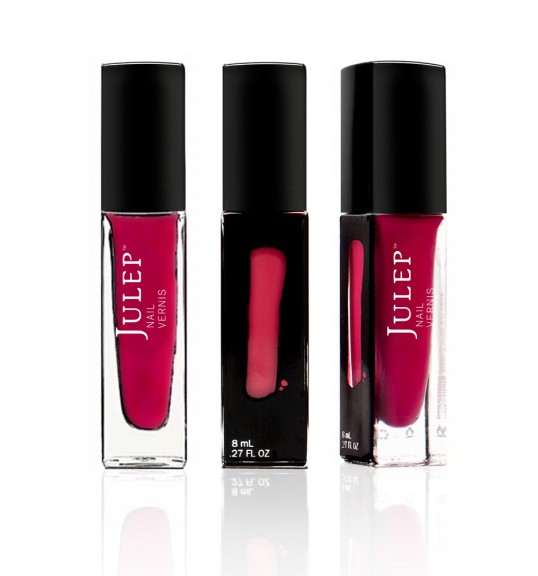 Designed by Turnstyle | Country: United States
"Julep Nail Parlors, with their trend-setting colors and toxin-free products, are cozy yet luxurious salons for healthier manicures and pedicures. For Julep, nail color lies at the intersection of beauty and fashion. It allows grown-up women to play, step out of their comfort zone and experiment with color and style. The company ethos is grounded in the "girlfriend" power of women emboldening each other to be their most vital, beautiful, confident, and happy. Popular with celebrities such as Anne Hathaway and Kate Hudson, Julep names their enamels after the stars they are inspired by. Blake is a sunny yellow, January is that perfect Betty Draper red and Gwyneth is a classic pink."
July 14, 2012 | 1 Comment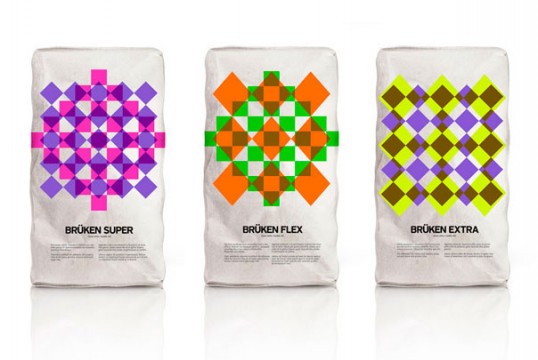 Designed by mousegraphics | Country: Greece
"Brief: it is a new brand name in the market, create a bold packaging that will stand out among its competition.
Audience: construction workers.
Design: on a simple white background -the adhesive base of the product- we placed an iconic tile design. In diamond shapes and remarkable, bold color combinations (variating according to skus), our choice creates an eye-catching vitraille or op-art effect. A real pleaser, without design extravaganzas, it is the discreet reminder of the creative labour of your hands."
July 5, 2012 | 1 Comment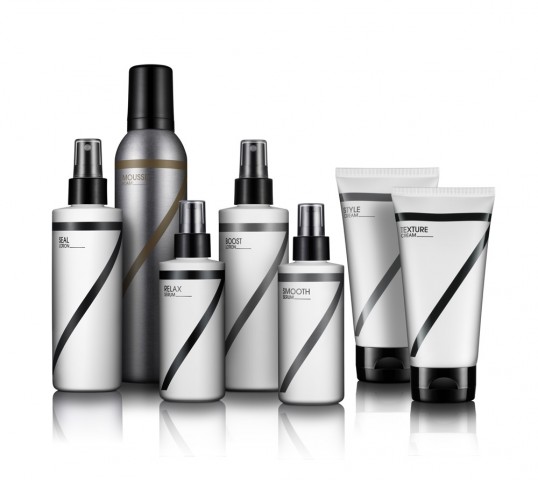 Designed by Turnstyle | Country: United States
"SEVEN Salon isn't interested in feeling like a spa, or in making you look like your favorite celebrity. Instead, with music spun by a live DJ, complimentary barista bar, and lights over the cutting stations that provide a feeling a being "on stage," it exudes a unique atmosphere of energy and vitality. The fashionable salon focuses on providing haircuts that defy trends by suiting a client's distinctive facial structure and features best. SEVEN believes your hair is the most important thing you wear and that is says who you are as an individual.
WIth plans to expand its influence by taking its robust line of 25 hair care products national, SEVEN partnered with Turnstyle to reinvigorate their brand identity and product packaging to more closely capture the essence of its stylish salon experience. The large san-serif numeral 7 logo, with its bold diagonal stroke bisecting the package, exudes a sense of confidence. Minimal, modern typographic titling and a limited black, white and metallic color-palette evoke a sense of fashion luxury. Boxes unify and enhance the on-shelf presence and further create a sense of premium sophistication."