February 17, 2009 | 2 Comments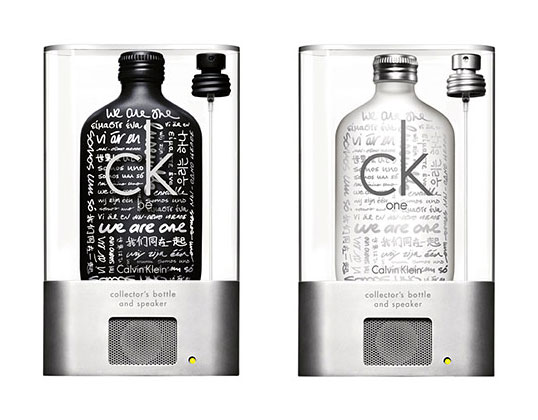 Thanks to Lovely Package® reader Thelma for giving us the heads up on this.
"As a fragrance alone, CK One would probably not be a something we would feature here, but Calvin Klein re-packaged the product into an interesting casement. As part of the CK "We are One" campaign beginning this March, you will be able to purchase CK One or CK Be with an MP3 player and speaker that ties into their idea of 'music as the universal language.' We couldn't agree more."
Via Selectism.
February 16, 2009 | 2 Comments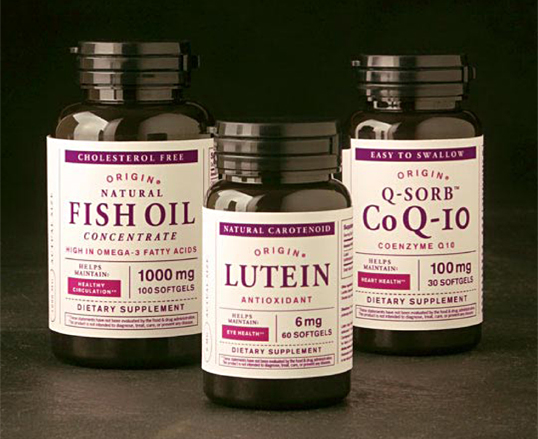 Designed by Wink | Country: United States | Font used: Adobe Garamond
"A packaging system for a Target owned-brand product line of dietary supplements. The tone and feel needed to reflect the current big-picture direction of the Target pharmacy (in which the supplements are sold) which was leaning more towards an organic/holistic approach to pharmaceuticals and health maintenance. By nature, the vitamins need to communicate a lot of information (and in multiple layers) with very limited real estate. The solution, was to strip away any and all pretense (decoration) in favor of a straightforward organizational structure. With the emphasis isolated on content and hierarchy, the typography is therefore forced to carry the load evoking a sense of traditional apothecary mixed with a hint of modernity via its relatively bright (retail) color palette of accents."
February 13, 2009 | 1 Comment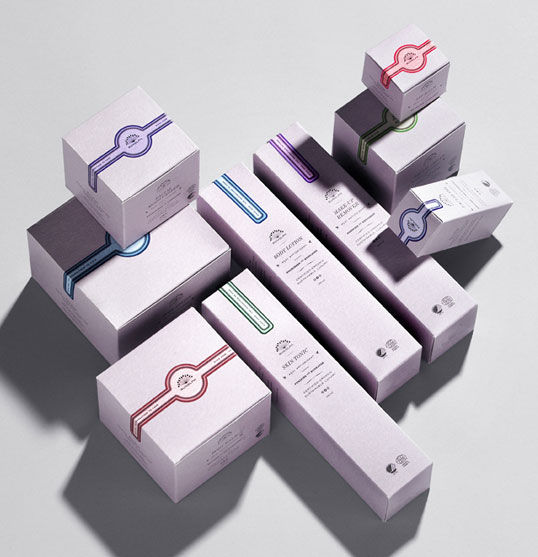 Designed by Dyhr.Hagen | Country: Denmark
"This is a packaging series for Danish beauty product line Rudolph Care. Rudolph Care is certified organic sustainable luxury, the first ever to carry the Danish Swan certificate as well as the French EcoCert certificate togther. All materials used for the packaging are Swan and EcoCert certified and all printing processes are certified."
February 11, 2009 | 5 Comments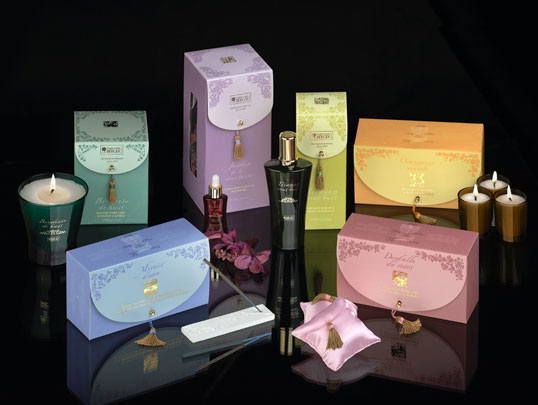 Designed by Maesa | Country: France
Primary Packaging: color spray, hot stamping. Secondary Packaging: embossing, hot stamping, golden nail, hanging tassel.
February 7, 2009 | 6 Comments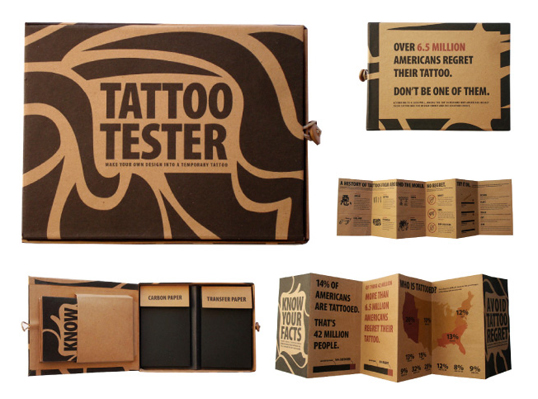 Designed by JuliAnn Miller | Country: United States | Fonts used: Myriad Pro
"We were to design work for a social or political cause; I chose tattoos for my topic.  This Tattoo Tester is a kit that comes with certain papers so that the user can create custom temporary tattoos (transfer paper and carbon paper).  The kit also includes a brochure with information on tattoo statistics and a brief history of tattooing.  All parts of this kit are designed, written, and constructed by me.  The box is made from light cardboard and all printed material is printed on recycled kraft paper.
February 2, 2009 | 6 Comments
Designed by Anwar Pack. | Country: United States | Font: Goudy Heavyface
"An emotional branding project for packaging design. I had to develop primary, and secondary packaging, as well as a gift set to house it all, for a fragrance modeled after someone close to me. I chose my father for the project, so I developed a traditional grooming kit. I designed and made all of the packaging, upholstering it with nue-buck leather and suede. I wanted to design something that was traditional and nostalgic, but at the same time contemporary enough to apeal to a more youthful audience."
January 31, 2009 | 2 Comments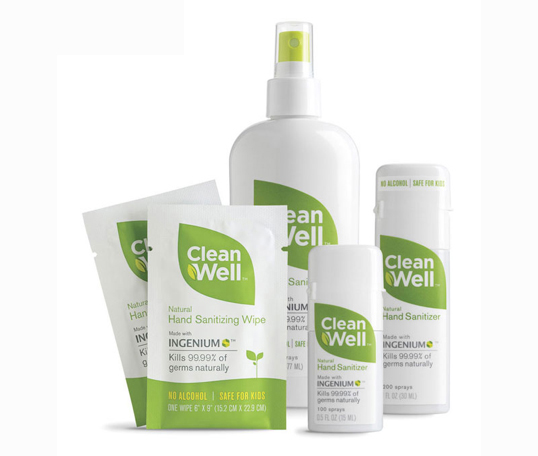 Designed by PhillipeBecker | Country: United States | Fonts used: Gotham, Helvetica
"Hands-on alliance with IDEO for a brand that keeps germs off hands."
January 29, 2009 | 3 Comments
Designed by Marc Atlan | Country: United States
January 27, 2009 | No Comments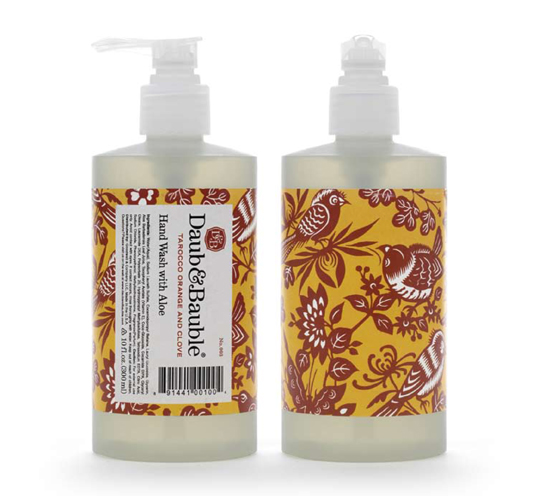 Designed by Wink | Country: United States
"Our challenge was to create a name, brand identity, packaging system, and collateral for a home and personal care products… soup to nuts. But first we had to find a point of-difference that would distinguish product line among the, literally, hundreds (possibly thousands) of other hand soaps, lotions, and dish detergents that have over saturated the market. The answer… "edition packaging" in which with every reprint of the labels a new pattern set is introduced thereby keeping the offerings fresh for first time and return customers alike. 3 limited edition patterns for 3 products available in 3 distinctive fragrances."
January 20, 2009 | No Comments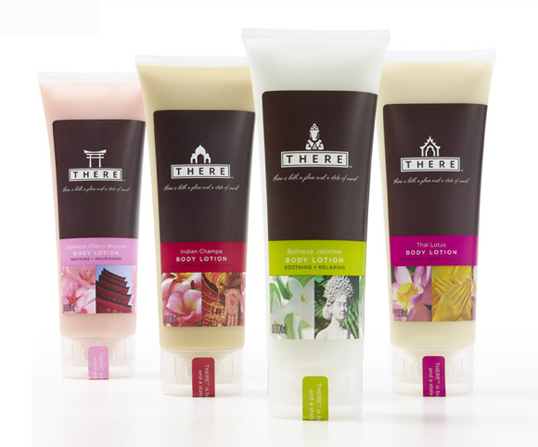 Designed by PhillipeBecker | Country: United States
"A new destination brand with signature ingredients from around the globe."