September 21, 2015 | No Comments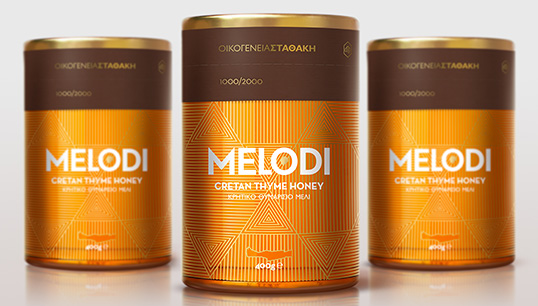 Designed by Antonia Skaraki | Country: Greece
"The Stathakis family bees spend their holidays in the most beautiful areas of Crete! From Gramvousa to Elafonisi, the lighthearted dance gives life to nature, along with the sea breeze caressing the thyme and the beautiful dunes harmoniously protect the pines from which our honey derives. This sweet choreography of bees in harmony with nature, produces a rare honey with intense amber color and fine aroma. The MELODI is an ode to the Cretan honey. We used gold foil printing and colors of the earth that represent that high quality product."
September 8, 2015 | No Comments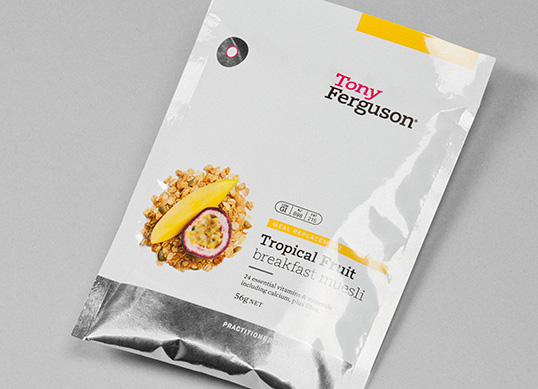 Designed by Maud | Country: Australia
"The chal­lenge was to repos­i­tion Tony Fer­guson as an edu­ca­tional life­style pro­gram that helps people re-engineer their approach to food and health – not just a quick-fix meal replace­ment diet. We needed to edu­cate con­sumers about health­ier liv­ing, encour­aging them to form a new rela­tion­ship with food and move from a weight-loss men­tal­ity to life­style change.
Our strategy was to empower people with the con­fid­ence and know­ledge to take con­trol of their rela­tion­ship with food.
We estab­lished a new brand iden­tity and a set of basic out­comes that the brand had to rep­res­ent.
– Mod­ern, yet able to with­stand the test of time.
– Phar­ma­ceut­ical whilst not feel­ing cold and imper­sonal.
– To sup­port the 'life­style' nature of the brand, the design had to feel like some­thing people would be proud to asso­ci­ate with.
– Re-establish Tony Fer­guson as an expert and trus­ted brand — a cham­pion of healthy eat­ing and education.
Launched in Janu­ary & Feb­ru­ary of this year, sales have already increased year on year and anec­dotal feed­back sug­gests that the new brand iden­tity is receiv­ing pos­it­ive acknow­ledge­ment across the board includ­ing the trade and other key stakeholders."
August 24, 2015 | No Comments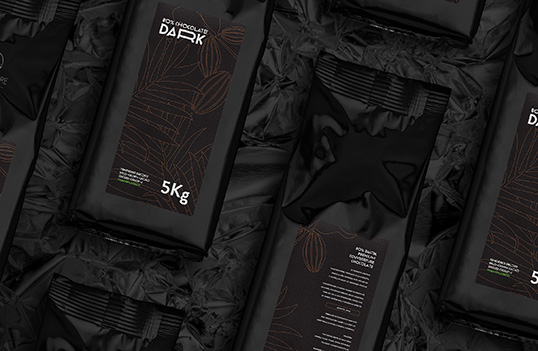 Designed by Michal Slovák | Country: Slovakia
"Around 99.99% of world cacao tree production is growing on plantations. The rest, 0.01% of world production features very rare wild-grown cacao.
Biosphere – Fine Honduran Cacao comes from Wampusirpi, location immediately adjacent to Río Plátano Biosphere Reserve in Honduras which has been a World Heritage site and biosphere reserve since 1982. In 2011, UNESCO placed the reserve on the List of World Heritage. This premium couverture chocolate has exceptional quality and single origin.
It was important not to follow Aztec or Mayan motifs, which are very common on many chocolate labels from this region. Exceptional quality product needed exceptional design. The aim was to illustrate the atmosphere of the jungle where the cacao grows. Therefore the label for 80% dark chocolate was illustrated as rainforest at night. Tempered chocolate drops are packed in 5kg bags and are sold only to trade."
August 14, 2015 | No Comments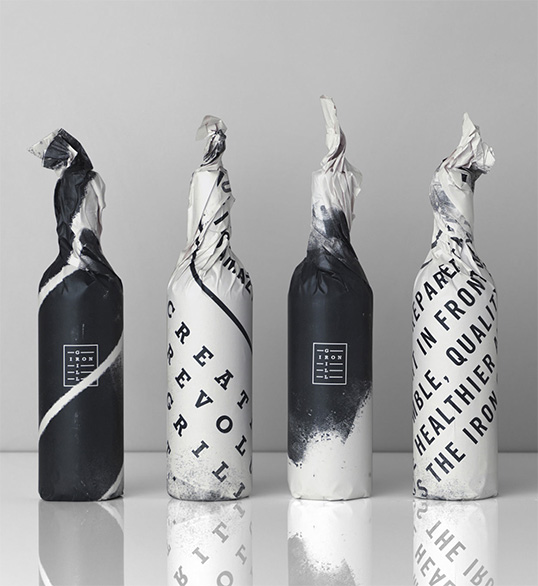 Designed by End of Work | Country: Australia
"A spirited new brand identity with a healthy attitude and an appetite for opinion. The grill is king. The logo is quite literally type on a grill and by using a graphic inspired by the grill, the visual identity has an impactful, almost militant quality with thick black scorch marks burned into key pieces. The packaging was designed to be as visible as possible on the super-lean budget. The interiors, signage, uniforms, point of sale and packaging all reflect this natural, clean ethos, using raw materials and earthy finishes, we paid homage to the handmade and bespoke offer that is the Iron Grill way. This idea drove the identity, which in turn drove the direction of the interior, the textures, the materials, the uniforms. All these elements build a engaging and memorable experience."
August 3, 2015 | 1 Comment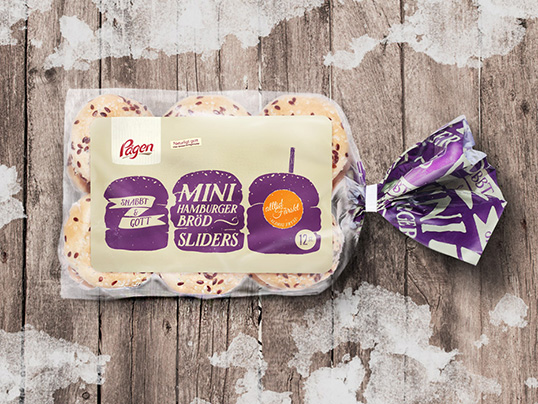 Designed by DDB Göteborg | Country: Sweden
"Pågen is Sweden's largest bakery. Providing Scandinavia and other parts of the world with bread for breakfast, dinner or snacks. Their Fast Food Range has been a classic choice for barbecues for many years. They wanted to adapt the design to become more street food than fast food. More inspirational for customers to try new kinds of burgers, hot dogs and sliders."
July 22, 2015 | No Comments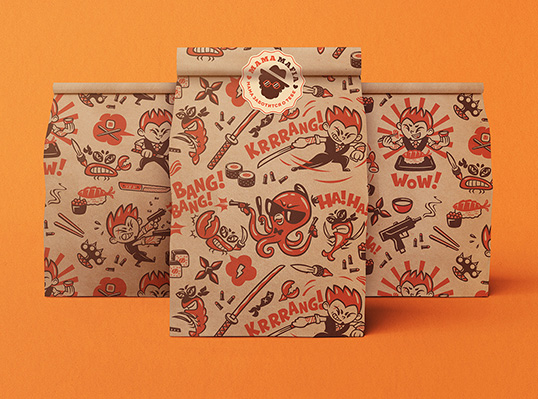 Designed by Dima Je | Country: Russia
"Take-away packaging for Mama Mafia. This is a delivery service which specializes on Italian and Japanese cuisines. The concept of the service is a mix of the home-taste foods like mama makes. The delivery speed which is faster than a bullet from Tommy gun, and a strict quality control worthy of Yakuza"
July 3, 2015 | No Comments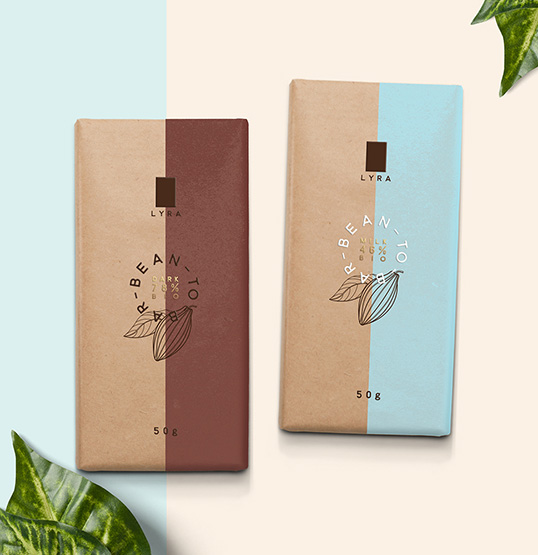 Designed by Michal Slovák | Country: Slovakia
"Since 2012 LYRA has stood for the highest quality handmade chocolate made in Slovakia. Lyra chocolate made of the finest cocoa beans, criollo and trinitario, grown on the plantations in the Middle and South America, was granted an international award Great Taste 2014.
This year they decided to place a new line of their own recipe premium products on the market. The aim was to create new packages for the premium products. Simple, playful and extraordinary just like the products themselves and this way distinguishable from the other chocolate. As a result, there are two new coated products LYRA BEAN-TO-BAR chocolate – 78% DARK BIO and 46% MILK BIO.
The bars feature a small, centered graphic of a cocoa pod, indicative of the pure ingredients used to create it and golden stamping in the middle to distinguish. The new design goes hand in hand with the essence, the taste itself. As the Lyra chocolate flavors are well tuned so do the design of new packages."
June 24, 2015 | 2 Comments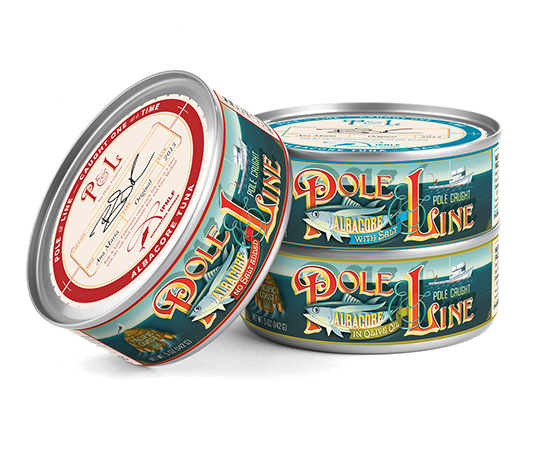 Designed by Moxie Sozo | Country: United States
"American Tuna is owned by six families that practice a generations-old tradition of artisanal pole and line fishing. When American Tuna came to Moxie Sozo in early 2014, they were looking to create a brand for exclusive distribution at Whole Foods. Keeping in mind the unique way in which they harvest tuna, we developed two brands – Pole & Line and Deck Hand Premium Cat Food – to position the brand as the sustainable tuna of choice that you can trust. From inception to execution – we impacted every aspect of the brand on store shelves. The new brands quickly grew to over $1 million in sales. Due to their success, the brand now has six new products that will be launching in Whole Foods stores within the next few months."
April 15, 2015 | No Comments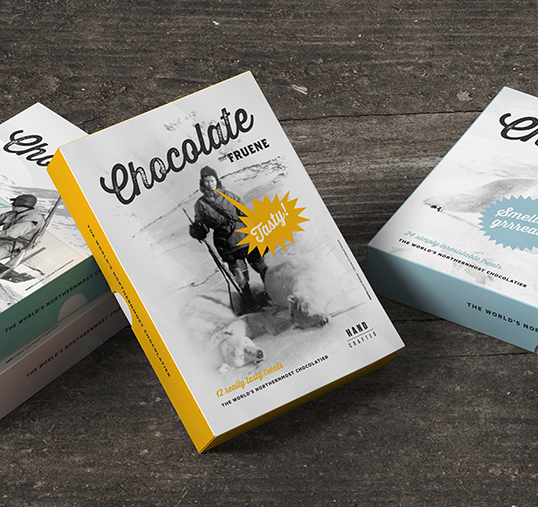 Designed by Tank Design Tromsø | Country: Norway
"The brief was to create a full range identity for a popular café in Longyearbyen on Svalbard. The client had recently started up the world's northernmost chocolaterie, and were producing a wide range of handmade quality chocolate that needed packaging for the tourist market. The clients name Fruene means «The Ladies» and refers to strong female characters who during the last century made their mark in a male dominated and extremely rough hunter and trapper society. The end result is an homage to those women and to the unique stories of both the people and the animals that inhabit Svalbard. We have worked closely with both the client, writers and the Svalbard Museum in order to find the best stories and pictures. Simple color coding and clean typography distinguishes the different boxes from each other and leave the story in focus."
February 22, 2015 | No Comments
Designed by Sydney Goldstein | Country: United States
"A unique food truck, obsessed with oddities. The pigeon follows the traveling circus from city to city."