July 18, 2011 | 2 Comments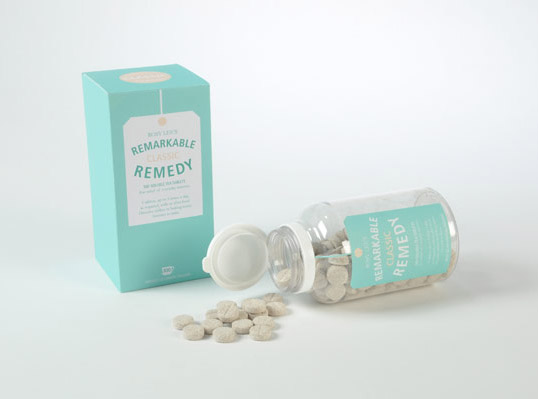 Designed by Kylie-Ann Homer, Sadie Hines-Dedman & Senwelo Foster | Country: United Kingdom
"Rosy Lee's Remarkable Remedy are soluble tea pills, which were created in order to illustrate the medicinal qualities of tea. Tea is often used to relieve the stresses and strains of everyday life, and Rosy Lee's allows for a quick release in the form of 5 soluble tablets that will dissolve in boiling water to create a relieving brew. Rosy Lee's comes in three varying strengths to suit different needs, the coloured dot on the packaging signifies the strength of the tea."
July 17, 2011 | 3 Comments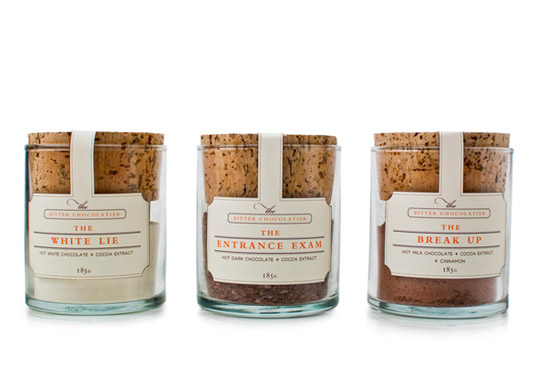 Designed by Miguel Molina | Country: Canada
"Brief: Create a sophisticated identity and packaging that reflect The Bitter Chocolatier's luxury offering and ironic humour.
Solution: The brand has an edge. The elegant look contrasts sharply with its ironic humour. Poking fun at himself, The Bitter Chocolatier tells his tales of misfortune throughout his life through the different flavours. The product differentiates itself from other brands while entertaining the consumer."
July 14, 2011 | 1 Comment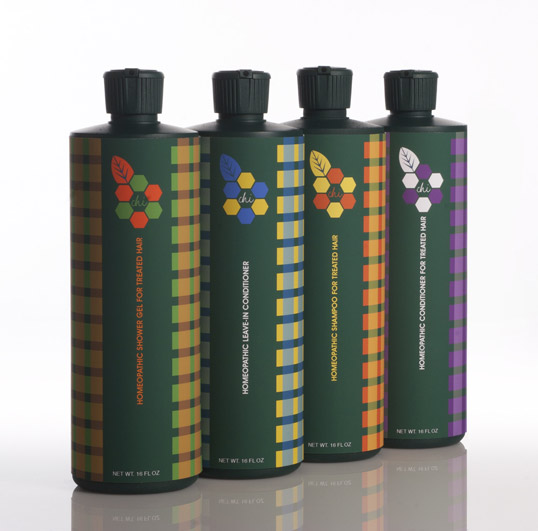 Designed by VonDerBlum | Country: United States
"This line of packaging concepts is for existing haircare brand CHI. The products are homeopathic shower gel, leave-in condition, shampoo, and regular condition for treated hair. The design is very geometric and colorful with plaid pattern and an organic CHI logo.  All four bottles come in a set placed in a paper board dock."
July 7, 2011 | 7 Comments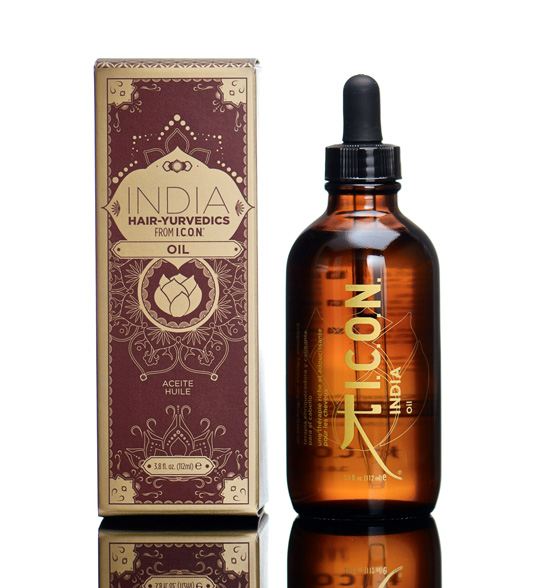 Designed by Version-X Design | Country: United States
"I.C.O.N. came to us with the task of creating a sub-brand for their new Moringa oil based products that would have a feeling all its own, while still feeling in line with the overall I.C.O.N. brand. We created the packaging for India as an extension of the main brand – the same foundation of clean lines and type remain, but the blacks, grays and whites are replaced with warm browns and rich golds. Ornate Indian patterns add a touch of old-fashioned detail to the completely contemporary brand. The three new products are each packaged within a custom box to further highlight the sub-brand. They are also available in a special 3-pack box with windows highlighting each product."
July 3, 2011 | 2 Comments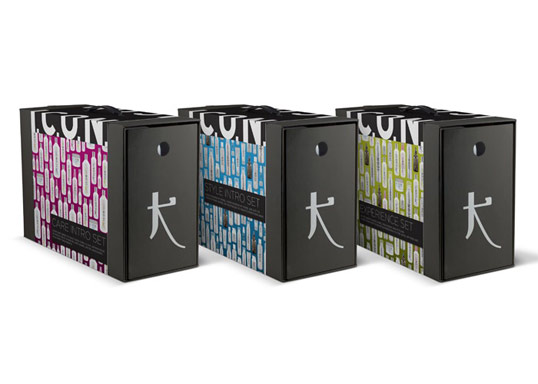 Designed by Version-X Design | Country: United States
"As part of I.C.O.N.'s rebranding initiative, Version-X was tasked with creating all new set and kit boxes for their products. They wanted packaging that would not only be beautiful, but also environmentally friendly. Three versions of the intro kit were designed, each using the same shell and drawer shape but with a unique, brightly-colored band around the outside to easily identify the contents.
The shell of each kit is constructed of corrugated e-flute with a 1-color charcoal flood coat on the outside. The inner drawers are also e-flute with a pattern printed in the same charcoal color. Each kit is wrapped in one of three brightly-colored bands that featured the contents of the box so that the different kits are easily identified. Each kit also has a handle, providing for portability of the heavy product.
June 23, 2011 | 4 Comments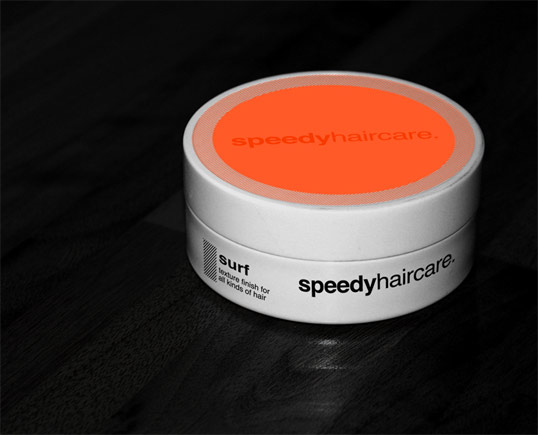 Designed by Dsignwrks | Country: Sweden
"Speedy Haircare pops off the shelves with bright fluorescent orange, and the product name in a matte finish on the lid."
June 15, 2011 | 2 Comments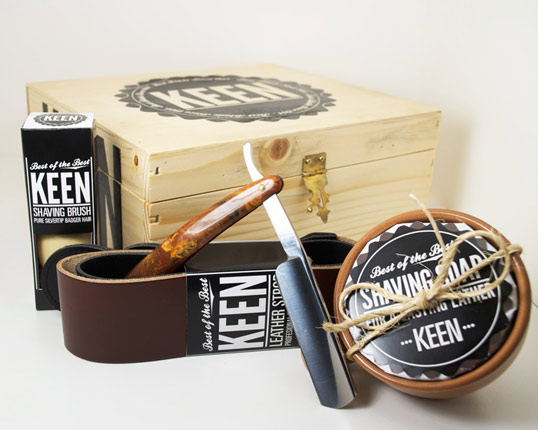 Designed by Chad Kirsebom | Country: United States
"The goal of this project was to create a package set for a health and beauty product. Instead of doing something that is seen everyday, I branched out. I chose to do an old fashion shaving kit. One that would include a straight blade razor, leather sharpening strop, silver tip badger hair shaving brush, a shaving cream soap bar, and a mug. The brand I created is called KEEN. The word 'keen', is also known as sharp and or razor edge. I felt like the name fit perfectly for this brand. I wanted KEEN to be seen as more of a modern company but with historic roots. Old fashion style with strong typographical design elements. I wanted their image to come of as clean and crisp as there product would leave your face."
June 10, 2011 | 1 Comment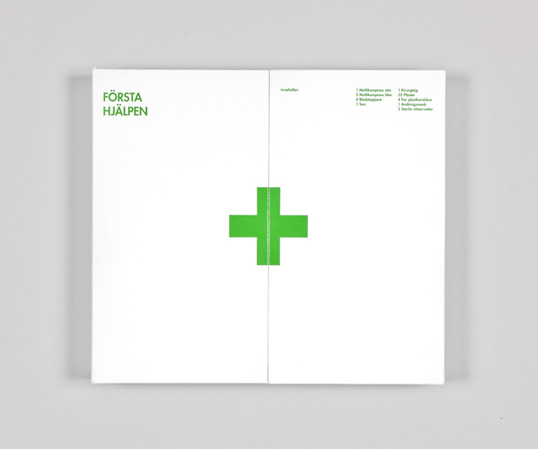 Designed by Tobias Eriksson | Country: Sweden
"The assignment was to create a First Aid kit for general purposes. The design is made with simplicity in mind, but also seen from an ecological point of view since it's all made out of paper. When someone gets hurt, it should be easy to find what you need to help them. With this First Aid kit, there's only one way to open it, and everything is structured so that it's easy to see what you need based on the pictograms and the information printed on the lid. Also, the sleeves are not detachable from the box itself, so all you need to do is pull until you can't pull any further."
June 3, 2011 | 3 Comments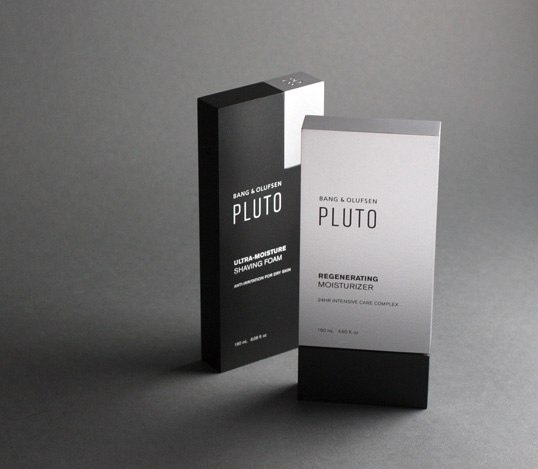 Designed by Karen Liong | Country: United States
An extremely high level of craft and production has gone into this conceptual work from Academy of Art University student Karen Liong.
June 3, 2011 | No Comments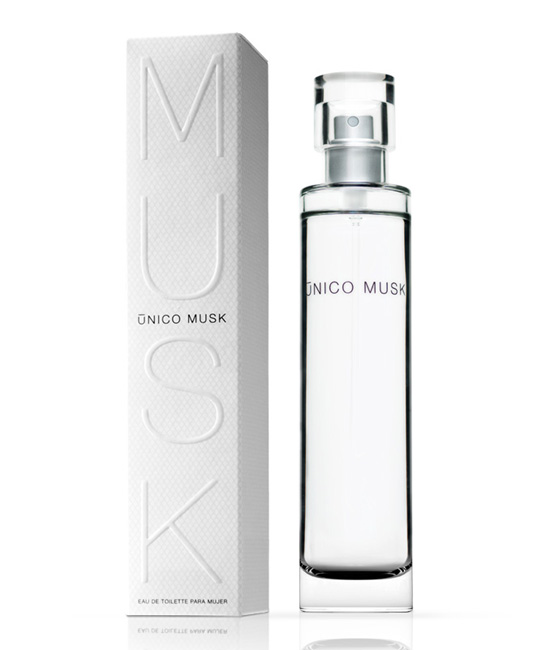 Designed by Lavernia & Cienfuegos | Country: Spain
"Musk is a highly valued substance in perfumery. It is very frequently used to give body and quality to many perfumes. Its delicate aroma evokes purity, clean skin, peacefulness, smoothness. The cylindrical bottle, the textile texture of the box, the graphic… and all, in the design of the Único Musk, want to evoke the pleasure of the habitual, of things simple, natural, authentic."