April 24, 2009 | 3 Comments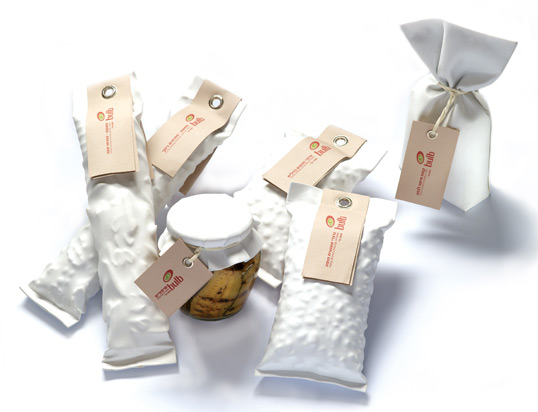 Designed by Igal Hodirker | Country: Israel
"The power of white is sometimes really underrated. As a designer I often hear "make it bigger, add more pictures, there's too much white space…"
These wonderful packages by Igal Hodirker demonstrates the power of white. The concept behind 'Bulb', an organic – GMO free fruit vegetables & food ingredients, is "the inner truth". Returning to nature, to our basic source, to the seed that grows within.
There are no distractions from this basic "truth", the product speaks for itself by giving it's own unique textures to the packages, which were designed with a soft and breathing white material.
Finally, a design so strong with it's silence, with a boutique charm, I could imagine it on a gallery stand…"
April 22, 2009 | 2 Comments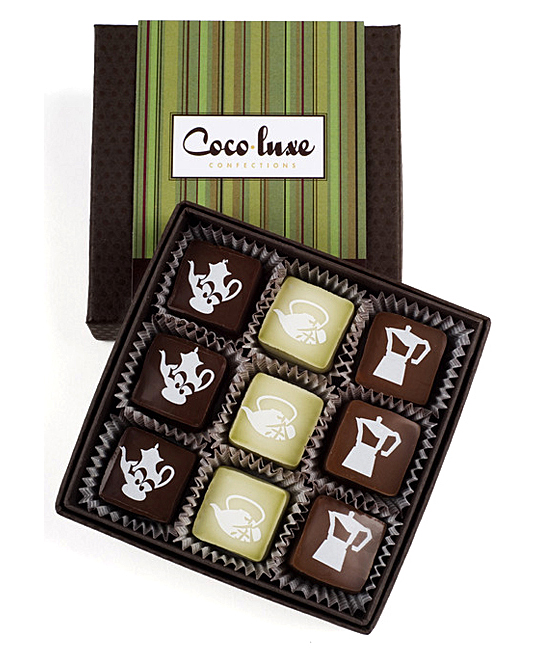 Country: United States | Buy it
Chocolate décor is not really packaging, is it… But I think that the "print" on these is very nice and in fact better than the box, I'm not totally convinced by the stripes and the white box with the logo. Would the logo directly on the brown dotted box (in white, for example) been more effective and more in line with the chocolates themselves?
April 21, 2009 | 4 Comments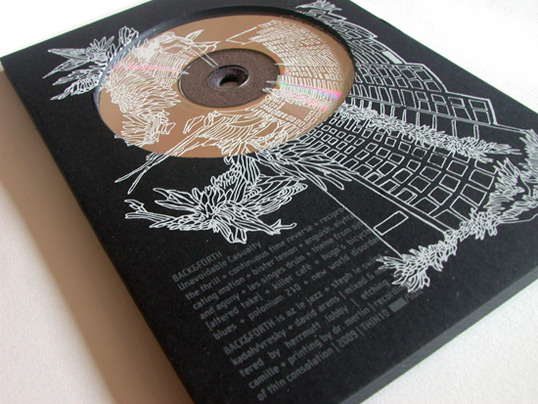 Designed by ThinConsolation | Country: Belgium
"We decided to have a sleeve close to the DVD format. After some tests, we agreed on 3 layers of cardboard with a big hole to see the CD, an opening on right side where you drag the CD and a small hole on the back side (this hole matches perfect with center of the CD, but is just for aesthetics). We added some felt where you put the CD which comes in red or grey.
For the graphics, the musicians wanted something without 90º angles and we (at the label) wanted something with a lot of detail, a reminder of their music. A friend – Camille, makes etchings and was working on feathers… We decided to work with her. It was going to be a bit too though to make 500 + promos copies only by etching, so we decided to screen print her work instead. We used white and red or grey for the front (it depend of the felt) and black + silver for the back."
April 20, 2009 | 14 Comments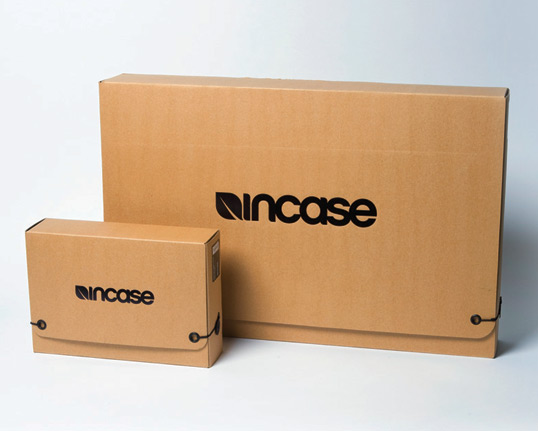 Designed by Incase | Country: United States | Buy it
April 9, 2009 | 1 Comment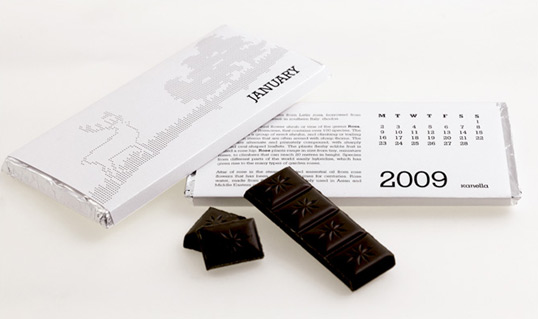 Designed by Kanella | Country: Greece
"This is a corporate gift, designed to wish clients a Happy and Sweet 2009. It is a box with a set of 12 chocolates, after the 12 months of the year, each with a different illustration that incorporates an element characteristic of the month (like a rose for Valentine's Day in February). It works as a calendar… and the chocolate has to be eaten at the end of each month.
The illustrations are designed with dots, just like the corporate identity of Kanella studio is. At the back of each chocolate pack one can see the days of the month and details about the illustration (like botanical information about roses). Metal White 120 gr. paper was used for the box and the chocolates wrapping. The black sealing wax with the monogram makes the whole pack more prestigious."
March 18, 2009 | 2 Comments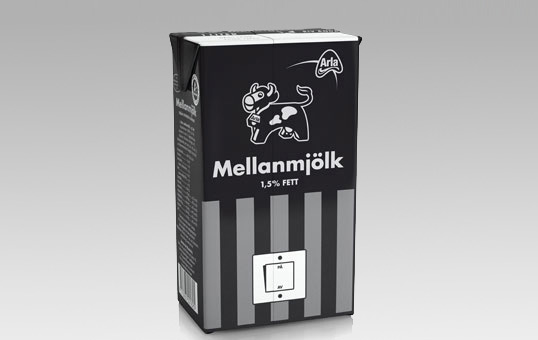 Designed by Milk | Country: Sweden | Fonts used: Futura
"Swedish advertising agency Milk has turned the classic white Arla milk carton black.
It is a campaign for WWF's Earth Hour. A worldwide event encouraging people to raise environmental awareness by turning off the lights for one hour."
March 12, 2009 | 5 Comments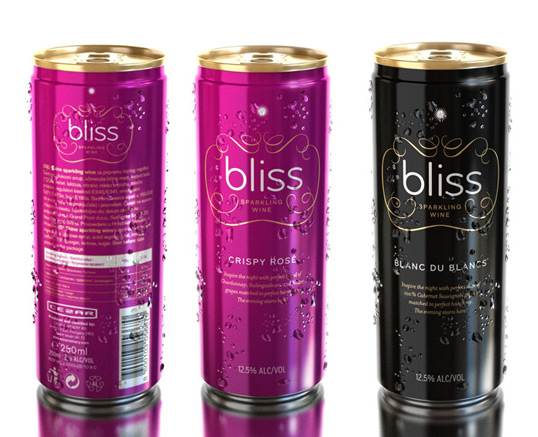 Designed by 360 Unibrand | Country: Serbia | Font used: Bryant
"Unibrand Belgrade proposed two designs including the naming for Cezar Winery from Germany – sparkling wines, both red and white (crispy rose and blanc du blanc) as the answer to growing market segment specialy in HORECA.
This type of drink is gaining popularity across Europe predominantly among female consumers as early-night drink. Girls ought to love it!"
March 5, 2009 | 2 Comments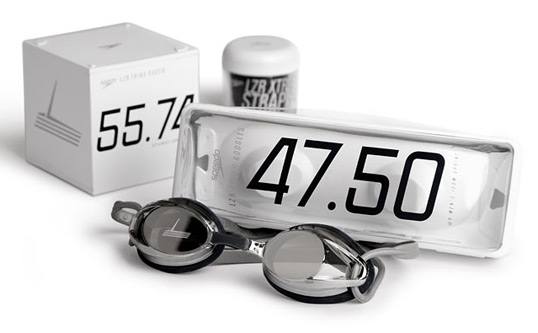 Designed by Jimmy Stones | Country: United States
Here is a another great project from Portfolio Center grad Jimmy Stones.
"Prior to the 2008 Bejieng Olympics Speedo launched the LZR RACER – the most revolutionary performance swimming suit ever made. In order to leverage positive news of the record breaking achievements of LZR athletes and position Speedo as the brand leader of swimming, I opted to redesign the entire LZR series. The packaging line took on a more modern look with white/silver colors and minimalist typography emphasizing the world breaking times each Speedo athlete achieved. Every package featured a world record time and story which tied back to a LZR website. On the website, users could study training schedules, review/buy product, interact on live chats with athletes, and most importantly keep track of personal LZR times in a member section."
February 5, 2009 | No Comments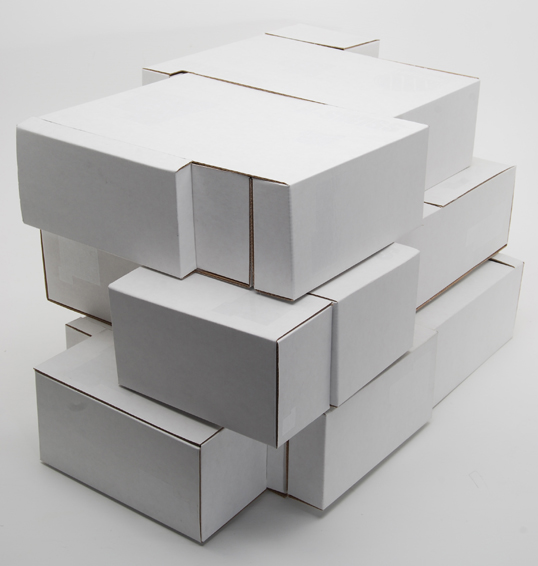 Designed by Jon Dodd | Country: United Kingdom
"A self set brief to design the packaging and catalogue for the Hederus range of K-Swiss released the tail end of last year by Swedish designer Julia Hederus. I spoke to Julia and K-Swiss directly about the project and they were keen to seen what my outcomes would be, to which I have now sent off to them. Continue…
January 10, 2009 | No Comments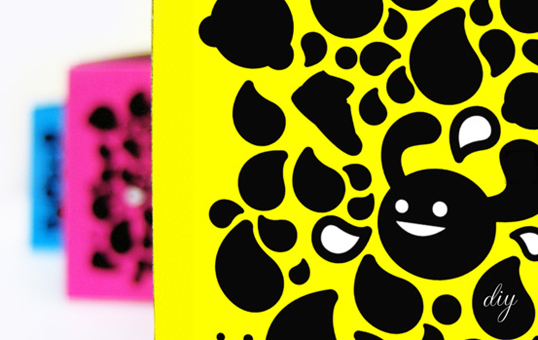 Designed by Esther Chaye | Country: Canada
"Paints come in small parts for the DIY beginner. Using this set of 5 (CMYK + White), he or she can create all the colours of the rainbow for their DIY projects (customization toys, shoes, accessories). A take-home colour wheel/instruction sheet would be given (in-store) plus guide them to an online site further providing the user with additional help. No sweat or tears just mix and paint it."